College Basketball
Back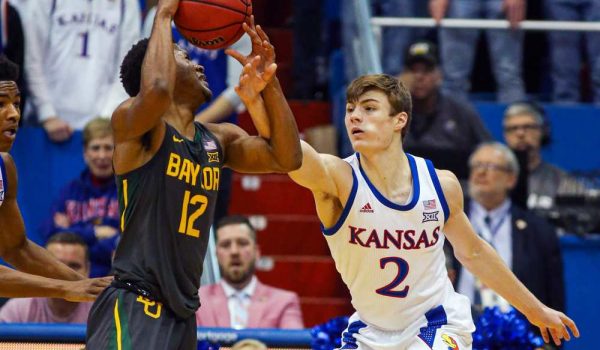 College Basketball Power 16 Rankings: Baylor surges to the top
The College Basketball season has been full of excitement, and teams are starting to flex their muscles as to who is the best. Early season favorites are starting to stumble, and what the heck is wrong with North Carolina. Michigan State has shown signs of brilliance and ugliness. The Baylor Bears have risen to the top and they might not let go of the top spot in the Pickswise College Basketball Power 16 rankings for a while. What other surprises are in store in conference play. Here are this week's Power 16 rankings.
1. Baylor Bears (13-1) Previous rank: 3rd
The Bears take the top spot, as they have arguably the best wins out of anyone in the country right now. Victories over a top-five Butler and a road win over a ranked Kansas team, has Baylor looking like a legitimate contender come March. Davion Mitchell has emerged as a third scoring option for the Bears. They will need him if they want to continue their run. Next Games: vs. Iowa State (Wed. 1/15), @ Oklahoma State (Sat. 1/18).
2. Gonzaga Bulldogs (18-1) Previous rank: 1st
The Bulldogs didn't drop due to losses, but their recent performances in two WCC games doesn't give off a good vibe. Gonzaga was able to win both games, but the schedule only gets tougher with BYU and St. Mary's lurking. Next Games: vs. Santa Clara (Thurs. 1/16), vs. BYU (Sat. 1/18).
3. Duke Blue Devils (15-1) Previous rank: 2nd
Even with dealing with a plague of injuries to Tre Jones, Cassius Stanley, and Wendell Moore, the Blue Devils have remained a pretty dominate team since their lone loss against Stephen F. Austin back in late November. Duke has won every game by double digits in all but one game, as Georgia Tech only lost by nine points. The ACC looks to be down this season, so the Blue Devils seem like the favorite to capture the crown. Next Games: @ Clemson (Today), vs. Louisville (Sat. 1/18).
4. San Diego State Aztecs (17-0) Previous rank: 7th
The Aztecs have quickly jumped into the top five in the Pickswise Power 16, as they remain unbeaten to this point. That likely won't change until March Madness, as the Aztecs have a pretty easy slate in the Mountain West. Next Games: @ Fresno State (Today), vs. Nevada (Sat. 1/18).
5. Butler Bulldogs (15-1) Previous rank: 9th
At the beginning of the season, many won't have thought that the January 15th clash between Butler and Seton Hall would be the critical Big East deciding game. There is a long way to go but, Butler has emerged as the top dog in the Big East, but the Pirates even with star players in and out of the line-up are right on their tail. Next Games: vs. Seton Hall (Wed. 1/15), @ DePaul (Sat. 1/18).
6. Auburn Tigers (15-0) Previous rank: 6th
This week will likely prove how good the Aubrun Tigers are right? It should, but their best win came just this past weekend, as they were able to take down a solid Georgia team. It gets tougher this week with both games on the road for Auburn. Next Games: @ Alabama (Wed. 1/16), @ Florida (Sat. 1/18).
7. Kansas Jayhawks (12-3) Previous rank: 4th
The Jayhawks suffered another tough loss, as they could slow down the Baylor Bears. With point guard Devon Dotson dealing with a hip injury, Kansas doesn't have a true floor general. He was able to return to the floor for the final minutes against Baylor, which should give the Jayhawks optimism going forward. Next Games: @ Oklahoma (Today), @ Texas (Sat. 1/18).
8. Oregon Ducks (14-3) Previous rank: 5th
The Ducks are somehow finding a way to thrive in the self-destructing PAC-12. That conference just seems to beat up on itself as anyone can be anyone on any given night. Payton Pritchard continues to look like a contender for the Wooden Award. Next Games: @ Washington State (Thurs. 1/16), @ Washington (Sat. 1/18).
9. West Virginia Mountaineers (13-2) Previous rank: 11th
The Mountaineers have made the argument that they are a threat in the Big 12. Miles McBride has become arguably the most dangerous freshman guard in the Big 12. If they can get through the schedule this week, they will be sitting in a good position to push Baylor for the Big 12 title. TCU can't be overlooked as they are currently unbeaten in the Big 12. Next Games: vs. TCU (Today), @ Kansas State (Sat. 1/18).
10. Florida State Seminoles (14-2) Previous rank: Team in Waiting
The Seminoles have made a statement that they are a true threat in the ACC this season. Duke may hold the lead in the conference at 5-0, but when they have to make a trip to Tallahassee it will be a must-see game, as the Noles are unbeaten at home this season. Next Games: vs. Virginia (Wed. 1/15), @ Miami (Sat. 1/18).
11. Kentucky Wildcats (12-3) Previous rank: 15th
The Wildcats are beginning to look like a team that only will go as far as Nick Richards and Immanuel Quickly will lead them. Too bad they can't get Tyrese Maxey to play at the level he showed against Michigan State and Louisville night in and night out. Next Games: @ South Carolina (Wed. 1/15), @ Arkansas (Sat. 1/18).
12. Louisville Cardinals (13-3) Previous rank: 12th
The Cardinals hold their ground, after a pair of back-to-back wins in the ACC. Saturday is looming large, as they visit Cameron Indoor for a clash with Duke. Next Games: @ Pittsburgh (Today), @ Duke (Sat. 1/18).
13. Maryland Terrapins (13-3) Previous rank: 16th
Last week saw a little bit of both versions of this season's Maryland team. They started it off with a strong home win over Ohio State but then went on the road only to get blown out by Iowa. A strong Strength of Schedule with quality wins, but no true road victory for Maryland. Next Games: @ Wisconsin (Today), vs. Purdue (Sat. 1/18).
14. Villanova Wildcats (12-3) Previous rank: 13th
Villanova has had an adventurous start to the season, which includes big wins, but also uncalled for losses. Wins in eight of their last nine games don't hurt the cause. Next Games: vs. DePaul (Today), vs. UConn (Sat. 1/18).
15. Wichita State Shockers (15-1) Previous rank: NR
The Shockers have turned themselves into the top contender in the American. They proved themselves with a great pair of quality road wins at Memphis, and then survived in overtime at UConn. Things are looking up in Wichita. Next Games: @ Temple (Wed. 1/15), vs. Houston (Sat. 1/18).
16. Michigan State Spartans (13-4) Previous rank: Team in Waiting
Just when it looked like the Spartans were hitting their stride, they suffer a major setback. Their road trip to Mackey Arena against Purdue is one to forget for MSU fans everywhere. It was ugly as the Boilermakers took them down by 29 points. Cassius Winston had his worst game of the season, with just 10 points, 5 assists, and 9 turnovers. Good news for the Spartans, Winston is four assists away from breaking Mateen Cleaves' all-time assists record. He can do so with only one game this week. Next Game: vs. Wisconsin (Fri. 1/17).
Three Teams in Waiting
Dayton Flyers (14-2)
The Flyers are having a strong season, led by Obi Toppin, but they have lost a little bit of flavor with no major wins. They get a shot this week when they meet VCU tonight.
Seton Hall Pirates (12-4)
Following a 6-4 start and a blowout loss at Rutgers, the Pirates looked destined for an ugly season. Since the Pirates have won six games in a row including wins over Maryland, Marquette, and Xavier. They sit atop the Big East at 4-0 and get the ultimate test when they visit #5 Butler on Wednesday.
Ohio State Buckeyes (11-5)
The Buckeyes have completely taken a nosedive. They are just playing ugly so far in the Big Ten, and are second to last in a conference that is far from being decided. The road has been awful for Ohio State. They still have a chance to emerge, but it better start soon.
Last updated: Tue 14th January 2020