College Football Playoff semifinal reaction: As usual, the semis were just an appetizer to the main course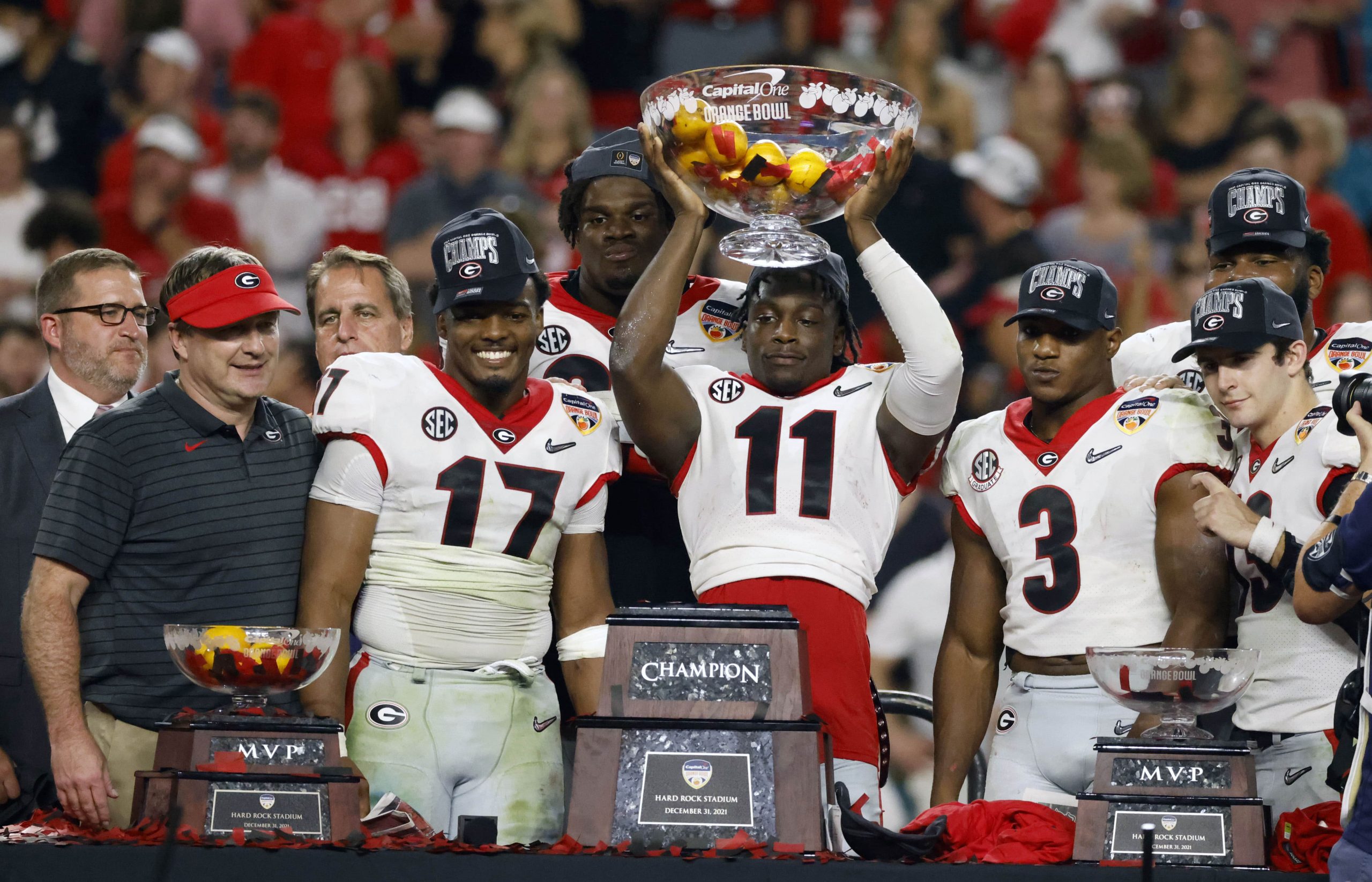 The College Football Playoff semifinals are traditionally snooze-fests and the 2021 was no exception. Alabama eased past Cincinnati 27-6 in the Cotton Bowl and then Georgia destroyed Michigan 34-11 in the Orange Bowl on New Year's Eve.
I seriously can't believe there are people out there who want to expand the playoff. This CFP era of college football has been going on for eight years and only once — at most — has the committee been able to find four good teams to participate. Some years the fourth-ranked team isn't even decent, and in other years (like this one) both the third-ranked and fourth-ranked teams are nothing more than mediocre. If anything, the playoff should contract.
The good news is that you can always find two great teams, and that is certainly the case this time around. As uneventful as Friday was, the result should be an epic championship game on January 10. By the way, Georgia has opened as a -2.5 favorite if you want to start chewing on that important piece of information…
For now, let's take a quick look at what happened in the semis and what it could mean moving forward.
Cincinnati just not ready to hang with the big boys
Cincinnati was quite simply out of its league on Friday afternoon. Alabama was playing with much of its second-string defense for a good portion of the proceedings and the Bearcats still managed only 6 total points and an anemic 218 total yards of offense. Unfortunately, we didn't learn anything about Alabama. Sure head coach Nick Saban's squad looked impressive, but beating up on a Group of 5 team is merely expected. We already knew from the SEC Championship shellacking of UGA that 'Bama is one of the two best teams in the nation and nobody else is even close. Friday confirmed it.
Check out our +1165 bowl game mega parlay for New Year's Day
The real Georgia showed up again
Which is the real Georgia? The team that dominated its first 12 games of the season or the one that got blown out by Alabama in the SEC Championship? It's safe to say the former. The Bulldogs proved that their bizarre performance against Alabama last month was nothing more than a fluke. They are much, much better than that and will likely be much, much better than that when they get a shot at redemption on January 10.
Check out all of our current college football bowl game picks
Alabama vs Georgia rematch: Avoid it like the plague!
I know I should be able to make some sort of convincing argument one way or the other on the upcoming National Championship. But I just can't do it; not right now at least. Perhaps when all of the Crimson Tide's injury issues get sorted out (they were already banged up prior to Friday and then guys went down left and right against Cincinnati) I will have a better read on the rematch. At the moment, though, my only advice is to avoid a play on either side at all costs.
The thing is, I believe Georgia is the better team – and probably by a comfortable margin. But there is no denying that Alabama has owned this matchup in recent years and Nick Saban always abuses his former assistant coaches (aside from Texas A&M's Jimbo Fisher earlier this season).
I don't want to bet against a team that is superior on paper. I also don't want to bet against a team that has a stranglehold on the head-to-head matchup. The New Year is beginning with a true conundrum…
At Pickswise we offer free expert College Football Picks and College Football Predictions for every bowl game, including our College Football Parlay picks each week.