Diane Knox Balas: Our Pickswise golf analyst with her Memorial Tournament best bets and course insights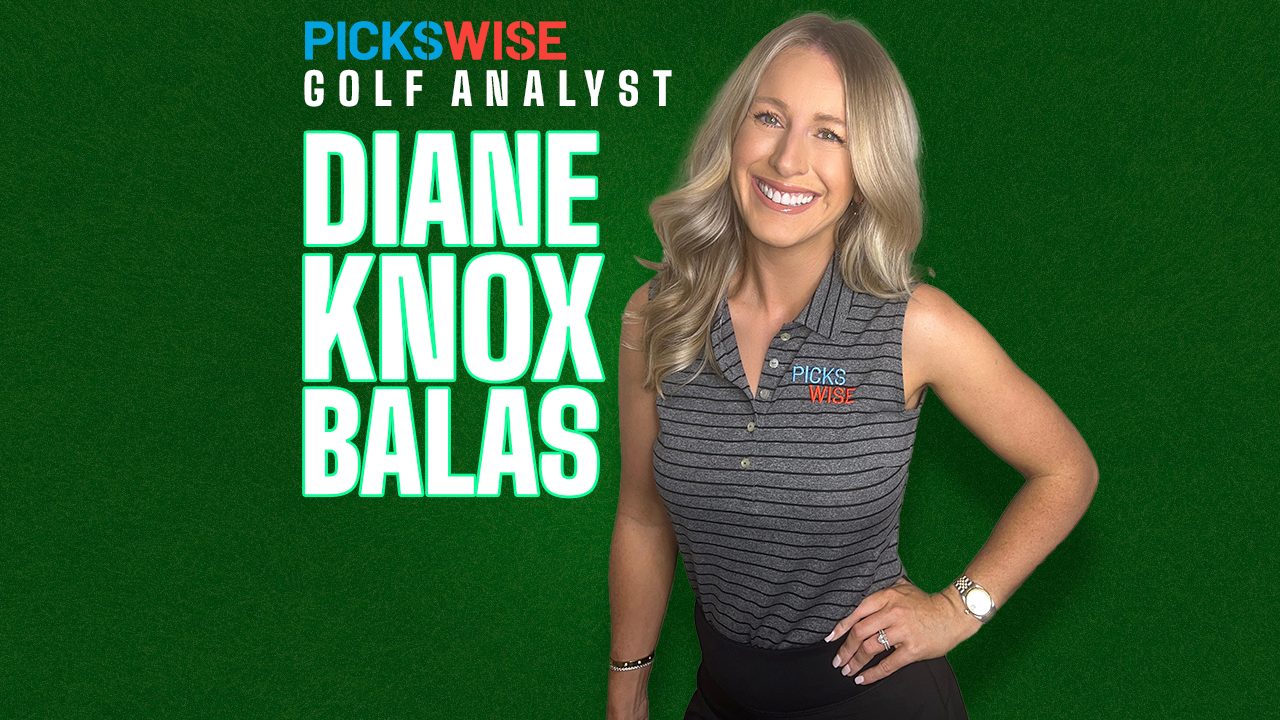 Guys, I'll be the first to admit it: my picks last week were rubbish. All three of my top picks missed the cut in the Charles Schwab Challenge. We just missed out on a Jordan Spieth Top-5 finish. The only bright light was Davis Riley, who finished T4 and cashed out my prop bet at +900. Therefore I don't feel like a total failure.
Riley, however, threw away the lead at Colonial late on Sunday — leaving it wide open for Sam Burns to snatch the trophy. It marked the second consecutive week in which the eventual winner entered Sunday 7 shots back! This is why we love this sport, and why golf betting can be a roller-coaster of emotions.
But redemption is the theme of my article this week, and you'll see why.
Now the tour is off to "Jack's Place" in Dublin, Ohio for the Memorial Tournament presented by Workday. It's one of these elevated events, meaning the field is slightly smaller with 120 guys teeing it up, more FedEx Cup points up for grabs and an obvious air of prestige. Muirfield Village is the masterpiece of Jack Nicklaus and this is one all the guys want to win. It's a special week on the PGA Tour, with Jack and his wife Barbara in attendance daily.
Patrick Cantlay is going for three tournament wins here after lifting the trophy in 2019 and — under rather controversial conditions — last year (more on that later!). He beat Collin Morikawa in a playoff. On that note, extra golf is quite the norm here; five of the last eight Memorials have ended in playoffs.
And be on the lookout for tweets and social posts about milkshakes, because the Memorial locker room treats are famous! I've been lucky enough to try one and they really are spectacular. Good thing it's a long walk around the property to help burn off those calories!
Muirfield Village: What you need to know
Muirfield Village Golf Club is a par 72 and measures in at 7,533 yards. "Jack's Place" underwent a huge renovation in 2020-21 and drew a lot of praise from the field at the tournament last year. A total of 100 yards were added to the course, the tee boxes, fairways and greens were all re-grassed and the already-tricky green-side bunkers were modified. The greens were reconstructed and re-contoured, which only made difficult putting conditions even tougher.
The greens have always been known to be lightning fast at Muirfield Village, and they are small. It's a course that will really test your scrambling.
The fairways are wide but accuracy off the tee is important, and I'm always looking at guys with great greens in regulation stats here. Plus, the rough is known to be some of the worst on tour and it makes it very tricky to hit your desired spot on the green if you are wayward.
It's a long, tough course, but some short hitters have faired really well here — including past champions Jason Dufner, Matt Kuchar and David Lingmerth. However, I'm definitely not saying a long hitter won't win; Bryson DeChambeau and Jon Rahm have been victorious around Muirfield Village, too, and that's definitely an advantage on these long par-4s.
Knox's Knockout Memorial Tournament picks
Jon Rahm (+1000)
Odds available at BetMGM at time of publishing.
So, drama unfolded last year at the Memorial Tournament, and Rahm was front and center. After shooting 64 on Saturday and tying the largest 54-hole lead in tournament history, he was greeted with some unfortunate news as he walked off the 18th green. He had tested positive for COVID-19 and was therefore was forced to withdraw. It was quite controversial, as he was told the bad news in front of the TV cameras and the audience waited with bated breath to see what the outcome was going to be. Anyway, the WD followed and Cantlay lifted the trophy on Sunday.
Redemption has to be the word on Rahm's mind. Sure he has short odds, but we would expect nothing less; he was even shorter at the Mexico Open a few weeks ago and went on to win. The Spaniard will be going all out this week before gearing up to defend at the upcoming U.S. Open.
Shane Lowry (+2500)
Odds available at FanDuel Sportsbook at time of publishing.
"It's only a matter of time before Lowry wins this year" are words that I have muttered for months now, ever since he finished runner-up at the Honda Classic in February. Excluding his win at the Open Championship in 2019, the Irishman is having his best season, boasting three top-10 finishes — including at T3 at the Masters. Additionally, six of his eight starts on the PGA Tour this calendar year have been top-13 results. Lowry is 6th in strokes gained: total this season, 8th in approach and 11th in putting. He is also 10th in sand saves, which is going to be important this week. He was T6 at the Memorial last year, too.
Patrick Reed (+6500)
Odds available at DraftKings Sportsbook at time of publishing.
Is P-Reed making a small comeback? Form had really dipped from the former Masters champion, but we saw some glimmers of greatness at the Charles Schwab Challenge — where he ended up in a tie for 7th, only his second top-10 of the season. Last week he was 4th in scrambling, so I immediately love that part of his game for Muirfield Village. Reed has always been an elite putter, but that seems to be where there is room for improvement right now. However, he is familiar with this course after finishing 10th in 2020 and 5th in '21. This guy knows how to win, that's for sure, and I have a feeling he will be back in contention this week.
Memorial Tournament Prop Bets
Max Homa top-5 finish (+800)
Odds available at DraftKings Sportsbook at time of publishing.
Homa is hot right now and climbing those leaderboards week after week. He has two wins already this season, with really strong tee-to-green stats. Homa is 18th in approach and 27th in putting and scored a top-10 here last year. I would expect to see him in contention again this week.
Rickie Fowler top-10 finish (+700)
Odds available at DraftKings Sportsbook at time of publishing.
Am I really doing this?! Right, we all want Rickie to play well and get back to his spot as one of the tour's premium players. Last week at Colonial he started really well and we saw his game improve overall (let's not talk about the four bogeys he ended the tournament with). He can shake them off and move onto a course he's familiar with, and LOVES. A T11 last year, T14 in 2019, T8 in 2018 and a runner-up in 2017 shows his consistent form around Muirfield Village. He has been working hard on his game and maybe this week will provide that boost for which he is looking.
There WILL be a playoff (+300)
Odds available at DraftKings Sportsbook at time of publishing.
As I said earlier, five of the last eight Memorial Tournaments have ended in a playoff. We have also had playoffs the last two weeks on tour. In total there have been 7 so far this season. But, hey, if you fancy taking the opposing stance you can get "no playoff" at -450.
Pickswise is the home of free expert Golf Picks and Golf Predictions. Our PGA expert picks go live every Monday or Tuesday, so check out our latest golf picks, best bets, and analysis for this week's PGA tournament now.