Final Four futures: Gonzaga still a huge favorite, but Baylor can't be discounted
And then there were four….
Despite a positively mad March Madness right from the start, we almost had a Final Four with three No. 1 seeds and one No. 1 seed. Almost. Instead, the madness continued on Monday night and a No. 11 seed has joined the festivities in Indianapolis.
Joining UCLA on the penultimate day of a most unusual 2020-21 college basketball season will be No. 1 Gonzaga, No. 1 Baylor, and No. 2 Houston. Let's break down each of the four remaining contenders and dissect their chances of winning the NCAA Tournament.
Gonzaga (-250)
Gonzaga opened as a +205 favorite to win the National Championship. Four dominant wins later, the Zags are heavy favorite against the entire rest of the Final Four field at -250. And why not? They beat Norfolk State by 43 points, Oklahoma by 16, Creighton by 18, and USC by 19 while improving to 30-0 on the season. And all of those games were even bigger blowouts than the scores suggest. Led by Corey Kispert, Drew Timme, and potential NBA Draft No. 1 overall pick Jalen Suggs, the Bulldogs are loaded with talent. With future Hall of Fame coach Mark Few still running the show, that talent is producing remarkable results on the floor.
Baylor (+250)
The only reason why Gonzaga doesn't have even more extreme odds than -250 is that big, bad Baylor is still lurking on the other side of the bracket. Basically from start to finish this season, the Zags and Bears have been the two best teams in the nation. If not for Baylor's midseason coronavirus issues that halted its momentum, we possibly could have been anticipating an all-undefeated showdown in the championship game. The Bears took losses in late February (Kansas) and early March (Oklahoma State), but they have bounced back in the Big Dance to defeat Hartford, Wisconsin, Villanova, and Arkansas. Thanks to Jared Butler, MaCio Teague, and Davion Mitchell, Baylor's roster is the only one that can compete with Gonzaga's on paper.
Houston (+700)
For the first time since Phi Slama Jama from 1982 through 1984, Houston is in the Final Four. Not too much unlike Gonzaga, it's hard to know just how good this team is until the NCAA Tournament because its competition level during the regular season is mostly unspectacular. Well, wonder no more. The Cougars' March Madness run may not compare to that of the Zags, but they thoroughly embarrassed Syracuse in the Sweet 16. They have not allowed more than 61 points to any of their last five opponents dating back to the AAC Tournament final against Cincinnati.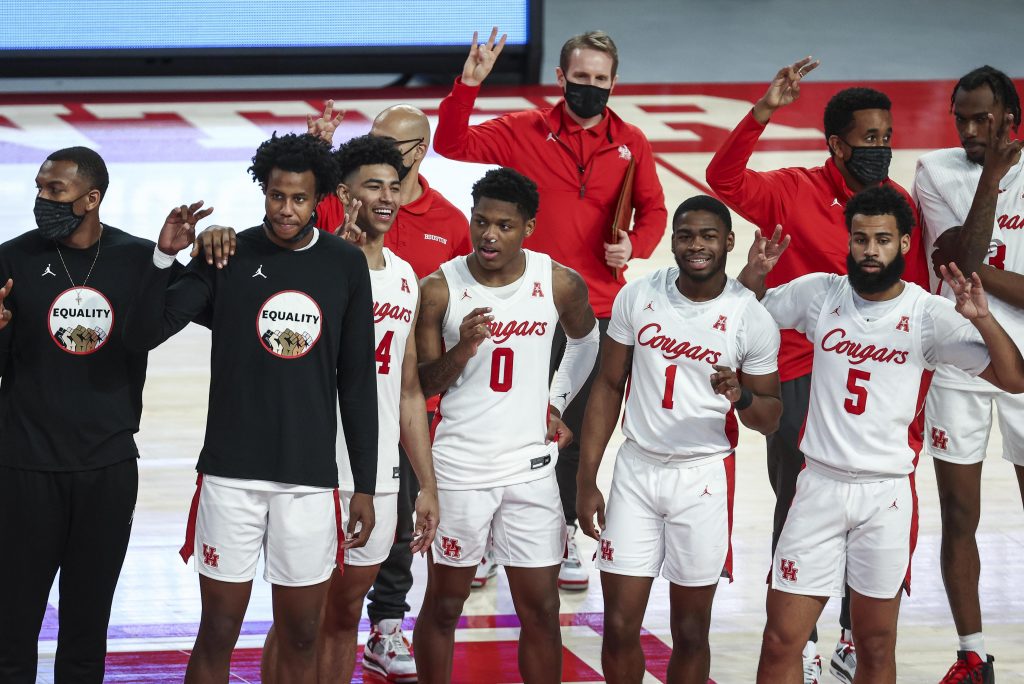 UCLA (+2500)
UCLA's run in the NCAA has been incredible, and it won five games—not the usual four—to reach the Final Four. After surviving overtime against Michigan State in a proverbial play-in game, the Bruins beat BYU, Abilene Christian, Alabama, and Michigan (the latter also in overtime). However, the public does not seem ready to get on the National Championship bandwagon given that UCLA is still +2500 to win it all. Having to go up against Gonzaga in the semis certainly doesn't help.
Best bet: Baylor
It is true that everything is setting up well for Gonzaga. The Bulldogs have been absolutely demolishing their opponents and now they get to face a No.11 seed in the Final Four. However, I'm not biting on -250 odds when Baylor is still in the bracket. The Bears are one team that can keep up with the Zags offensively, and Mitchell and company also play plenty of defense. It could be a championship game for the ages if it happens—and one in which a heavy underdog might have good value.

Pickswise is the home of March Madness Predictions. Check out all of our March Madness Picks, including daily March Madness Parlays throughout the NCAA Tournament.