First Four reaction: March Madness begins in appropriately mad fashion
If the First Four was any indication, March Madness in 2021 is going to be downright awesome. And that is exactly what we would all deserve after last year's festivities were cancelled.
The NCAA Tournament tipped off on Thursday night with the traditional play-in games, and all four offered plenty of intrigue. Three of the four went down to the wire, and the only one that didn't (Texas Southern vs. Mount St. Mary's) featured a comeback from double-digits down in the second half (Texas Southern trailed 30-20 at halftime and ended up winning 60-52). All in all, the four showdowns were decided by a grand total of 10 points in regulation. The last three games combined featured a two-point margin in regulation.
Let's recap what happened and look ahead to the prospects of the four teams that advanced.
16 seed games
If you're in the business of fun-and-fun track meets (or if you bet on the over!) Texas Southern vs. Mount St. Mary's was not for you. The Tigers scored only 60 points even though they shot 42.9 percent (6-for-14) from three-point range and turned the ball over just five times. That's how slow the pace of play was (and it didn't help that they were a ridiculous 16-for-43 from inside the arc). Fortunately for Texas Southern, the Mountaineers went 19-for-49 overall and 6-for-22 from downtown. The Tigers engineered a comeback from 10 points down in the second half mostly with defense—an especially impressive feat.
Speaking of comebacks, low-scoring contests, and Mountaineers, Norfolk State and Appalachian State offered more of the same.  Appalachian State trailed by as many as 19 points in the first half and were down 36-20 at halftime. The Mountaineers erased all of that deficit and even built a six-point lead of their own late in the second only to see Norfolk State recover. Despite scoring a mere 18 points over the final 20 minutes, it was enough for the Spartans in a 54-53 win.
Norfolk State's reward is a meeting with No. 1 overall seed Gonzaga, which will be a nice experience but in terms of outcome will obviously be a disaster. Texas Southern, on the other hand, may actually be in with a chance—at least to keep it close perhaps for a half—against Michigan. The Tigers play good defense, have plenty of momentum, and the Wolverines are without Isaiah Livers.
11 seed games
Although no more momentous for the particular schools in question, the 11 seed matchups obviously have more bearing on the overall tournament. Drake, Wichita State, UCLA, and Michigan State are teams that can make a run in the NCAA Tournament.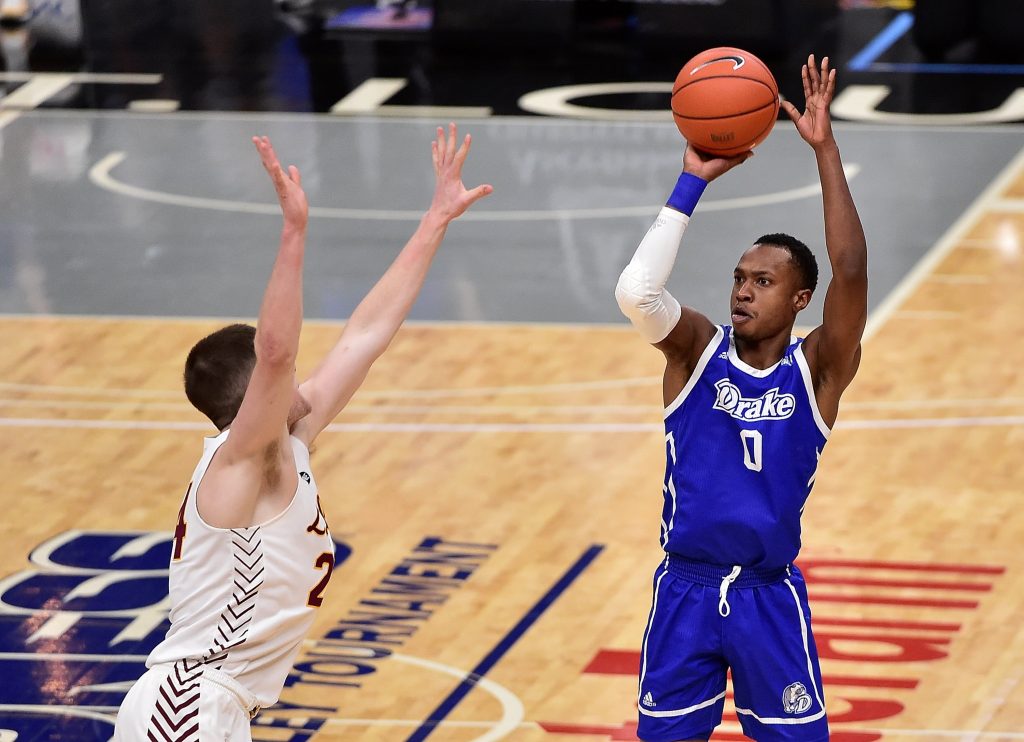 No longer can Wichita State and Michigan State do so. Drake defeated the Shockers 53-52 for their first NCAA Tournament win since 1971. That's 50 years for those counting! UCLA erased a 14-point deficit (11 in the second half) and dug out of a five-point hole with a little more than a minute remaining to force overtime and eventually stun the Spartans 86-80. Jaime Jaquez Jr. (27 points) and Johnny Juzang (23) were outstanding for the Bruins, but Juzang left midway through OT with an ankle injury.
Drake is getting six points against USC in the first round and I'm not sure that's enough. The Bulldogs could not compete with Loyola Chicago in the Missouri Valley Conference this season and they weren't overly impressive against Wichita State. UCLA has a manageable draw against BYU (Bruins +3.5), but a Texas team that just won the Big 12 Tournament would likely loom large in the second round.
In other words, I'm not seeing a Syracuse situation (Final Four as a play-in game team). But even if Thursday doesn't lead to more success for the four victors, it was wildly entertaining for everyone. Welcome to March Madness!
Pickswise is the home of March Madness Predictions. Check out all of our March Madness Picks, including daily March Madness Parlays throughout the NCAA Tournament.