Friday NBA 4-team mega parlay (+1267 odds): Kings might be kings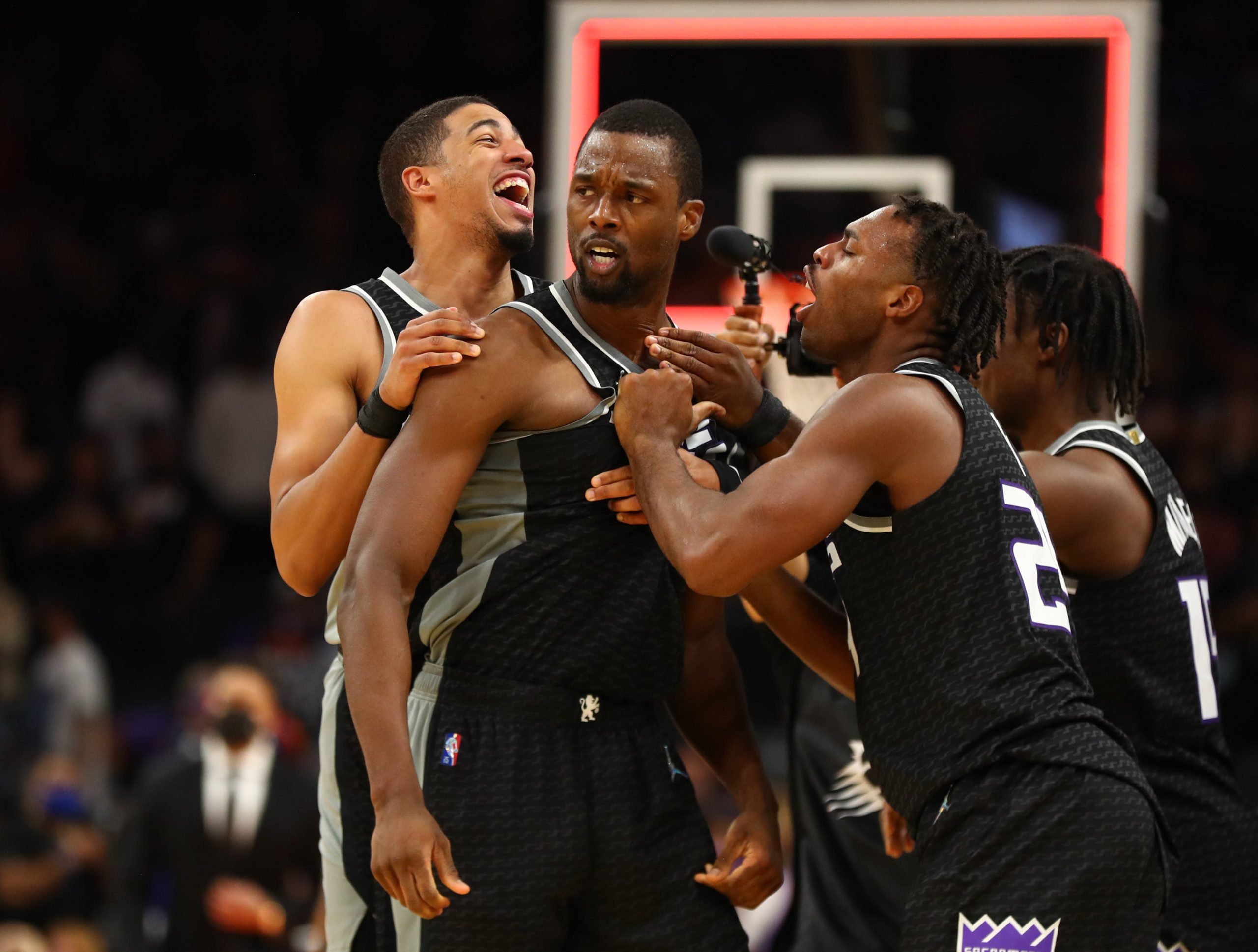 Fridays are better with a parlay on the card. That's not just me saying it, that's something you can Google right now. Go ahead. Google "are fridays better with a parlay". I'll save you the time, the answer is a resounding yes. We were given this world people, we didn't make it (RIP Tupac). The smart thing to do now is head over to the PicksWise NBA page and grab some picks. If you don't want to do that, don't worry, I did it for you. It's time people.
Don't just read about this parlay though. You'd be crazy to do that! Our team has put together picks on the side and total of all the games on the NBA slate today/tonight. You can also follow me on Twitter for any other bets I might throw out throughout the day.
Sacramento Kings -2 (-110)
Dallas Mavericks (+105)
Portland Trail Blazers -2 (-110)
Cleveland Cavaliers +8.5 (-115)
Sacramento Kings -2 (-110)
There is an off chance the Sacramento Kings are actually good this year. Sure they have 2 losses but that was to the Utah Jazz and Golden State Warriors. Our resident expert seems to think this game will come down to whether or not the Pelicans will be able to stop the Kings in transition. Right now the Kings are third best in the NBA in transition points while the Pelicans allow the most. That's bad. If the Kings can get out and run in this one, they should cover easily. This should kick-start our parlay.
Be sure to read our full game preview for Sacramento Kings vs New Orleans Pelicans.
Dallas Mavericks (+105)
The Dallas Mavericks and Denver Nuggets are the next game I went to on the NBA page of PicksWise. Whenever Nick Galaida has a preview, I read it. He doesn't mind the Mavericks on a back to back going to high altitude if Nikola Jokic is out for the Nuggets. Denver is in trouble without him and anyone that watched the second half of their last game against the Utah Jazz knows that. I would lock this in now because this number will be gone once Joker is announced out. This game should keep our parlay moving.
Be sure to read our full game preview for Dallas Mavericks vs Denver Nuggets.
Portland Trail Blazers -2 (-110)
Our resident expert slapped a 2-star rating on this one so that immediately got my attention. He seems to like the revenge narrative for this one and honestly, so do I. The Trail Blazers bounced back nicely last game after getting slaughtered by the Los Angeles Clippers the game before. Damian Lillard has been very bad so far but it's hard to imagine him keeping up the bad play. At some point he is going to go off. The Clippers are coming off of a loss to the Cleveland Cavaliers so they could just as easily struggle tonight too. I think this is a sneaky move that will keep the parlay alive.
Be sure to read our full game preview for Los Angeles Clippers vs Portland Trail Blazers.
Cleveland Cavaliers +8.5 (-115)
I'm not saying the Cavaliers are good but they might not be that bad. Seriously. I'm not the only one either because my guy Filip Tomic at PicksWise picked the Cavaliers to cover tonight too! They've already beaten the Atlanta Hawks, Denver Nuggets and Los Angeles Clippers so there is that. It's tough to know if teams are just overlooking them and getting caught or what but wins are wins. One thing we do know is the Lakers are a train wreck right now. I would never lay 8.5 points with them but I'll gladly take them with Cleveland.
Be sure to read our full game preview for Cleveland Cavaliers vs Los Angeles Lakers.
Pickswise is the home of free NBA picks and predictions. Make sure to also check out our NBA parlays and NBA prop bets tabs for more expert picks.