Jared Smith's MLB betting update: Grading the first half of the season, oddsmaker insight on futures and the HR Derby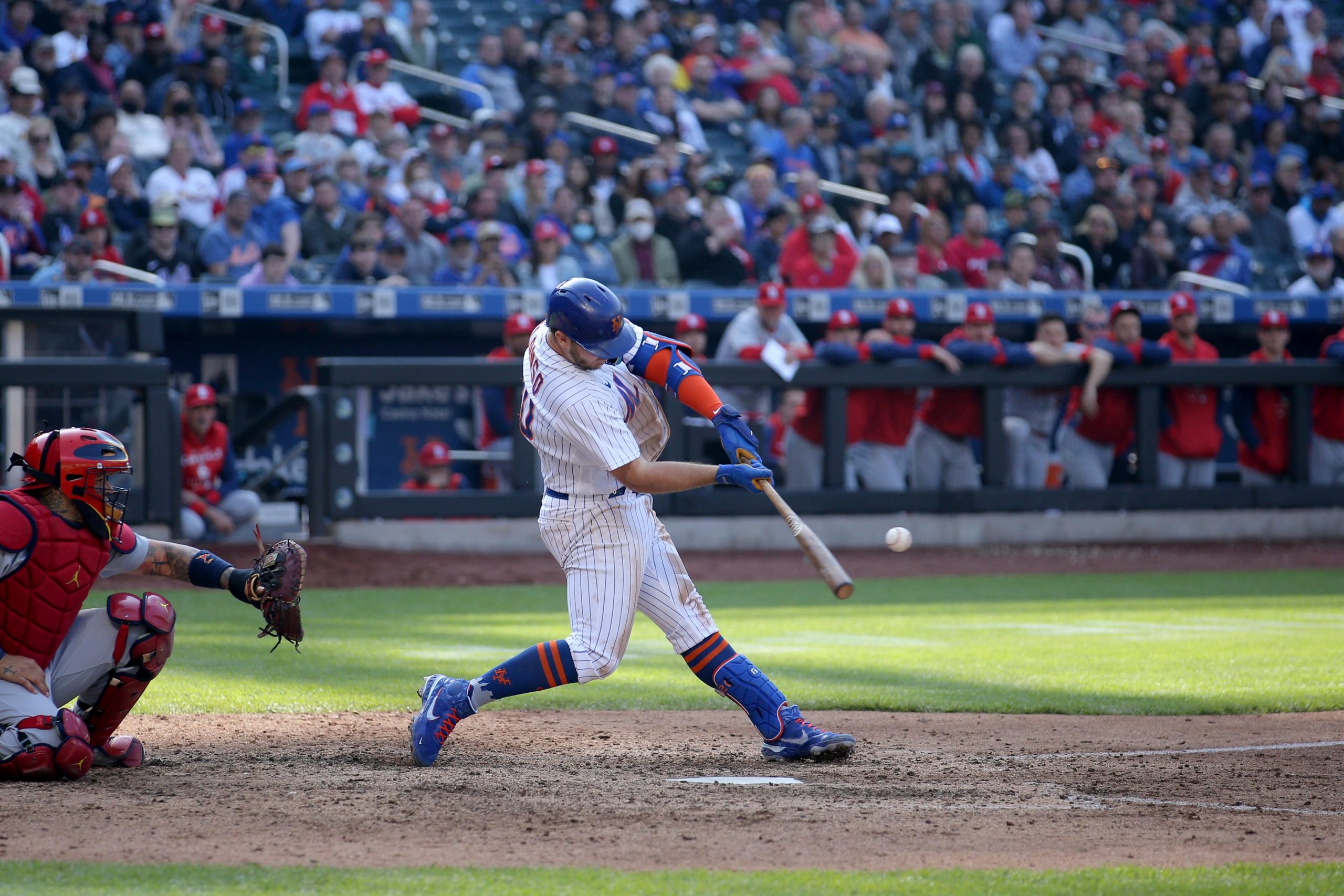 It's time to take a breather. The marathon that is the MLB regular season has reached its natural resting point, the all-star break. I've bet on baseball almost every day for the past 3 months. The campaign has tallied 332 total individual bets and 35 Walk This Way parlays, the results of which are detailed below, so needless to say I'm excited to hit pause for a bit.
That being said, this is also a perfect time to reflect back on what we've learned in the first half, and where we can improve going forward.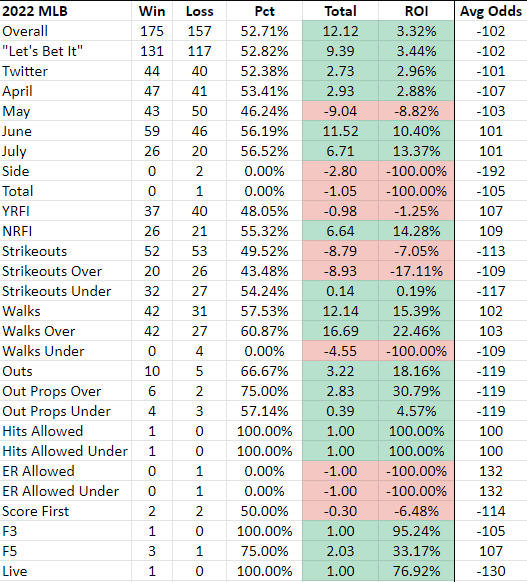 "It's 4 nice days off where I can dig into areas I'm not having success and determine if I need model adjustments," said professional baseball bettor Las Vegas Cris. "Otherwise: relax, refresh and sleep."
So get your hard hat on and let's dig. For starters, I've really struggled betting strikeout props this season, especially overs, which is a surprise considering it's a market in which I've historically done well. However, my perception of these props is starting to change. For example, I was up almost 6 units betting strikeout props last year, but my ROI was barely above 1%. That means the average odds of each bet made was too high, and I was not getting a solid return on my investment.
This year, I'm down over 8 units and my ROI is down 7% with average odds of -113. So I'm making more efficient bets at a lower average price, but I'm losing. Plus -113 is significantly higher than the -102 average odds I've tallied for all of my MLB bets combined. My process hasn't changed much from last year to this year, but I have noticed more volatility in the market as strikeout props have continued to increase in popularity and exposure.
I think the adjustment here is simple: just avoid the strikeout market entirely. As I've discovered with walk props, there are other markets with less foot traffic that I seem to have a better grasp on, at least this season. With 15 games most days, there's plenty of fodder for us to chew on, and we don't need strikeout props in order to have a successful season betting on baseball.
Our pal LVC offers similar advice. Stick to what you know. "At this point, with the success I have had, I don't want to recalibrate," added Cris. "My MLB process is 90% system driven — which is a combination of data inputs and models spitting out a fair line and projected number. The rest is market driven and a very small percentage of eye test."
For me, that means walk props (parlays and individual bets) and NRFIs will make up the bulk of my baseball bets in the second half, since those are the specific areas I've had the most success in so far this season. For those curious in more gritty details, my records and bets are available for public consumption on my personal betting spreadsheet, which can be found here.
Final note….

The "Walk This Way" parlay has been a tremendous success so far, but I'm even more impressed with going 73-32 on the individual picks inside each parlay 😵 pic.twitter.com/9MkZOcKdfo

— Jared Smith (@jaredleesmith) July 17, 2022
Checking up on my MLB futures portfolio
I'm very happy where things stand heading into the break. My biggest position, 2.4 units on Shohei Ohtani to win AL MVP at +350, has picked up considerable steam this past week. Ohtani jumped Aaron Judge and is now the favorite to win the award for a second straight season.
"Definite shift towards Ohtani; pure performance based," said Caesars Lead MLB Trader Eric Biggio. "Ohtani's been pitching great and Judge has struggled a little. I liked Alvarez as an outsider, but he's been hurt, so it sure looks like a two-horse race."
Barring injury, I will likely be standing firm with my position on Ohtani for the remainder of the season.
"I personally would probably vote for Shohei just because he is doing things that haven't been seen in 100 years," added WynnBET Senior Trader Chris Young.
The one position I am considering a hedge is my AL Cy Young ticket on Justin Verlander, which is 1 unit at +400. I still think Verlander can win it, but Shane McClanahan is also very deserving after his stellar first half. However, unlike the AL MVP, where I feel good about it being just a two-man race, the AL Cy Young market is much deeper, with a recent precedent set of longshots coming from the back of the pack to win.
"Robbie Ray was 100/1 or so at a similar time last year, had an amazing second half and won the award," added Biggio. "Ohtani, Alek Manoah and a Yankee pitcher could join the mix to be a contender. It's too early in my opinion to hedge."
"I think Shohei actually has a decent shot at winning as long as he continues to start every five days," added Youn. "His K/9 rate is second in the league behind McClanahan. He just has to continue to stay healthy to qualify for the innings pitched requirement. I personally think Shohei has a better shot at winning compared to Verlander."
Ohtani for Cy Young definitely has value in my eyes, as voters might be compelled to "split the baby" with Judge as MVP, but we still have some time to make that decision at a fair price. I feel good about the remainder of my positions and there's really no reason to hedge at this stage. A complete list of my current futures positions heading into the all-star break can be found below.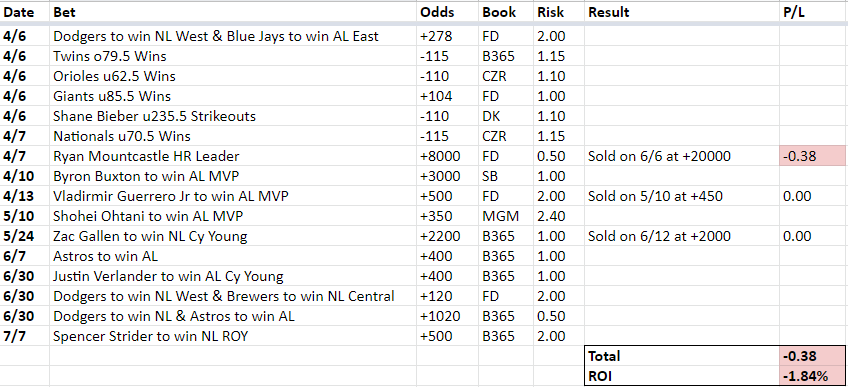 Betting the MLB Home Run Derby
I wouldn't put the Home Run Derby on the same level as the NFL Draft in terms of high-priority money-making opportunities that only occur once per year, but it's a heavily bet recreational market, which gives us a good starting point of who to fade in terms of finding value. It's also a really fun watch, which adds some entertainment value into the equation.
"Personally, I love booking the event," added Biggio. "It's usually the only thing going on Monday, so we get a lot of good recreational money in the pool. We'll offer a few more markets this year, like farthest HR hit by each player, longest HR, O/U per player, so it should be fun. There's been some early money on Alonso to retain his crown, but nothing major of note."
It's good to see shops such as Caesars opening up more markets and giving bettors more options for events like these in the form of props and derivatives. The more markets offered, the more work it takes to keep everything balanced, which is when good handicappers can find holes.
Personally, this is not something I'll be capping as closely as I do for an NFL Draft. I'll also physically be in Las Vegas starting Monday for a short (and well-deserved) vacation, so I'll be unable to use my New Jersey bankroll. That being said, I will likely place a small wager on Pete Alonso to repeat, and just enjoy the show at one of the books on the strip.
I hope everyone has enjoyed and appreciated my MLB picks and content for the first half of the season. See you all on the other side of the break!
Pickswise is the home of free MLB picks and predictions. Make sure to also check out our MLB parlays and MLB prop bets tabs for more expert picks.