Jared Smith's NBA Draft analysis: Wild changes in odds for the first pick, best bets from our prop expert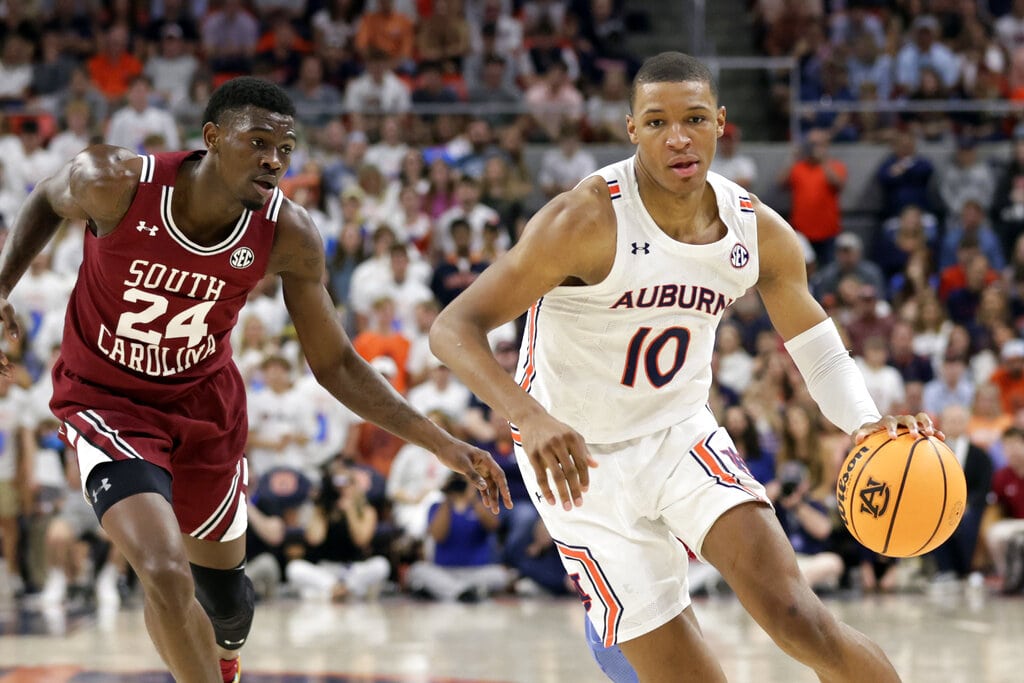 It's time to draft again. Whether it be NFL or NBA, betting on the draft offers a unique opportunity to put yourself on a level playing field with the sportsbooks if you know where to look for information and are quick to act on it. I initially broached this topic in April's NFL Draft column, but I'll reiterate now for the NBA audience.
Betting the draft is unique because there are no power ratings to assist sportsbooks in setting lines. The only "data" oddsmakers have at their disposal are the same press conferences and combine results the general public also has access to. That means knowledge is power and the line moves will be hyper-reactive to the news cycle.
"Besides moving numbers off of bets we take, we are also refreshing Twitter and other betting apps as well to see where the market is going," said Westgate senior risk supervisor Casey Degnon.
This also means booking the draft is mostly a losing proposition for sportsbooks, as the markets tend to be very one-sided and it's nearly impossible to stay ahead of the news cycle. Oddsmakers have protected themselves recently by lowering the limits allowed on draft bets and not opening certain markets until more information becomes available closer to draft night. However, if the last 2 NFL Drafts have taught us anything, it's that enough money can still be made to make it worth your while.
How to read the tea leaves
An example of this hyper-reactivity to NBA Draft news took place on June 20, when Orlando Magic president Jeff Weltman made some confusing public remarks about the team's interest in Paolo Banchero for the first overall pick. Instead of admitting to reporters they brought Banchero in for a workout, Weltman dodged the question entirely and instead gave a cryptic response about how his organization prefers to be "buttoned up" when it comes to visits and workouts.
.@OrlandoMagic Jeff Weltman's full answer to my question about if Orlando brought in Paolo Banchero for a workout.
I've thought a lot about why a franchise and player(or player's agent) wouldn't want the public to know about a workout, & I still can't come up with a good reason. pic.twitter.com/xTfYVYEK4J

— Adam Shadoff FOX 35 (@FOX35Adam) June 20, 2022
That comment raised red flags for bettors who monitor the NBA Draft market closely because it directly contradicted how the team handled Jabari Smith, whose workout in Orlando on June 9 was made very public.
Auburn forward Jabari Smith is here in Orlando for a predraft workout with the Magic. pic.twitter.com/kE5r0w7HR9

— Aaron Goldstone (@AaronGoldstone) June 9, 2022
So there are three ways to digest this. First, and the most likely scenario, Weltman is declining to comment on Banchero's workout because the workout never happened. At this point it's safe to assume the Magic know who they are taking first overall, and if Banchero found out the team was already sold on Smith, either one or both parties involved could have decided not to waste anyone's time with an unnecessary workout.
Secondly, Weltman is being intentionally vague about Banchero with the hope of stirring up trade interest for the first overall pick because he knows another team behind him is interested in the Duke prospect.
Thirdly, and admittedly this is the most far-fetched scenario, Weltman intends to draft Banchero first overall and is trying to mask his interest to the public. If this is indeed his intent, Weltman has a terrible poker face.
Regardless of what option ends up being the correct end result, the market responded very quickly after Weltman's comments. Overnight, Banchero's odds to be drafted first overall were slashed from +950 to +400 at FanDuel. He saw a similar drop at the Westgate that consisted of both sharp and public money.
"It was some sharp money at first that started the freefall of his odds for us at 16/1 but as we started to go lower there was some public money mixed in as well," added Degnon. 
Wild odds swings lead to NBA Draft markets being taken down
This market got flipped on its head on Wednesday night, with Banchero briefly taking over the role of favorite to be taken first overall. At 8:00am ET on Thursday, he was -210 odds to be taken first at FanDuel Sportsbook, with Smith out to +125.
But at 8:41 am ET, Woj dropped a bomb that tilted the market back in favor of Smith in a big way, sending out this tweet about the top 3 picks being pretty much set in stone.
As team boards finalize today, the 1-2-3 of the NBA Draft is increasingly firm, per sources: Jabari Smith to Orlando, Chet Holmgren to Oklahoma City and Paolo Banchero to Houston.

— Adrian Wojnarowski (@wojespn) June 23, 2022
This prompted several sportsbooks to take down the market for the first 3 overall picks entirely. Meanwhile, FanDuel reopened with Smith at -10000 odds to be taken first overall, which implies a 99% chance of that event occurring.
Who will be the #1 pick?
With all the shenanigans that have taken place in the hours leading up to the draft, it's hard to take anything anyone says at face value, and further shows how hyper-reactive these markets can be.
Woj is the most well-sourced reporter in the NBA, so my head says to trust him, which means it will end up being Smith taken first overall. It's also reasonable to assume at this point the overnight movement towards Banchero was either a headfake or someone with big exposure already on Smith hedging their bet.
"I personally think it will be Jabari Smith from Auburn," added Degnon. "That would also be our best result out of the 3 guys that have been murmured to go number one."
How am I betting the draft?
All of the bets I've made for the draft have come from one source, Bobby Stanley, who appeared on "Let's Bet It" on Thursday morning to explain the reasoning behind his picks.
Here is how I allocated Bobby's bets in my portfolio:
Ousmane Dieng under 11.5 draft position -135 (1u at Draftkings) *Play of the Day*
Ousmane Dieng top 10 pick +110 (0.5u at Draftkings)
Jalen Duren over 10.5 draft position -136 (0.5u at Draftkings)
TyTy Washington under 19.5 draft position -110 (0.5u at Draftkings)
Tari Eason under 17.5 draft position +110 (0.5u at Caesars)
Pickswise is the home of free NBA picks and predictions. Make sure to check out our coverage throughout the offseason in advance of 2022-23.