Jared Smith's 2022 NFL Draft Preview: Analysis and best bets
The NFL Draft is my favorite event on the sports betting calendar. There, I said it. This certainly wasn't the case until recently, as the market has matured dramatically since 2018 in correlation with the overall growth of the gambling industry.
Flash forward two years later, the pandemic changed everything. During the height of quarantine, the 2020 NFL Draft was an oasis for sports bettors trapped in a desert of isolation. For the first time, sportsbooks had the resources and resolve to offer a full arsenal of props and futures, which were wildly popular. The draft hasn't been the same ever since.
Let's start with the view from oddsmakers, and then dive into my best bets for the upcoming 2022 NFL Draft.
The sportsbook perspective
"It was almost like NFL Week 1, considering other people were betting ping pong and stuff like that," said WynnBET Senior Trader Motoi Pearson. "I think it's grown a lot more because of social media."
Betting the draft is also unique because there are no power ratings to assist sportsbooks in setting lines. The only "data" oddsmakers have at their disposal are the same media reports and combine results the general public also has access to. That means knowledge is power. Once the info drops it's a race to the window, and the biggest line moves tend to be the easiest wins.
"The only thing I can really compare it to is NBA awards, speculation is big and any small piece of information can drive it," added Pearson.
Some books protect themselves by not releasing lines until the week of, others just keep the limits low enough so even when news does inevitably break, the overall risk is low. Either way, sharp bettors who are quick to act have a major edge.
"If you're not studying for this like a year before, it's hard to be first," said Pearson. This year's draft is unique in that the main narratives are not quarterback-driven. Each of the last four drafts has seen a QB taken first overall, but this year I don't expect one to be selected in the top 10, which would be the first time that's happened since 2013 when EJ Manuel went 16th overall to the Bills.
Despite no clear-cut number one pick this year, the top of the market has come into focus over the last few days with Travon Walker now the favorite to be taken first overall. The Georgia edge rusher is the sixth player to be tagged with that distinction at Draftkings since the market went live last May, proving just how wide open this draft is at the top.
Cornerbacks have also created some buzz over the last week. Ahmad Gardner and Derek Stingley have seen their numbers move significantly lower, and I expect both to be taken within the first seven picks.
"Stingley was a big one," added Pearson. "I actually had to call around a couple guys I know to see if anyone else was seeing Stingley getting absolutely obliterated."
2022 NFL Draft best bets
Below you can find my top plays for this year's draft. Sadly most of the numbers I was able to find have moved, but some are still worth playing if you downsize your risk accordingly. My full draft portfolio can be found at the bottom, and also under the futures tab on my betting spreadsheet.
Last year, I risked over 35 units and finished the draft up over 20 units. This year I downsized my risk a bit to just over 30 units, which is a lot for one night of betting, but some of these opportunities truly only come around once a year, so I feel more inclined to increase my risk tolerance for this event.
#NFLDraft recap

Almost 20 units in 2 days. Don't tempt me with a good time. 😍 pic.twitter.com/NYG6u5vFVc

— Jared Smith (@jaredleesmith) May 1, 2021
Please note, betting under on draft position equates to a lower overall number but a higher spot on the board. For example, under 7.5 means for the bet to win I need that player to be taken 1 through 7.  Conversely, over 7.5 means the bet wins if that player is selected 8th or later.
Over/under draft bets (all to win 3 units)
Derek Stingley Draft Position u8.5 -165
As mentioned above, Stingley caught oddsmakers off guard earlier in the week and the steam is significant enough to lead me to believe he will be taken ahead of Ahmad Gardner in the top 5. That also pushed me to make a smaller bet on Stingley to be the first corner off the board at +250. I see a scenario where Stingley goes 3rd to the Texans and Gardner still gets taken in the top 7, which would be the ideal outcome.
Wide Receivers Drafted in 1st Round o5.5 -158
I made this bet back on April 13th at FanDuel and at last check there are no more 5.5's available. It's now sitting at 6.5, which I would probably lean under on as I see six going in the first round. I was also able to knock the juice down to -128 by parlaying it with the Bucks over the Bulls at -1000, which is well in hand. I expect Garrett Wilson, Jameson Williams, Drake London, Chris Olave, Treylon Burks, and Jahan Dotson all to be off the board in the first 32 picks.
Ahmad Gardner Draft Position u7.5 (-150)
The steam on Sauce has been spicy in the last week. This number is all the way down to 5.5 juiced to the under, which is not playable anymore. If you can still find a rogue 7.5 out there I would play under up to -300 for a unit or two. Reports are that several defensive coordinators around the league would take Gardner over any other defensive player in the draft, which is a bold statement considering the top two picks are projected to be edge rushers. I don't expect any leftover Sauce past the Giants at 7th overall.
George Karlaftis Draft Position o19.5 (-140)
My draft source alerted me on this one over the weekend. The number has moved down to 22.5 at some shops but I think there's a decent chance he falls out of the first round entirely, so it's still worth a unit or two at that current number.
Quay Walker Draft Position u39.5 (-115)
This was another one I got signaled on over the weekend. Walker is flying up most draft boards and some analysts even have him going in the first round. This should come as no surprise considering how good Georgia's defense was last season. Walker is an athletic and versatile three-down linebacker, which is rare in the modern age of defensive schemes.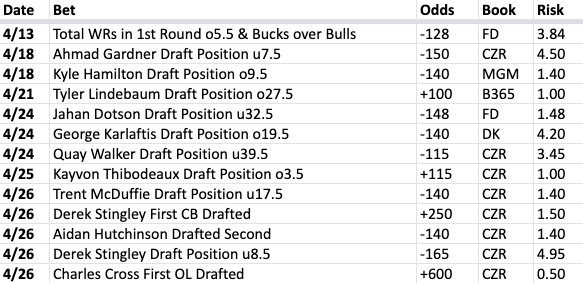 Pickswise 2022 NFL Draft content
Check out some of the great articles our news team has put together on the upcoming 2022 NFL Draft:
Pickswise is the home of NFL Picks. Be sure to check out all of our post-Super Bowl offseason coverage as we gear up for the 2022 campaign.