Jared Smith's NFL Week 3 best bets and market insights: Panthers have staying power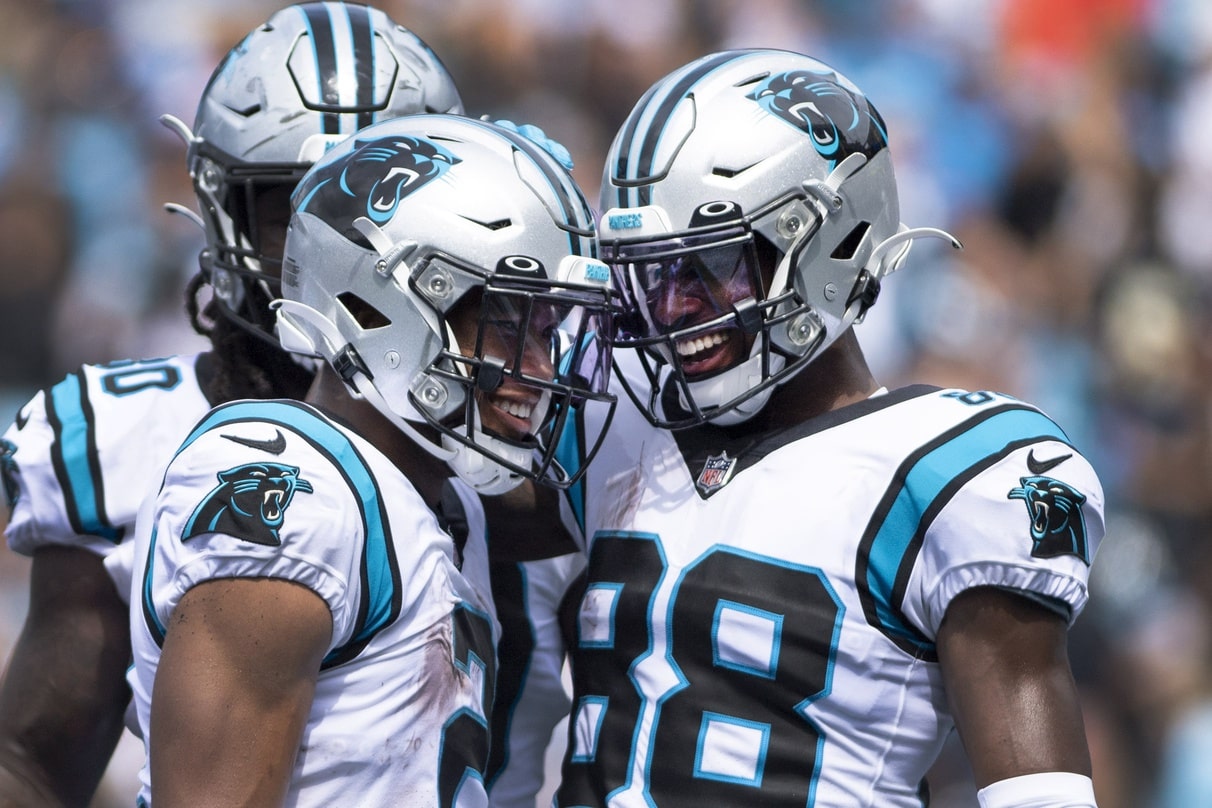 We're two weeks into an 18-week NFL season, which means roughly 10% of the sample size has been recorded. So what have we learned? Well, the obvious lesson continues to be that extreme volatility due to injuries and penalties plays a huge factor in determining the outcome of the games. We also learned that the three teams with the most extreme performances from Week 1 (Cardinals, Eagles, Saints) regressed back to the mean with all three failing to cover the spread in Week 2.
But there is one outlier team from the first two weeks that sportsbooks believe might have staying power as a possible contender. "Carolina. They have looked so good the first two weeks, that defense has looked like a potential top 10 unit and Darnold has looked competent," said PointsBet Head of Trading Jay Croucher. "I know it's Houston and it's probably Davis Mills, but the fact that the Panthers are bigger than a touchdown favorite on the road against anyone just shows how solid that team is."
Another modest surprise has been the mediocre play of home teams, who have a sub-.500 overall record (15-16) through two weeks. Home sides are also just 12-19 ATS, taking another small step in disproving the age-old narrative that teams should be receiving the full three points for home field.
"It's only two weeks, it's a very small sample, but there's definitely a trend over the last 20 years that home field is lessening and lessening," said Croucher. "I think that's just because of the sophistication of sleep and travel, and people being more switched on nutritionally, the toll travel takes on your body is less and less. Home field is not going to be worth zero points, but I think it will settle into that 1.5 to 2-point advantage."
As for our picks — 3-3 last week, 6-5 for the season. Nothing to write home about, but it's a marathon, not a sprint. Onto the selections.
Miami Dolphins at Las Vegas Raiders
Dolphins +4.5 (-110)
*Line available at time of publishing
Are we sure that Jacoby Brissett is three points worse than Tua Tagovailoa? The lookahead line suggests so. Las Vegas opened as a 1-point favorite last week and now the line has moved a full three points, crossing that key threshold of -3, with Brissett officially announced as the starter. I don't put much stock in Sunday's blowout loss to the Bills. It was a 7-0 game early in the first quarter with the Dolphins driving when Tua got hurt on fourth down and threw things into a frenzy. Plus Buffalo's defense is very good, much better than Las Vegas', who are allowing 6.0 yards per play.
Call me crazy, but Brissett's steady hand might be exactly what the Dolphins need in this spot. I like that the Tua news was announced early, which means Brissett will get all the starting reps in practice this week. The Raiders are coming off two emotional victories in back-to-back weeks, both as medium-sized underdogs, and now they're favored by more than a field goal. This feels like a good time to sell high on a team that most experts believed would show a lot of volatility in 2021. I would not be surprised if Miami sprung the upset here.

Be sure to check out our full game preview for Miami Dolphins vs Las Vegas Raiders
Los Angeles Chargers at Kansas City Chiefs
Chargers +7 (-118)
*Bet on Monday, playable to +6.5
Justin Herbert continues to grade out as a top-tier quarterback and is 2-0 ATS in his career against the Chiefs, with the first game being his NFL debut. Meanwhile, KC is just 2-11 ATS in their last 13 games dating back to Week 9 of last season and including the playoffs.
Don't get me wrong, the Chiefs have four of the best players in the NFL (Patrick Mahomes, Tyreek Hill, Travis Kelce, Chris Jones) but there's a big gap in talent with the rest of their roster. The Chargers have more balance and depth across the board. On paper, these teams are much closer than the spread indicates. Both are dead even in net yards per play (-0.3) and each have an identical 1-1 record after two weeks. I'm not saying the Chargers will win, but this feels like a one-score game that will be decided on the final drive by one of these uber-talented QBs.
Be sure to check out our full game preview for Los Angeles Chargers vs Kansas City Chiefs
Atlanta Falcons at New York Giants
Falcons +3 (-120)
*Line available at time of publishing
There's not a very scientific approach to this handicap except for the theory that you have to be a mad scientist if you're willing to lay points with Daniel Jones. Perhaps the most volatile quarterback not named Jameis Winston put forth a career performance in a losing effort last Thursday against Washington. But with Joe Judge and Jason Garrett at the helm, I'm not sure the extra rest will benefit Big Blue.
Meanwhile, the Falcons looked spunky down just 28-25 in the fourth quarter against the defending Super Bowl champion Bucs on Sunday before two late turnovers iced the game and made the final score look more lopsided than it should have. We're also getting this at the most key number of +3, after the lookahead line was Falcons +2.5.
Be sure to check out our full game preview for Atlanta Falcons vs New York Giants
New York Jets at Denver Broncos
Jets +10.5 (-110)
*Line available at time of publishing
The lookahead line in this game was Denver -7.5 and I'm having trouble understanding why it's moved so much in just a week's time. We knew the Jets would be volatile this season with a rookie gunslinger quarterback, and Sunday's four-interception game by Zach Wilson is certainly a prime example.
The Broncos continue to lose key pieces on defense with three starters (Bradley Chubb, Josey Jewell, Ronald Darby) already on IR just two weeks in. Teddy Bridgewater has been fantastic ATS in his career, but that is a better-suited narrative when he's playing the role of spoiler. The Broncos could win this game by 30 if the Jets continue to turn it over at the rate they did against the Pats, but I'm betting on some positive regression in that category this week.
Be sure to check out our full game preview for New York Jets vs Denver Broncos
Green Bay Packers at San Francisco 49ers
49ers -3.5 (-110)
*Line available at time of publishing
This is my only bet of the week in which I'm willing to go against the grain and bet a worse line than the lookahead suggested, which was 49ers -3. Despite Aaron Rodgers' bounce-back performance on Monday night, it's the Green Bay defense I'm concerned about, going up against a San Francisco offense that has graded out among the best units in the league through the first two weeks.
I can see this game playing out in a similar fashion to the Packers' two trips to Levi's Stadium in 2019, which both resulted in 37 points being scored by the 49ers in a blowout victory. I'm expecting Aaron Rodgers to be a public dog on Sunday night, and this is a prime spot to fade him.
Be sure to check out our full game preview for Green Bay Packers vs San Francisco 49ers
6-Point Teaser (-120)
Panthers -2
Cardinals -1.5
*Line available on DraftKings at time of publishing
As mentioned at the top of this column, Carolina is the surprise team in the NFL so far, and I just don't see them losing to a third-round rookie quarterback making his first career start on a short week. Sure, stranger things have happened, but I'll trust what my eyes and the experts are telling me about the Panthers. The same goes for Arizona, who probably doesn't deserve to be favored by a full touchdown on the road against anyone after what we saw from their defense against the Vikings, but I do not see them losing this game outright as long as Kyler Murray keeps playing at an MVP level.
Bonus 6-Point Teaser (-120)
Buffalo -1.5
Cleveland -1
*Line available on DraftKings at time of publishing
It's a great week for teasers and I couldn't resist throwing Cleveland into the mix here after it was confirmed that Justin Fields was starting at quarterback for Chicago. Sure, his ceiling is higher than Andy Dalton's, but the floor is much lower, and I expect Cleveland to control the line of scrimmage on both sides with their exceptional play up front. Buffalo's defense is allowing the fewest yards per play in the NFL through two weeks and Washington's poor defensive grades have been a surprise for me so far. It could be a big day for Josh Allen, even if he hasn't looked like last year's version of himself in two games this season.
—
Last week: 3-3, -0.3u (Sides: 1-2 / Totals: 1-1 / Teasers: 1-0)
2021 season: 6-5, +0.43u (Sides: 3-3 / Totals: 1-2 / Teasers: 2-0)
Read the thoughts of ex-NFL front office personnel Jim Monos, who is particularly critical of Urban Meyer and his development of Trevor Lawrence
Pickswise is the home of NFL Picks. Check out our latest playoff picks and round-by-round analysis as well as our free Super Bowl predictions.