Jared Smith's NFL Week 4 best bets and market insights: Ravens keep it rolling at Mile High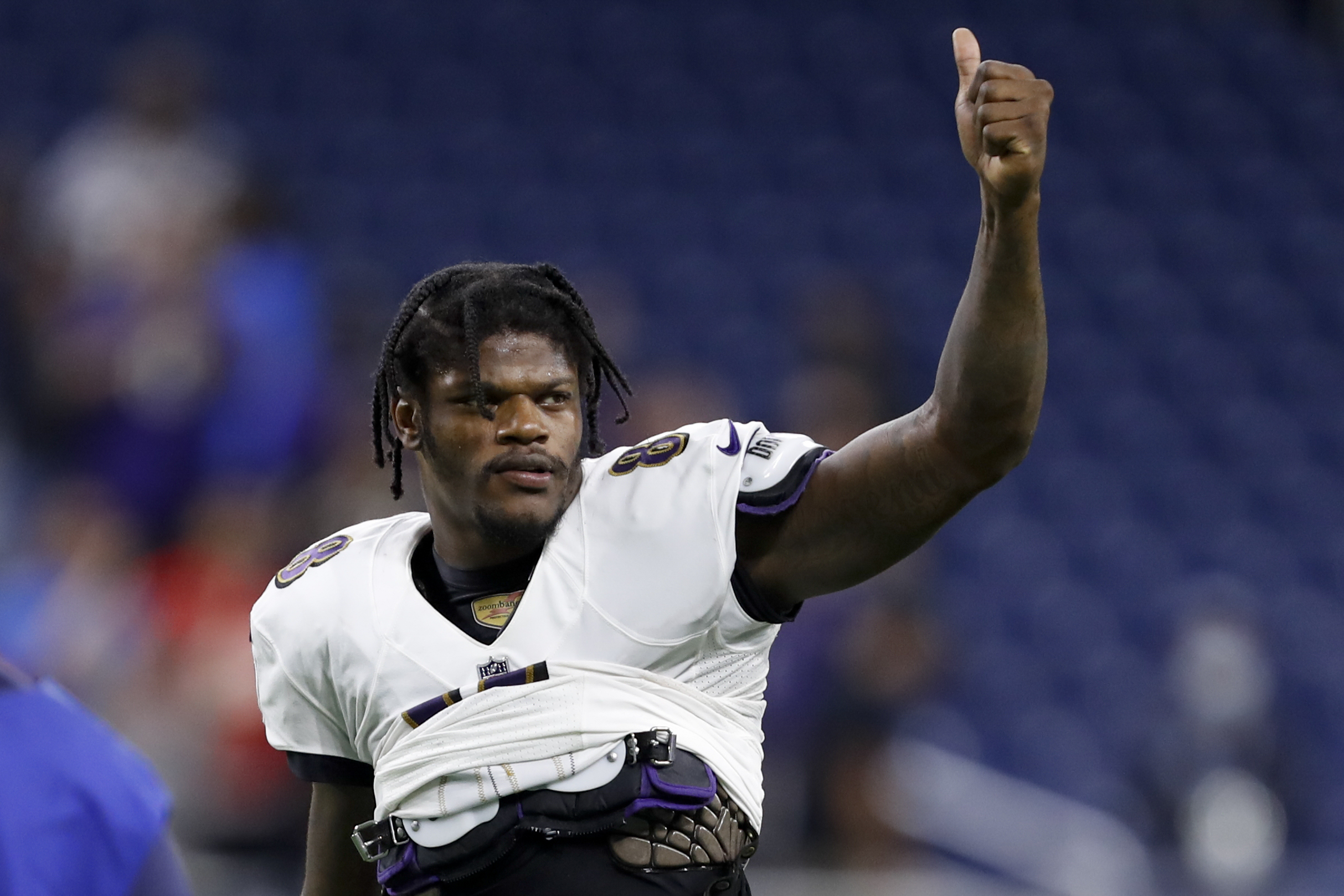 We've arrived at Week 4, which means roughly a quarter of the 17-game regular season will be consumed after Monday night. Some of our initial questions have been answered when sorting out the contenders from the pretenders, but many remain. One of the answers we received last week was the resurgence of Josh Allen's MVP campaign, as oddsmakers begin to sort teams into their respective tiers.
"There were some questions about that Bills offense after the first two weeks, but then Josh Allen looked like the guy he was last year," said PointsBet Head of Trading Jay Croucher. "So now we probably have tier one Kansas City, Tampa Bay, the Rams, and the Bills. I think those four teams have separated themselves." Allen's five combined TDs against Washington capped off a two-week stretch that saw Buffalo score 78 points and vault back into the contender category after an ugly Week 1 home loss to Pittsburgh.
The Rams will get another chance to prove their worth this Sunday against a tough divisional opponent. More on that game in a bit. The Bucs and Chiefs both lost outright on Sunday — in fact, Kansas City has dropped two in a row — but both teams are still being priced like contenders after three weeks. Onto the selections.
Baltimore Ravens at Denver Broncos
Ravens +1.5 (-110)
*Bet at MGM on Tuesday, would play up to -1
The lookahead line from earlier this summer was Ravens -3.5, which means this has moved five full points from peak to trough over the last couple of months. I'll buy-in on that line value with a Ravens team that, despite appearing sluggish at times, is still positive in Net Yards Per Play after three weeks. Make no mistake about how good the Broncos have been this season, especially on defense, but I'm concerned the injuries will start to catch up with them on both sides of the ball. This week it's K.J. Hamler going on IR and both starting guards missing practice time with various ailments.
"This game is all about Denver. If they're a legitimate team that can contend for the AFC West, this is the type of game they need to win," said Croucher. Denver's running game has been solid early on with Melvin Gordon, but that's playing into the strength of the Ravens defense, who will be getting back front seven starters Justin Houston, Brandon Williams, and Justin Madubuike from the COVID list this week.
On the outside, the injuries to Hamler and Jerry Jeudy make Denver's offense a bit more one-dimensional, and I'm concerned it will prevent them from taking advantage of a weakened Ravens secondary without Marcus Peters. Teddy Bridgewater is an insane 38-14 ATS in his career but I'm not sure he has the horses around him to get it done this week.
Be sure to check out our full game preview for Baltimore Ravens vs Denver Broncos
Tennessee Titans at New York Jets
Jets +8 (-115)
*Bet at SuperBook on Tuesday, would play down to +7.5
I must be crazy, right? Did I watch Sunday's Mile High disaster? Yes, I watched every second of it. But let's look at the big picture for a minute. Zach Wilson has played three games in his NFL career against teams ranked 1st, 5th, and 8th respectively in DVOA (Panthers, Broncos, Patriots) and now he gets to face a Titans defense that is grading out 28th. On top of that, both Julio Jones and A.J. Brown are battling injuries. Brown is expected to miss the game, and Jones is very questionable after only playing 34 snaps Sunday with a leg issue. The Marcus Maye injury hurts the Jets' secondary, but if Tennessee will be without their top two wide receivers this week, I can make a case that's an even tradeoff.
The line value also screams Jets here. The lookahead was Titans -6, which means it's pushed through the key number of 7 and presents an extreme buy-low spot on the Jets. "I think this is the Zach Wilson week. If he's bad against the Tennessee Titans that spells issues for the rest of the year, but I think that Tennessee's defense laying more than a touchdown on the road is a bit difficult to buy in on," said Croucher.
Be sure to check out our full game preview for Tennessee Titans vs New York Jets
Carolina Panthers at Dallas Cowboys
Panthers +5 (-115)
*Line widely available at time of posting
Matt Rhule's defense has been the best overall unit in the league so far this season, grading out 1st in DVOA against both the pass and the rush. The Panthers are also the only team in the NFL allowing less than 4.0 yards per play on defense this season. Sure, Carolina's schedule has been relatively soft (Jets, Saints, Texans) but they've covered all three games and looked very impressive against New Orleans. Meanwhile, the Cowboys are on a short week after playing a divisional opponent on Monday night. Their defense is allowing almost 7.0 yards per play this season, and even without Christian McCaffrey, I can see Sam Darnold having some success in this game.
The line analysis flashes a little bit of value towards the Panthers as well with the majority of handle coming in on Dallas but the number creeping towards Carolina from +5 to +4 at some spots.  This slightly inflated line is also a reaction by the oddsmakers to what transpired Monday night between the Cowboys and Eagles. "Carolina is better than Philadelphia and Carolina is getting +5 at Dallas whereas Philadelphia was +3. That's a reflection of the power rating really going up on Dallas after Monday night," said Croucher.
Be sure to check out our full game preview for Carolina Panthers vs Dallas Cowboys
Arizona Cardinals at Los Angeles Rams
Cardinals +5 (-110)
*Bet at MGM on Tuesday, would play down to +4.5
The Rams established themselves as a legit contender on Sunday against the Bucs, but now they are immediately tasked with another statement game, this time against a divisional opponent. On paper, these teams are relatively even; in fact, the Cardinals have a higher Net Yards Per Play than the Rams. Los Angeles has struggled to defend the run at times and are outside the top 10 in overall DVOA, which is a bit surprising considering their talent. Arizona's defense has shown inconsistencies but still ranks 6th in overall DVOA and 3rd against the pass.
Matthew Stafford has looked fabulous playing in Sean McVay's offense, but the same can be said for Kyler Murray and Kliff Kingsbury, who will be looking to make a statement of their own on Sunday and gain the respect of oddsmakers in the process. "Kyler Murray is favored to win MVP at some spots which is pretty shocking that an MVP favorite can be giving 6 points against a division rival," said Croucher. I liked how the Cardinals answered the bell against Jacksonville in the 2nd half after that fluky 109-yard return and as long as Kyler Murray keeps playing at an MVP level, I like their chances of keeping this one close.
Be sure to check out our full game preview for Arizona Cardinals vs Los Angeles Rams
Cleveland Browns at Minnesota Vikings
Over 51 (-115)
*Bet Tuesday at MGM, would not play over 51
This is only the fourth total I've bet this season, as it's not something I dabble with a ton (and I needed to take a hiatus after Tony Corrente ripped out my heart a couple weeks ago with some questionable calls against Justin Herbert and the Chargers). But I'm ready to put myself out there again and I feel comfortable with this spot because of some bullish line movement. Any total that opens below the very key number of 51 and bursts through, is worth a look. Most of the market is getting close to 52 here and I expect it to get there by Sunday, but we were able to grab 51 earlier this week after it quickly moved up from the lookahead of 50.5.
However, it was the defensive matchups that sealed this as a bet for me. The Vikings have been dreadful this season, allowing the 2nd-most yards per play in the NFL (6.8), and I expect them to struggle against Cleveland's dynamic offense. On the other side, the Browns are ranked 19th in DVOA against the pass despite facing the anemic Bears and Texans over the last two weeks. That's good news for Justin Jefferson and Adam Thielen, who will be the most electric playmakers the Browns secondary has faced since the Chiefs scored 33 against them in Week 1. No, I'm not comparing Patrick Mahomes to Kirk Cousins, but the latter has the 4th-highest QB rating in the league this season, ranking three places ahead of the former.
Another trend to watch: indoor games are 9-6 to the Over this season, which is a small sample, but something I will track this season.
6-Point Teaser (-120)
Chiefs -1
Saints -2
*Available at DraftKings at time of posting

Kansas City enters this game on a two-game losing streak and could easily be 0-3 if not for a botched snap on special teams and one blown coverage in the secondary by the Browns in Week 1. Yes, I'm worried about their defense. How could you not be, considering it's the worst unit in the league according to DVOA. But it's still Patrick Mahomes, Travis Kelce, and Tyreek Hill against an Eagles secondary that made the Cowboys offense look extraordinary just a few days ago. The Chiefs haven't lost three straight games since 2017, so it's tough to see them losing this one outright.
This will be the first game for the Saints back at the newly dubbed Caesars Superdome after Hurricane Ida and a subsequent fire forced the team to play in Jacksonville Week 1. Enter the New York Giants, who look every bit of 0-3 after another blown lead Sunday at home against the lowly Falcons. Big Blue has big injury concerns all over the field, the worst being top tackling linebacker Blake Martinez, who was placed on IR this week after tearing his ACL on Sunday. Sterling Shepard and Darius Slayton are also questionable with hamstring injuries. I just can't see Daniel Jones and Joe Judge overcoming all of that to knock off the Saints in an emotional homecoming. Throw in how spicy the New Orleans defense has been this season, and you've got a recipe for a blowout brewing on the Bayou.
—
Last week: 5-2, +2.90u (Sides: 3-2 / Totals: 0-0 / Teasers: 2-0)
2021 season: 11-7, +3.33u (Sides: 6-5 / Totals: 1-2 / Teasers: 4-0)
Pickswise is the home of NFL Picks. Check out our latest playoff picks and round-by-round analysis as well as our free Super Bowl predictions.