June could have/should have been the month of Nadal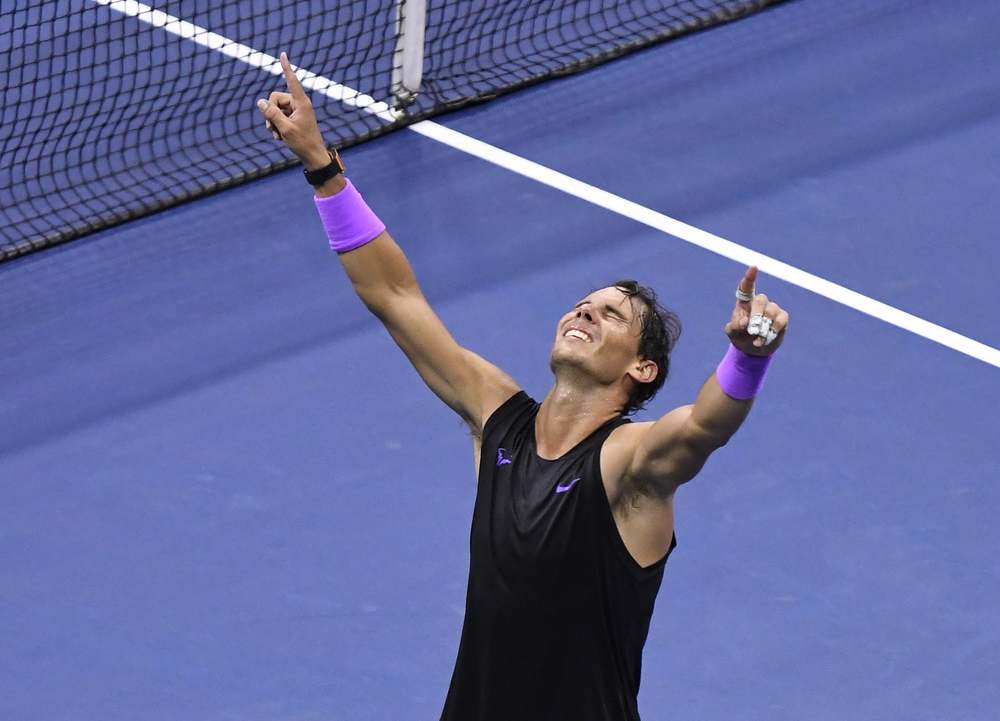 It is Sunday, June 7; the day Rafael Nadal should have been a considerable favorite to win a 13th French Open title and tie Roger Federer atop the men's singles all-time Grand Slam chart with 20 major victories.
Yesterday was supposed to be the Belmont Stakes, annually the third and final race of horse racing's Triple Crown. Nadal, a highly regarded horse trained by Bob Baffert, had been on course to bid for a Triple Crown—or, if not, at least to bid for one of the three crown jewels.
But the coronavirus pandemic (in addition to an injury sustained by the horse racing Nadal) has nullified all of those plans. Instead, June has been relegated to being just another month sorely lacking in the department of sports. It is true that soccer leagues are returning soon if not already back, the PGA Tour resumes next week, and the Belmont will take place later this month as the first instead of the final Triple Crown event. But the NBA and—probably—the NHL will not be in action until late July. Tennis could be done for all of 2020.
For now, we mostly wait patiently.
Nadal the tennis player
Although tennis is showing no signs of an official return any time soon, there is some good news for Nadal. The French Open is one of the fewer tournaments initially scheduled prior to Aug. 1 that has not been entirely cancelled. For the moment, it is merely postponed until late September.
As such, there are still two Grand Slam tournaments left on 2020's current schedule: the French and U.S. Open. Nadal, though, does not sound overly optimistic—especially not when it comes to a potential U.S. Open in New York.
"If you asked me today if I want to travel to New York to play, I will say, 'No, I will not,' the world No. 2 admitted. "In a couple of months I don't know how the situation will improve. We need to be responsible; we need to be sending strong messages and we need to be a positive example for society. We need to understand we are suffering an unprecedented situation and my feeling is that we need to come back when all the players from all the countries of the world are able to travel under safe circumstances."
Nadal is a commanding -120 favorite to triumph at Roland Garros if the tournament is able to take place later this year. He is followed by Novak Djokovic (+300) and Dominic Thiem (+350). The Spaniard is a +350 second choice to win the U.S. Open, trailing Djokovic (+150).
Nadal the horse
Named after Nadal the tennis player, Nadal the thoroughbred suffered a fracture in his left front leg in late May. It was a career-ending injury but not a fatal one, so he will be retired to stud.
"He got a very serious injury; he's fine now," co-owner George Bolton said soon after it happened. "We're lucky. We got four great races out of him…. The good news is this injury was found, right? It could have been catastrophic. Baffert called me…and said, 'He's done.' I couldn't believe it."
Tiz the Law is a +125 favorite to win the Belmont Stakes, which has been moved to June 20. He is also a +300 top choice at the Kentucky Derby. Maxfield (+300 and +500, respectively) and Honor A.P. (+600 and +700) are the second and third favorites at both the Belmont and the Run for the Roses.
The Kentucky Derby, originally held the first weekend of May, is a go for Sept. 5. Be sure to check out our daily horse racing expert picks for the Triple Crown events and many others.