KBO baseball: Picks, predictions and best bets for Friday 6/3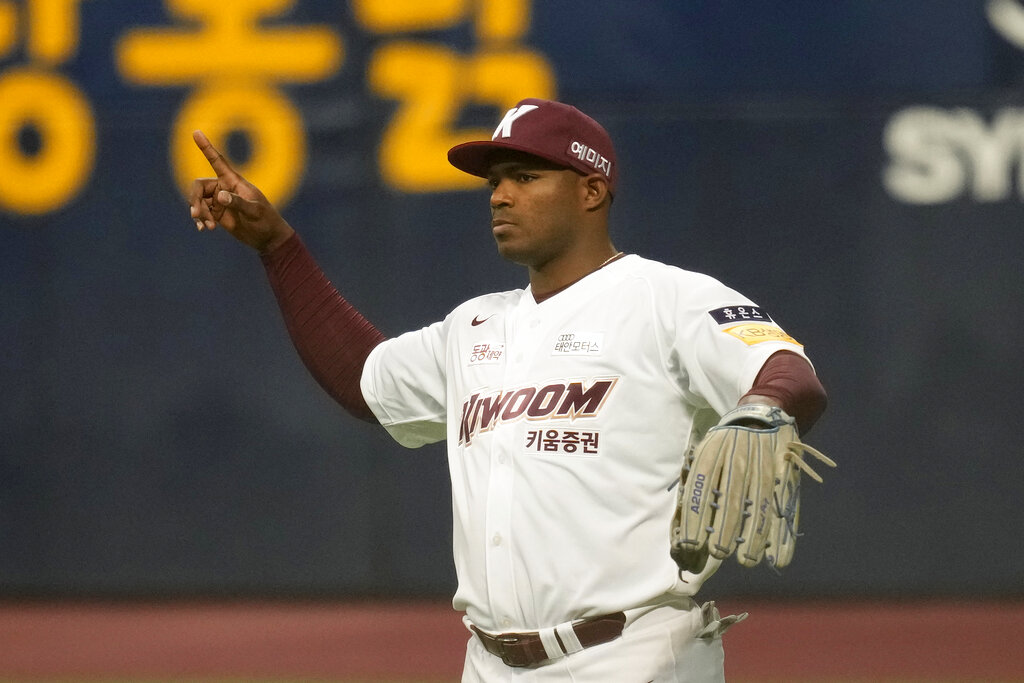 The KBO season rolls on this week and our experts are back to help you find the best value on Friday's slate. Whether you are looking for a single money line pick or a KBO parlay, we have you covered. Note that all these games start at 5:30 am ET on Friday morning.
KBO betting odds
Here are the KBO betting odds for Friday, June 3rd courtesy of FanDuel Sportsbook.
Kia Tigers (-136) vs KT Wiz (+112), O/U 7.5
Lotte Giants (-122) vs NC Dinos (+100), O/U 7.5
Doosan Bears (-110) vs Samsung Lions (-110), O/U 9.5
SSG Landers (+138) vs LG Twins (-170), O/U 8.5
Kiwoom Heroes (-205) vs Hanwha Eagles (+166), O/U 9.5
KBO picks and predictions
Friday's slate features plenty of opportunities for value. Let's dive into the day's best bets.
Lotte Giants ML (-122) vs NC Dinos
The Lotte Giants ended their series with the LG Twins with a tie-on Thursday morning. The game ended 2-2 after 12 innings, so they are now 23-27-2 on the season. They will hope to open the weekend series with a win over the struggling NC Dinos as they will start Charlie Barnes. Despite the Giants sitting in 7th place, Barnes has easily been their best pitcher this season. He is 6-2 and has an ERA of 2.34. In 12 starts Barnes has allowed 20 earned runs over 77.0 innings.
The Dinos managed to win their game on Thursday, beating the Hanwha Eagles by a score of 4-3. They needed extra innings, though are still just 18-35 on the season. Even with this win, the Dinos are still in dead last in the standings. They will counter with Koo Chang-Mo, who is 1-0 this year and has an ERA of 0.00. He made his 2022 debut just last week, where he pitched 5.1 innings against the Doosan Bears and did not allow a run.
Chang-Mo looked good in his only start, but there is not enough of a sample size to believe he will be able to outduel Barnes, who has been lights out all season long. For that reason, backing the Giants will be the play.
SSG Landers vs LG Twins ML (-170)
The SSG Landers were blown out on Thursday, losing to the KT Wiz by a score of 14-1. This was a rare occurrence to say the least. They are still the best team in the KBO with a record of 35-16-2. Though with the loss on Thursday, their lead for 1st place is down to 4.0 games. The SSG Landers will start Ivan Nova on Friday, who is 3-2 and has an ERA of 5.77. In 10 starts Nova has allowed 37 earned runs over 57.2 innings.
The LG Twins tied with the Lotte Giants on Thursday to move to 29-23-1 on the season. They are now 4th place and have a 4.0 game lead over 5th place. The Twins will counter with Casey Kelly, who is 5-1 and has an ERA of 2.91. In 9 starts he has allowed 52.2 innings.
The SSG Landers may have the best record in the KBO, but they do not have a consistent pitcher on the mound for this game on Friday. Nova has struggled all season, therefore backing Kelly and the Twins will be the play.
Kiwoom Heroes ML (-205) vs Hanwha Eagles
The Kiwoom Heroes got a needed win on Thursday morning over the Samsung Lions by a score of 6-5. They are now 32-21 on the season and are now 4.0 games behind 1st place. Looking to reduce that deficit even more, the Heroes will start Choi Won-Tae on Friday morning. He is 3-2 and has an ERA of 2.40. In 9 starts he has allowed 12 earned runs over 45.0 innings.
The Hanwha Eagles lost to the NC Dinos on Thursday by a score of 4-3 in extra innings. The loss puts the Eagles at 20-33 on the season and they are still in 9th place in the league standings. They will counter with Lee Min-Woo, who is 1-1 on the season and has an ERA of 6.31. In 10 appearances (4 starts) Min-Woo has allowed 18 earned runs over 25.2 innings.
The Heroes has a great chance to put more pressure on the SSG Landers on Friday as they are facing one of the leagues worst team. Because they have a significant edge on the mound, backing Kiwoom to win will be the play.
Looking for a bigger payout? Play these picks as a 3-team parlay with odds of +329.
Make sure you check out all of our picks for KBO action every single day!