KBO baseball: Picks, predictions and best bets for Friday, June 10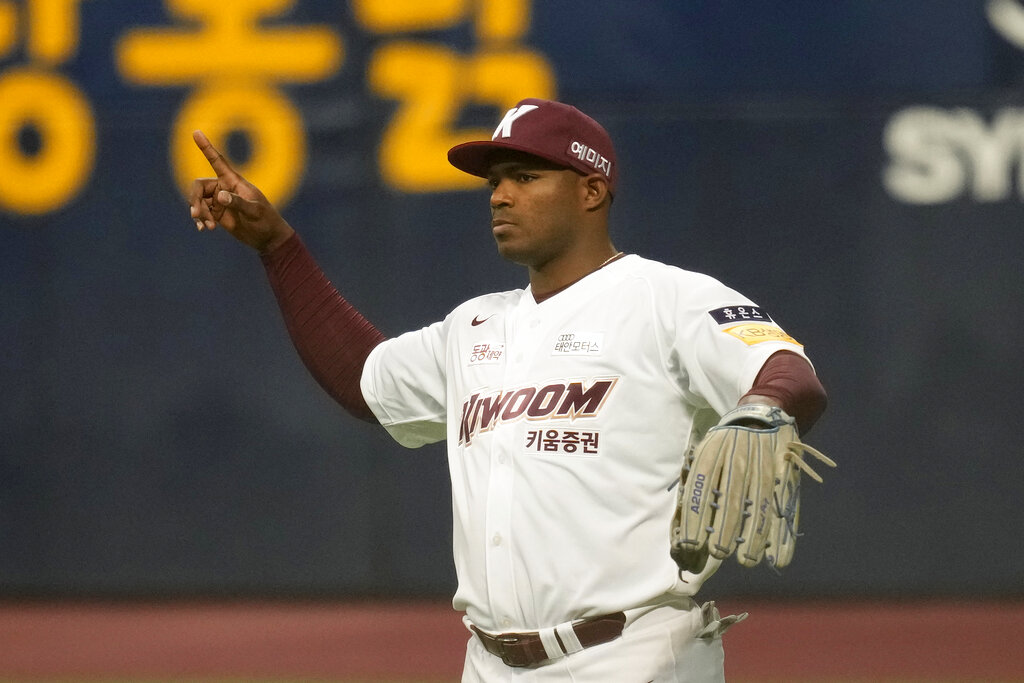 The KBO season rolls on this week and our experts are back to help you find the best value on Friday's slate. Whether you are looking for a single money line pick or a KBO parlay, we have you covered. Note that all these games start at 5:30 am ET on Friday morning.
KBO betting odds
Here are the KBO betting odds for Friday, June 10th courtesy of FanDuel Sportsbook.
Hanwha Eagles (+122) vs SSG Landers (-148), O/U 9.5
KT Wiz (-110) vs Lotte Giants (-110), O/U 7.5
NC Dinos (-164) vs Samsung Lions (+134), O/U 8.5
Doosan Bears (+154) vs LG Twins (-188), O/U 7.5
Kiwoom Heroes (+118) vs Kia Tigers (-142), O/U 9.5
KBO picks and predictions
Friday's slate features plenty of opportunities for value. Let's dive into the day's best bets.
KT Wiz vs Lotte Giants – Under 7.5 (-104)
The total could also be a decent play, seeing that both starters have an overall ERA of under 3.00. Bae Je-Seong has allowed more than 4 runs in a game just 3 times. Over his last 5 starts he has allowed 2 earned runs or less, so even though his worst start of the season came against the Giants he should be improved here.
On the other side, Park Se-Woong has allowed 4 or more runs on just 3 times, as well. In his lone start against the KT Wiz he pitched 6.0 scoreless innings. So despite a few rocky starts recently, this is an offense he could bounce back against. The Giants are last in the KBO in total runs scored, while the KT Wiz are 8th in the same category. Therefore backing the under looks to be worth a play on Friday morning.
NC Dinos ML (-164) vs Samsung Lions
The NC Dinos pulled off another big upset on Thursday, beating the SSG Landers by a score of 5-4. They have won 2 games in a row now, but are still 21-36-1 on the season and are in last place by 0.5 games. The Dinos will start Koo Chang-Mo on Friday morning, who is 2-0 and has an ERA of 0.00. In just 2 starts he has now allowed a run over 12.1 innings.
The Lions lost their series finale against the Lotte Giants, losing by a score of 7-6 in extra innings. They are now 28-29 and are in 5th place in the league standings. They will counter with Hwang Dong-Jae, who is 1-1 and has an ERA of 4.31. In 9 appearances this year (8 starts) he has allowed 19 earned runs over 39.2 innings.
Chang-Mo does have a limited number of innings this season, but has been impressive nonetheless. The starter for the Lions has been inconsistent for the most part in 2022, making the Dinos worth a play on the money line.
Kiwoom Heroes vs Kia Tigers – Under 9.5 (-130)
The total looks to be the better play because both starters have been serviceable this season. Not only that but Choi Won-Tae has been great against the Tigers. Won-Tae only has 1 start against the Tigers, but allowed just 1 earned runs over 5.0 innings. He has also allowed more than 4 runs in a start just twice this season.
On the other side, Lee Eui-Lee has been great against the Heroes. In 2 starts he has allowed 4 runs (3 earned) over 14.0 innings. Overall he has allowed more than 4 runs this season in just 3 starts, but his success against the Heroes should allow him to put together another solid start. For that reason backing the under will be the play.
Looking for a bigger payout? Play these picks as a 3-team parlay with odds of +458.
Extra KBO picks and predictions for Friday, June 10
Hanwha Eagles vs SSG Landers ML (-148)
The SSG Landers failed to capitalize against the leagues' worst team on Thursday but will now play the 2nd-worst team on Friday. Neither starter in this game has a good ERA, but Oh Won-Seok has a 1.80 ERA against the Eagles, which should help them snap their losing streak.
Doosan Bears +1.5 (-148) vs LG Twins
The LG Twins have a solid starter in this game with Casey Kelly. However, his ERA against the Bears is 5.73 so look for the Bears to keep this one close.
Make sure you check out all of our picks for KBO action every single day!