KBO baseball: Picks, predictions and best bets for Thursday, May 19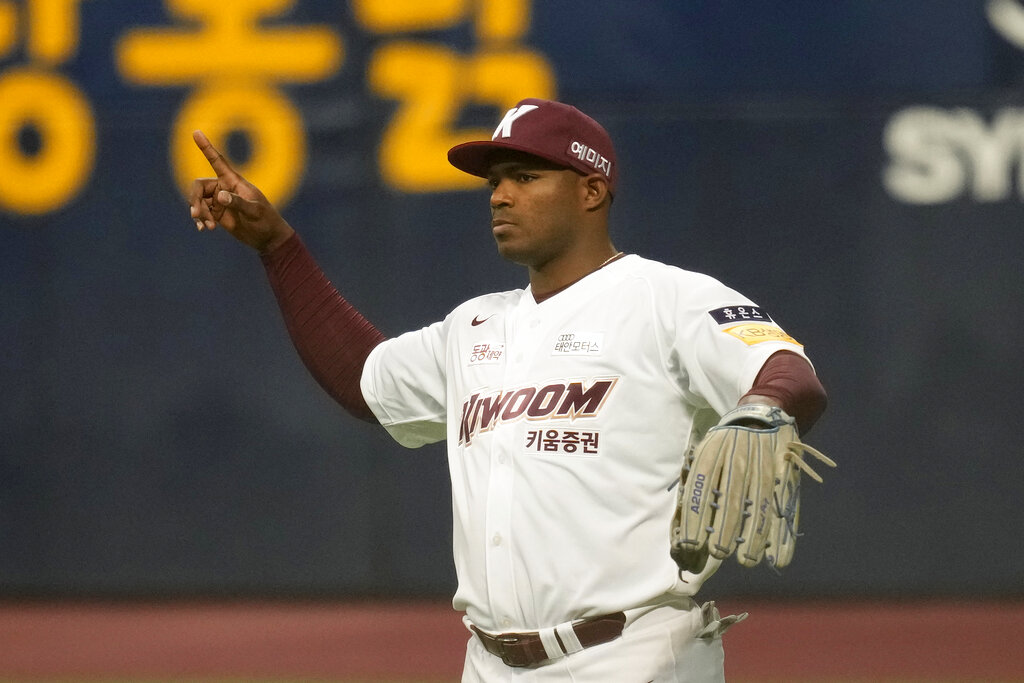 The KBO season rolls on this week and our experts are back to help you find the best value on Thursday's slate. Whether you are looking for a single money line pick or a KBO parlay, we have you covered. Note that all these games start at 5:30 am ET on Thursday morning.
KBO betting odds
Here are the KBO betting odds for Thursday, May 19th courtesy of FanDuel Sportsbook.
LG Twins (+116) vs KT Wiz (-142), O/U 7.5
Kia Tigers (-142) vs Lotte Giants (+116), O/U 8.5
SSG Landers (-186) vs Doosan Bears (+152), O/U 6.5
Kiwoom Heroes (+118) vs NC Dinos (-144), O/U 7.5
Samsung Lions (-230) vs Hanwha Eagles (+182), O/U 8.5
KBO picks and predictions
Thursday's slate features plenty of opportunities for value. Let's dive into the day's best bets.
Kiwoom Heroes vs NC Dinos ML (-144)
The Dinos may be terrible this season, but they showed up on Wednesday to rout the Kiwoom Heroes 15-3. The win moves them to 13-27 and they still sit in 9th place in the league standings. Thursday looks to be a decent spot for the Dinos as well, seeing that they will be starting Drew Rucinski. He is 3-3 on the season, but his ERA of 1.71 is a bright spot in what has been a dreadful season. In 8 starts Rucinski has allowed 10 earned runs over 52.2 innings.
With the loss on Wednesday, the Heroes are now 21-19 on the year. They are sitting in 6th place and need to take advantage when playing a bad team. The Heroes will counter with An Woo-Jin, who is 4-3  and has an ERA of 2.52. In 8 starts Woo-Jin has allowed 14 earned runs over 50.0 innings.
The implosion from the Heroes' pitching staff on Wednesday was certainly a surprise and the Dinos look to have the advantage on the mound for Thursday, as well. Because Rucinski has been among the best in the league, backing the Dinos to win will be the play.
Samsung Lions ML (-230) vs Hanwha Eagles
The Samsung Lions were able to beat the Hanwha Eagles on Wednesday by a score of 5-3. The Lions are now 21-18 and are currently in 4th place in the league standings. They will look to make it 2 wins in a row by starting Won Tae-In on Thursday morning. He is 3-1 and has an ERA of 2.61. In 6 starts Tae-In has allowed 11 earned runs over 38.0 innings.
With the loss on Wednesday, the Eagles are now 13-27 and are tied for 9th place in the standings. The Eagles will counter with Nam Ji-Min on Thursday morning. He has been terrible in 2022, posting a record of 0-3 and he has an ERA of 9.26. In 4 starts Ji-Man has allowed 12 earned runs over 11.2 innings.
Samsung look to have a huge advantage here in starting pitching. Their offense should have no issues hitting Ji-Man hard, which should lead to a Lions win.
SSG Landers vs Doosan Bears +1.5 (-128)
The SSG Landers outlasted the Doosan Bears on Wednesday, beating them 5-2 in a game that needed 12 innings. It was the 2nd game in a row that went to extra innings, so fatigue could play a factor here. The SSG Landers are still 1st in the standings and have a record of 26-12-2. They will start Wilmer Font, looking to close out the series against the Bears with a win. Font is 4-3 and has an ERA of 2.08. In 8 starts Font has allowed 12 earned runs over 52.0 innings.
With the loss on Wednesday, the Bears are now 20-17-1 and have lost 3 games in a row. They are currently in 3rd place but need a win here to avoid dropping any further down the standings. The Bears will counter with Choi Seung-Yong, who is 2-1 and has an ERA of 3.09. In 12 appearances (3 starts) Seung-Yong has allowed 8 earned runs over 23.1 innings.
The Bears have played the SSG Landers tight in this series, taking them to extra innings in both games. The starters are pretty even here, as well, so backing the Bears to keep this close will be the lean.
Looking for a bigger payout? Play these picks as a 3-team parlay — which pays out at odds of +333.
Make sure you check out all of our picks for KBO action every single day!