KBO baseball: Picks, predictions and best bets for Tuesday 6/14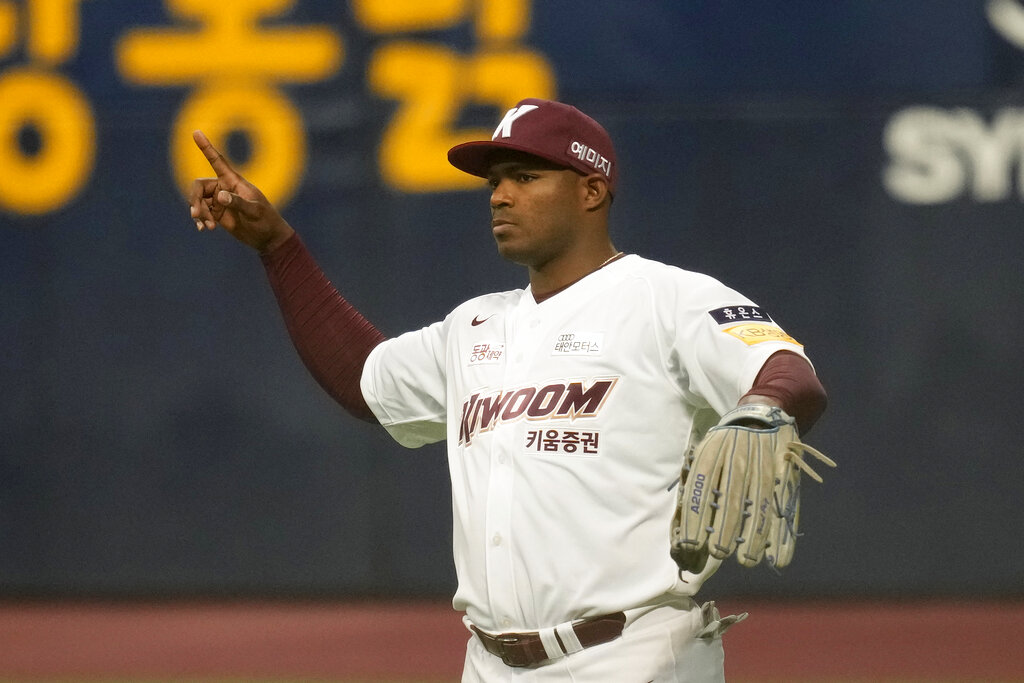 The KBO season rolls on this week and our experts are back to help you find the best value on Tuesday's slate. Whether you are looking for a single money line pick or a KBO parlay, we have you covered. Note that all these games start at 5:30 am ET on Tuesday morning.
KBO betting odds
Here are the KBO betting odds for Tuesday, June 14th courtesy of FanDuel Sportsbook.
Lotte Giants (-235) vs Hanwha Eagles (+186), O/U 7.5
SSG Landers (+106) vs KT Wiz (-128), O/U 7.5
Doosan Bears (+142) vs Kiwoom Heroes (-174), O/U 8.5
Samsung Lions (+112) vs LG Twins (-136), O/U 7.5
Kia Tigers vs NC Dinos
KBO picks and predictions
Tuesday's slate features plenty of opportunities for value. Let's dive into the day's best bets.
Lotte Giants vs Hanwha Eagles – Over 7.5 runs (-130)
The total could actually be the better play here because while Charlie Barnes has a low ERA, he has not been as solid over his last couple of starts. He has allowed at least 3 runs in each of his last 5 starts, which is not normal for him. His 1 start against Hanwha was a shutout over 6.0 innings, however. The Eagles' offense has been able to score runs recently, they just have not been able to stop anybody else from scoring.
On the other side, Yun Dae-Kyung has allowed at least 6 runs in 5 starts this season. He has had 2 solid starts in a row, but his track record against the Giants would suggest he will go back to being mediocre at best on Tuesday. In 2 starts against the Giants Dae-Kyung has allowed 9 earned runs over 11.2 innings. With both offenses having had success to end the week, expect there to be more runs score here on Wednesday. The Eagles are likely not going to score 11 runs against Barnes, but if they score just a few early on and get a few more against an average Giants' bullpen, the over will be in range. For that reason backing the over will be the play.
SSG Landers vs KT Wiz – Under 7.5 runs (-102)
The total could be a decent play here, seeing that both starters have an ERA below 3.00. Tae-Yang has allowed more than 4 runs in a start just twice this season. In his 6 other starts, he has allowed 2 runs or less. Also, in his 6 relief appearances, he allowed a total of 2 runs. He has struggled against the KT Wiz in 2 starts, allowing 6 earned runs over 11.0 innings — but only 1 of those starts was actually poor.
On the other side, So Hyeong-Jun has allowed more than 4 runs in 4 of his 11 starts, but 2 of these starts came in the first 2 starts of the season when he was still settling in. In his last 4 starts, he has allowed a total of 8 runs (7 earned) over 28.0 innings. His most recent start against the SSG Landers saw him allow just 1 earned run over 7.0 innings, which made up for his poor start against them to start the season (4 ER over 6.0 IP). Both offenses had plenty of success on Sunday, but Tuesday should be more of a struggle with the quality on the mound. For that reason, backing the under will be the play.
Samsung Lions vs LG Twins Over 7.5 runs (+112)
Despite both pitchers having solid ERAs, they have not fared well when facing each other's teams. Albert Suarez is 0-2 against the Twins and has an ERA of 5.11. In 2 starts against the Twins he has allowed 7 earned runs over 12.1 innings. He has allowed at least 3 runs in only 3 starts this season, but 2 of those have come in his last 3 starts, which may suggest he could continue to struggle.
On the other side, Adam Plutko has not recorded a decision against the Lions, but has an ERA of 6.35 against them. In his only start against the Lions he allowed 4 earned runs over 5.2 innings. He also has allowed at least 3 runs in 9 of his 12 starts this season. Plenty of those runs were unearned, but in terms of a total, they all count the same. Though because Plutko has had issues with his defense behind him and because Suarez has not been as solid as he once was, backing the over looks to be worth a play.
Looking for a bigger payout? Play these picks as a 3-team parlay with odds of +642.
Extra KBO picks and predictions for Tuesday, June 14
Kia Tigers ML vs NC Dinos
Both starting pitchers have had their struggles this season, but Lee Jae-Hak for the NC Dinos has been far worse. He is 0-6 on the season, therefore fading him and backing the Tigers will be the play.
Doosan Bears vs Kiwoom Heroes ML (-174)
The Kiwoom Heroes look to have a huge advantage on the mound on Tuesday with Eric Jokisch getting the start. He has an ERA of 2.72 compared to Park Shin-Zi on the Bears, who has an ERA of 6.05. For that reason, backing the Heroes will be the play.
Make sure you check out all of our picks for KBO action every single day!