Korean baseball picks, predictions, and best bets for Sunday, April 10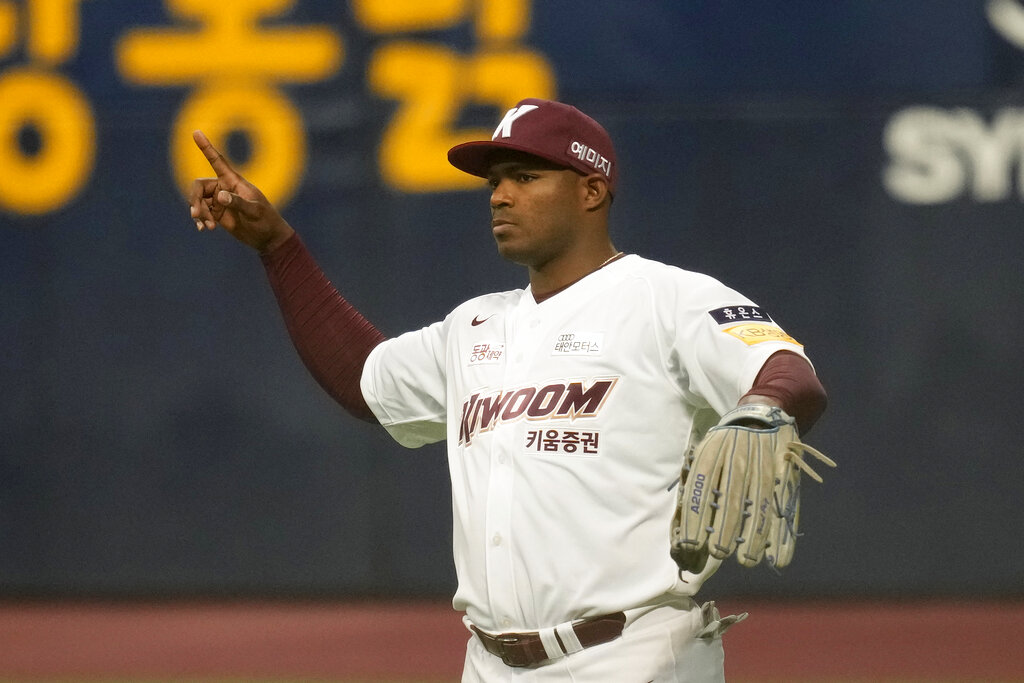 Our experts at Pickswise select their best Korean Baseball picks for Sunday to help you find the best value. Whether you're looking for a single money line pick or a KBO parlay, we have you covered. Note that all of these games start at 1:00 am ET on Sunday morning.
KBO betting odds
Here are the KBO betting odds for Sunday, April 10 courtesy of FanDuel Sportsbook.
Kia Tigers (+128) vs SSG Landers (-156), O/U 7.5
Doosan Bears (+112) vs Lotte Giants (-136), O/U 8.5
Kiwoom Heroes (+128) vs Samsung Lions (-156), O/U 8.5
KT Wiz (-220) vs Hanwha Eagles (+176), O/U 8.5
NC Dinos (+160) vs LG Twins (-198), O/U 7.5
KBO picks and predictions
Sunday's slate features plenty of opportunities for value. Let's dive into the day's best bets.
Doosan Bears vs Lotte Giants – Over 8.5 Runs (-102)
The total looks to be the better play here, considering the struggles both of the starters have had in their careers. Lee Young-Ha was decent in his first start, but in 2021, he was 0-1 against the Bears, allowing 19 earned runs in 16.2 innings. The Bears are also the 3rd best offense in the KBO, averaging 4.1 runs per game. They are also the 4th worst defense in the league, allowing 4 runs per game. The Giants score and allow an average of 3.3 runs per game, but with Glenn Sparkman on the mound, they may have some issues keeping the Bears off the scoreboard. For that reason, backing the over will be the play here.
NC Dinos vs LG Twins ML (-198)
A win was the result for the LG Twins on Saturday as they move to 6-1 on the season, just 1 game back from the top of the standings. Looking to close out the week with a win, the Twins will start Casey Kelly on Sunday morning. He is 1-0 to start the season and did not allow a run in that appearance. Last season, Kelly was among the best in the KBO, posting a record of 13-8 with an ERA of 3.15. Against the NC Dinos, he was 0-1 in 4 starts, allowing 8 earned runs in 23.2 innings.
It has been a tough week for the NC Dinos as another loss means they are now 2-5 on the season. They will look to finish the week strong on Sunday by starting Shin Min-Hyeok. He is 0-1 on the season and has an ERA of 3.00. Though his only start was not all that bad, allowing just 2 runs over 6.0 innings. He is coming off a below average 2021, posting a record of 9-6 with an ERA of 4.41. Against the Twins, he was 0-1 in 2 starts, allowing 6 runs in 12.0 innings.
Kelly has still been the more consistent pitcher in his KBO career, so for that reason, backing the Twins will be the play here.
Kia Tigers vs SSG Landers ML (-156)
Even though it is so early in the season, the SSG Landers are looking like a real threat to make some noise this season. They won their 7th consecutive game on Saturday morning and can make it a perfect week with a win on Sunday against the Kia Tigers. The SSG Landers are scheduled to start Noh Kyung-Eun, who is already 1-0 on the year. In that lone start, he faced the NC Dinos, going 6.0 innings without allowing a run. He also allowed just 1 hit, so another solid game looks promising. Kyung-Eun is coming off a 2021 season where he struggled, posting a record of 3-5 with an ERA of 7.35. Obviously, those are poor numbers, but the first start could suggest he will turn things around in 2022.
On the other side, the Kia Tigers are now 3-4 and will counter with Ronnie Williams, trying to get back to .500 to end the week. Williams has 1 start this season, picking up a no decision in a game where he pitched 5.2 innings against the Hanwha Eagles and did not allow a run. That lone start was Williams' first start in the KBO, so Kia has to be optimistic about their new signing.
Both starters in this game had promising starts to the season, but Kyung-Eun is the more experienced pitcher and even though he struggled last year, that looks to be behind him now. For that reason, backing the SSG Landers to stay unbeaten will be the play.
For those of you looking for bigger payouts, play the best bets as a 3-team parlay — which pays out at +389.
Make sure you check out all of our picks for KBO action every single day!