Rashad Phillips' Vulnerable Favorites and Biggest Sleepers for March Madness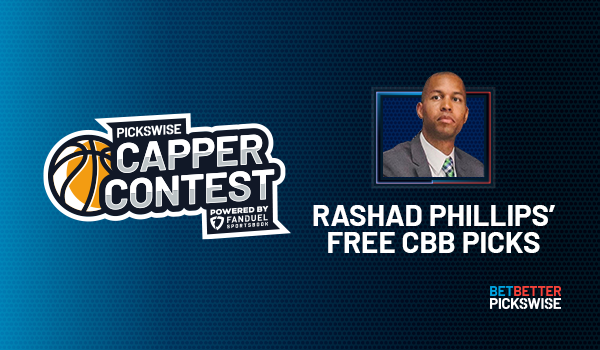 It's almost here. The start of the 2021 NCAA Tournament is right around the corner, and there's so much to break down. Make sure to check out Pickswise's March Madness hub to stay on top of everything that goes on, as well as their picks on the side and total for every single game in the tournament.
One of the best parts of March Madness is always the upsets, and in turn the big favorites that go down. Every year there are highly regarded teams that go down in flames, and Cinderellas that steal our hearts. That's what we'll be breaking down today, so let's dive into the favorites I think are most vulnerable, and the sleepers with the most potential:
Which top seed could suffer an early exit?
I think Michigan is the team most susceptible to take a loss early on. The injury to Isaiah Livers is a huge blow and leaves a huge void for their offense. Michigan has played well without him, but to get far in March you need all of your soldiers. That puts a lot of pressure on point guard Mike Smith, who is a tremendous player, and I loved his game the other day against Maryland, but he's going to have to play at that level a lot more than in just one game if Michigan wants to avoid an early elimination.
Livers, as a senior, also provides veteran leadership you can't replace. Michigan's next two top scorers are both underclassmen, so they'll be relying on a lot of youth. There's going to be a lot of pressure on Smith's shoulders, and I just don't know if he's going to be ready for that. I think Michigan will be the #1 seed to fall first.
Sticking in the Big Ten, I think Ohio State could be vulnerable as well as the two seed in the South region. They've been inconsistent at times this season and have played down to their level of competition, which is the recipe for getting put on upset alert in March Madness. I'm not saying it will happen, but it wouldn't shock me if they ran into trouble against Oral Roberts in the first round. Oral Roberts has a kid by the name of Max Abmas who is one of the most talented players in the entire tournament. He averages 24.2 points per game while shooting better than 43 percent from three, and the Buckeyes better be careful.
Find out who Rashad and Jon Rothstein are picking to win the entire tournament!
My 2021 March Madness sleeper pick
I would look to sprinkle a few dollars on Tennessee. The Volunteers are one of the more complex teams in this tournament and they play seven guys over 20 minutes per night. That kind of depth is extremely valuable in March. Jaden Springer is a great combo guard, and Keon Johnson is a crazy athlete. I just really like Tennessee. They played Alabama really tough the other day and have the makeup necessary to make a run. They just beat Florida twice by double digits, and are ascending at the right time. At 55/1 to win the national title, it's worth a long-shot bet. They've got the upside to pull off the miracle.
However, I've got another team I really want to talk about, and that is Abilene Christian. They're 23-4 out of the Southland Conference and they play with their hair on fire. For 40 minutes they make you very uncomfortable and they lead the nation in steals, playing the passing lanes. This is one of those teams who you look after 30 minutes and suddenly find yourselves down 10, and you don't really know how it happened. I'm going to put a few dollars on them in some futures markets, and I think they've got value to beat Texas in the first round at +350. The Longhorns will be caught off guard after their Big 12 Championship run.
If you're looking for another higher seed to make some noise, Ohio also makes a lot of sense. The Bobcats are the 13-seed in the West region, and I think they've got a great chance to upset Virginia in the first round at +295. They came within two points of beating Illinois earlier this season, showing they can hang with elite teams. Junior guard Jason Preston is electric, and Virginia looked very vulnerable down the stretch. This Ohio team has Cinderella potential.
Want more of Rashad Phillips' March Madness thoughts? Check out our huge NCAA Tournament preview show, which also features insider Jon Rothstein and Aaron Torres!
Pickswise is the home of March Madness Predictions. Check out all of our March Madness Picks, including daily March Madness Parlays throughout the NCAA Men's Basketball Tournament.