March Madness Day Three By The Numbers: Underdogs triumphant again
Well, the first three days of March Madness are in the books, and they sure were a rollercoaster. The initial NCAA Tournament action certainly hasn't disappointed, as we've seen huge upsets, overtime thrillers, and everything in between. There's a lot to unpack, and you can check out our latest takeaways here.
Right now we thought we'd digest some of the data relevant to betting from Saturday to help inform your wagers moving forward. Without further ado let's dive in, but don't forget to check out our picks on the side and total for every game first.
Underdogs went 6-2 ATS
For the second straight day, underdogs emerged from the chaos very profitable. The 'dogs went an incredible 11-4 against the spread yesterday, and they followed it up with another dominant effort on Sunday. This time around they went 6-2 against the spread, and they're now 24-15 ATS cumulatively through the first three days. It wouldn't be March Madness without some level of underdog success, but even still this has been eye-popping.
Underdogs went 5-3 straight up
One of my favorite March Madness traditions is betting some underdogs straight up on the money line, and so far it's been working nicely. Of the six underdogs who covered on Sunday only one didn't win outright, that being Rutgers (and even they led most of the way before choking in the final minute). As such, if you're taking an underdog against the spread, it would probably be wise to sprinkle at least a few bucks on the money line.
Totals were 4-4
We had four overs and four unders for an even split on Sunday. The under is now 23-16 overall, good for a 59 percent cash rate. The first half under was 4-4 today as well, and that's now at 23-14-2 overall. So far betting the under would've been quite profitable, but it's possible that trend is starting to change.
Fun bet slip of the day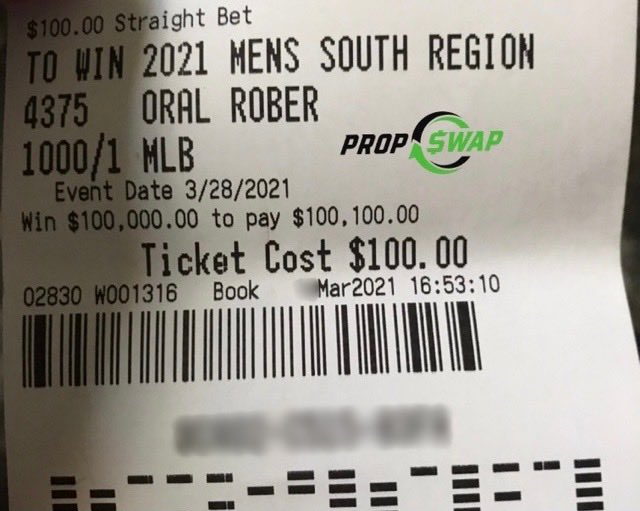 One bettor placed $100 to win a whopping $100K if Oral Roberts makes the Final Four. They're now just two wins away from doing so, and that bettor has placed the ticket on PropSwap for bidding. Can Oral Roberts keep their incredible run going? How much would you pay for this ticket?
Pickswise is the home of March Madness Predictions. Check out all of our March Madness Picks, including daily March Madness Parlays throughout the NCAA Men's Basketball Tournament.