Masters Day 2 reaction: Stage set for wild weekend
Nobody went super low at The Masters on Friday. With calm winds and the course still slow and forgiving on the heels of Thursday morning's downpour, it was thought that super low scores would be there for the taking. Instead, no one player—heck, not even two or three—could break away from the pack.
Another 65 from either Dustin Johnson, Paul Casey, or Dylan Frittelli, for example, would have put them at 14-under going into the weekend. But heading into Saturday (with the second round not yet entirely complete), there is no one better than 9-under. Johnson fired a solid but unspectacular 70, Frittelli struggled to a 73, and Casey is currently 1-over on his round with seven holes left to play.
At what price distance?
Bryson DeChambeau has been the talk of golf since the sport returned from the coronavirus hiatus back in June. He was certainly the talk of The Masters heading into Thursday as the pre-tournament favorite. He probably won't be the talk come Sunday afternoon. DeChambeau has been hitting his golf ball all over everywhere, to the extent that he has endured a pair of sevens (one double-bogey, one triple-bogey) to go along with his five bogeys and nine birdies. The 27-year-old has made only three pars through 12 holes in his second round.
It is true that the world No. 6 got some bad luck. He drove left on 3 into the rough and the ball couldn't be found, even though it was no more than 10 yards off the fairway. That never happens in Augusta, where rough is nowhere near as thick as what you generally find at the other three majors. That led to a triple-bogey. At the same time, DeChambeau benefited from a favorable break on Thursday when he found his ball in the bushes past the 13 green. He had already hit a provisional into the water, so if he hadn't found the original ball he would have been headed for double-digits. Instead, he salvaged a seven.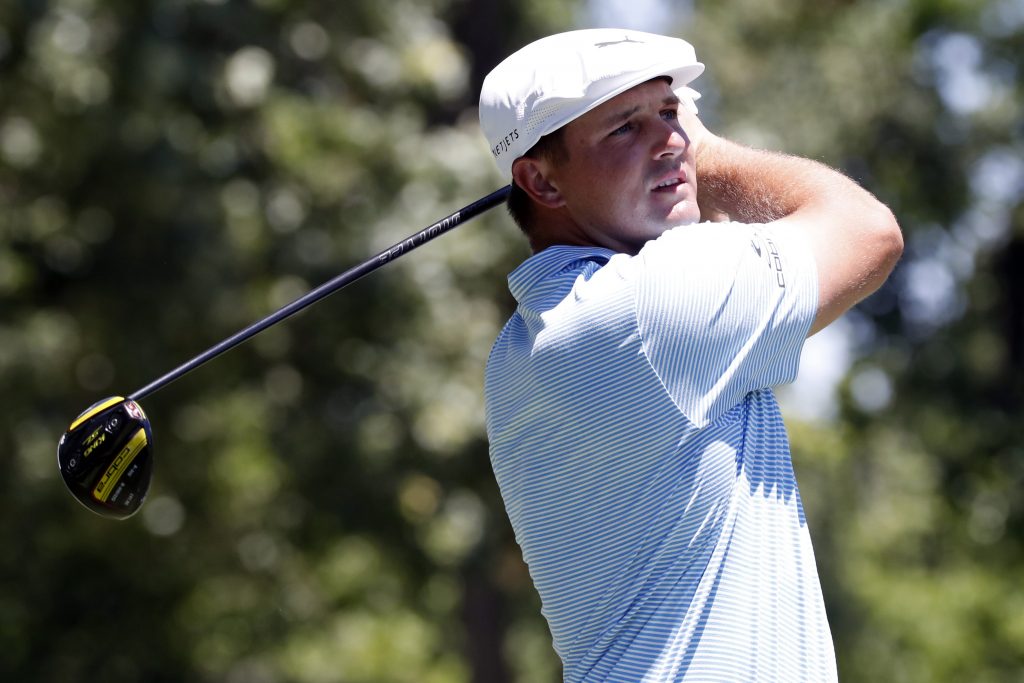 The bottom line is DeChambeau just isn't playing well even though—as usual—he is bombing it farther than everyone. If you can't drive it straight, you can't win…even at a course like Augusta National where wayward drives generally aren't penalized like they are especially at the U.S. Open and British Open. Keep in mind that when DeChambeau dominated this year's U.S. Open, he did not necessarily do it just with long drives. He drove it straight and both his short game and putting were incredible. Distance is a big factor in gold, yes; but it's just one of many factors.
At this point, the American would do well just to make the cut (he's currently 1-over). He is now +5000 to win the tournament.
DJ and JT
DeChambeau is down and probably out and Tiger Woods has not been doing much in round two, although he is certainly still in contention at 4-under and with eight more holes to play. Right now the leaders of the America pack are Johnson and Justin Thomas. If you're a hardcore golf fan, you know them simply by D.J. and J.T.
The fact that they are atop the leaderboard is not surprising at all. They are major champions, playing great this fall, and have contended at Masters in the past. Of the two, D.J. is more capable of going super low while J.T. is the more rock-solid player. On such a bunched-up leaderboard (13 guys are within two shots of the lead), it looks like it is going to require something spectacular to win the green jacket. That's why I would lean toward Johnson—and the odds would agree. He is a +450 to win; Thomas is +600.
Again, though, with so many players in striking I don't see the best value on Johnson, Thomas, or favorite Jon Rahm (+350). You might want to take a look at Louis Oosthuizen, who is 7-under and still has both of the back-nine par 5s to play in round two. The smooth South African is +1800.

Pickswise is the home of free expert Golf Picks and Predictions. Our outright PGA expert picks go live every Tuesday, so check out our latest golf picks, best bets, and analysis for this week's PGA tournament now. We will also have our 2020 Masters 3-ball picks and our best golf prop bets for each round of the 2020 Masters.