Masters Day 4 reaction: D.J. dominant and Tiger's ten
Nobody is happier that the 2020 Masters was able to be played than Dustin Johnson. Sure it did not have the same vibe without any patrons, but that won't matter one bit now to the 36-year-old. He finally has a green jacket. That's all that matters.
Johnson triumphed at Augusta National on Sunday afternoon, running his four-shot lead through three rounds up to five by the time it was all over. The American's total score of 20-under broke the tournament record previously shared by countrymen Tiger Woods (1997) and Jordan Spieth (2015). It is true that scoring conditions were favorable just about from start to finish, but the bottom line is that Johnson is just good.
No. 1 for a reason
Actually, he's not just good; he is the best golfer in the world. The official world rankings say it, but even more importantly the eye test says it. I wish I could go a whole article without mentioning the name Bryson DeChambeau, but I can't quite do it. Because it has to be said that the notion of Bryson being the best can be put to rest. He hits it longer than Johnson—and longer than anyone else. But he isn't as good as Johnson—and neither is anyone else.
How good was the Columbia, S.C. native this week? Well, in three of the four rounds he either tied for the lowest score or had it outright. Johnson made his Sunday 68 look easy. He played conservatively with a big lead almost the whole way, didn't even have his 'A game', and still tied for the low round.
And none of it was a surprise. Dating back to August, Johnson's results are second, first, second, first, sixth, second, and first.
Tiger tamed, then roars
By the time Johnson made it to Amen Corner, the Masters was all but over. Much unlike last year, there was no drama whatsoever.
For Woods, Amen Corner giveth and Amen Corner taketh away. In 2019, basically every single player in contention other than Woods went in the water on the par-3 12th. This time around, it was Woods who went in the water. Then he went in the water again. And again. When it was all said and done it took him 10 shots—including three drops—to get the ball in the hole. It marked the 44-year-old's highest single-hole score ever in his career on the PGA Tour.
How did Woods respond, though? Well, he promptly birdied five of the six closing holes. For being so out of form going into Augusta and clearly dealing with back issues again, the fact that Woods made the cut and even finished in red numbers (1-under) has to be considered a success. And if he had made a normal par of 12 instead of a ridiculous 10, he would have tied for 13th place at 8-under. Not bad for an old man!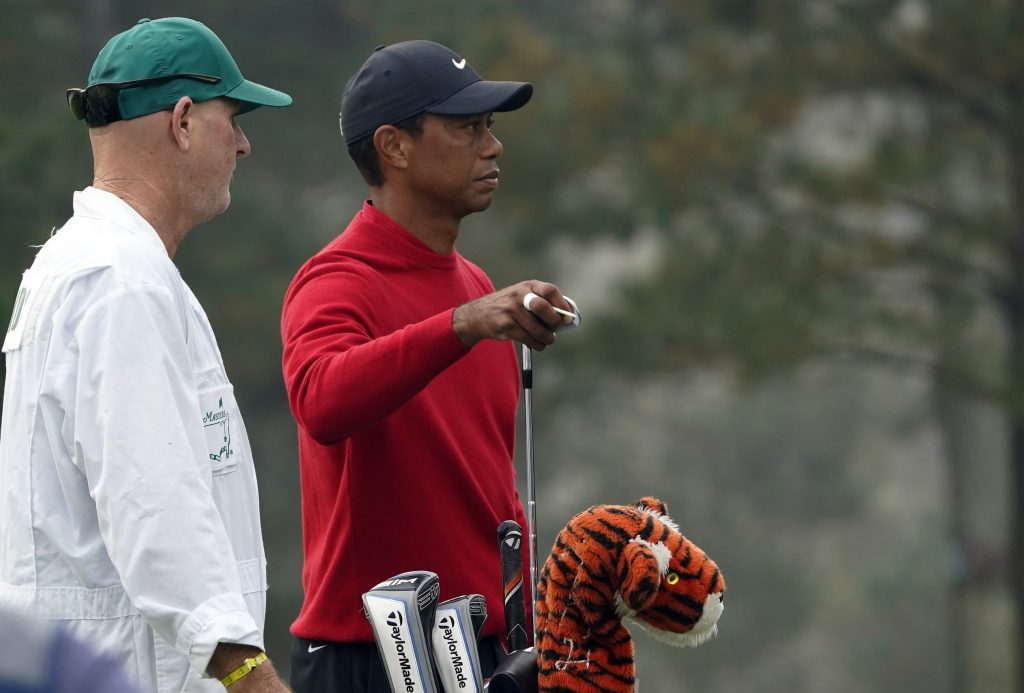 A look ahead to 2021
This should give Woods some confidence heading into 2021. He is currently +2800 to win the Masters in April, making him the 12th favorite. Johnson and DeChambeau are +700 co-favorites, while Rory McIlroy (+900), Justin Thomas (+1000), and Jon Rahm (+1000) are not too far behind.
Based on what we saw this week, Johnson should be more of an overwhelming favorite next spring. But for now that's neither here nor there. For now, Johnson should simply enjoy a green jacket that was only a matter of time.

Pickswise is the home of free expert Golf Picks and Predictions. Our outright PGA expert picks go live every Tuesday, so check out our latest golf picks, best bets, and analysis for this week's PGA tournament now. We will also have our 2020 Masters 3-ball picks and our best golf prop bets for each round of the 2020 Masters.