MLB Player Futures 2023 -- Home Run & Strikeout Leader Predictions & Best bets: Trout swings for the fences
Opening Day is under 24 hours away and a lot is yet to be seen. How will the new rules affect gameplay around the league with stolen bases likely on the rise and pace of play being a priority? Will balls be juiced again — or just for primetime games? Here we will get a head start on some season-long sweats while we warm up to 2023 Major League Baseball as we will dabble in the most regular season home runs and most regular season pitcher strikeouts markets, targeting lines on DraftKings Sportsbook.
Keep in mind that you can tail any one of these picks using their +300 odds surge promo, which expires on Opening Day at 12:00 pm ET.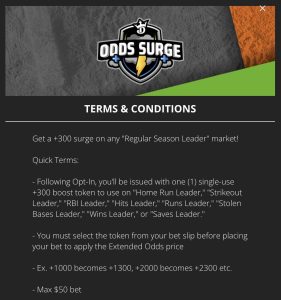 For each market, we will have one primary pick (wagering 0.50 units) and my favorite longshot (wagering 0.25u units).
Home Run Leader Pick: Mike Trout (+850)
Although reigning American League MVP Aaron Judge is rightfully the favorite for this market at the steep price of +450, the future Hall of Famer Mike Trout is second in odds and the gap is too large for me to not bite as Trout should be closer than this to being the favorite.
In his age-30 season last year, Trout played just 119 games while dealing with repeated injuries over the last few seasons. He still hit 40 home runs, second most in MLB, and posted a .395 xwOBA and 176 wRC+, continuing his decade-long streak of being one of the best hitters in the league. He also had a 44% hard-hit rate or better against every single type of pitch that he saw at least 20 of on the season.

Mike Trout Run Value by Pitch Type, via Baseball Savant
What was even more noteworthy, however, was his .347 ISO, which was the second-highest of his career in a single season and highest since 2019. Trout will once again hit one spot ahead of Shohei Ohtani in the Angels' lineup, which should provide enough protection for him to see pitches to hit all season long as Ohtani has posted a 146 wRC+ with 80 home runs over his last 2 seasons. If Judge sees an injury stint or a slump early in the season, you could see Trout move over to the No. 1 spot in betting odds.
Home Run Leader Longshot: Byron Buxton (+3500)
The knock on putting any faith in Byron Buxton has always been related to his health and not his ceiling. The five-tool player has played over 100 games only once in his career and that was way back in 2016. Just last season, despite only playing 92 games and taking part in 382 plate appearances, he hit 28 home runs with a .358 xwOBA, .303 ISO and 50.2% hard-hit rate — all of which would rank among league leaders if he played enough games to qualify.
Additionally, there's a good chance the top of the Twins lineup is significantly better in 2023 if they get a full season from Carlos Correa and bounce-backs from Joey Gallo and Max Kepler, who should both benefit from the new rules limiting defensive shifts in the infield. If so, Buxton will get plenty more opportunities to hit pitches in the strike zone and send baseballs into the seats.
Instead of pretending to be able to predict injuries, trust a small amount of your bankroll on a ceiling season from the MVP-caliber talent of Buxton.
DraftKings Sportsbook is currently giving new customers $150 in bonus bets if they bet $5 and their team wins when they sign up. That's all there is to it! Grab this amazing sign-up offer by clicking this link. 
Strikeout Leader Pick: Corbin Burnes (+900)
This is a narrative play. Just a month ago during the offseason, the former Cy Young winner was publicly upset over his arbitration negotiations with the Milwaukee Brewers. He starts the season as their ace but it is fair to say he might not want to be on this roster when free agency arrives.
Every fear that going to an arbitration hearing against Corbin Burnes could harm his relationship with the Brewers was founded.

"There's no denying that the relationship is definitely hurt from what [transpired]," Burnes said. pic.twitter.com/Xv8DFyiKde

— Adam McCalvy (@AdamMcCalvy) February 16, 2023
If he wants to make a huge buck at that point, he needs to continue his elite stretch of generating whiffs while also continuing to eat innings. In 2022, he posted just 10.83 K/9 after previously going 3 straight seasons with over 12.5 K/9. He still led the National League in strikeouts thanks to pitching over 200 innings for the first time in his career. The Brewers made several small moves this offseason but virtually none of them addressed adding depth to their starting rotation. Their fifth starter is still the veteran wild card Wade Miley. Their fourth starter is Eric Lauer; although he looked like a breakout candidate at times last season, his peripherals suggest it is unlikely that he turns into a star soon.
This means that if the Brewers want to compete for a playoff spot, they need Burnes to be a workhorse and pitch over 200 innings again. Last season, Burnes ranked in the upper quartile of all MLB starters in strikeout rate, whiff rate, chase rate, fastball spin, and curveball spin despite some regulations on reducing the use of sticky substances to aid with spin rate. If he puts up a similar season again, we just need health on our side and Burnes could be the favorite in this market very soon.
You can bet these MLB division futures over at Caesars, which has a great sign-up offer where you can get up to $1,250 back on your first bet! Click here to sign up for Caesars right now. 
Strikeout Leader Longshot: Chris Sale (+7000)
Just like Byron Buxton, we're getting a discount on an elite-ceiling player due to armchair doctors predicting injury stints. The perennial Cy Young contender Chris Sale has made just 11 regular-season starts since 2020. However, he enters the season with no sign of innings limits and happens to be one of the healthiest pitchers on the Red Sox roster as of Opening Day, since Garrett Whitlock, Brayan Bello and James Paxton are all dealing with minor injuries.

Chris Sale career statistics, per Fangraphs
A pitcher who did not have much of an injury track record before 2020, there is no justification for the implied price of this bet (1.41%) if Sale gets through a full season in the rotation. Boston's roster should be better than they were last season, which means they will likely be in a serious dogfight for a playoff spot and if they want a shot at a wild card game, they need the best out of Sale, which has been pure strikeout stuff over his entire career.
In his Red Sox career, Sale has recorded a 12.99 K/9 and in his last full season (2019), he was among league leaders in strikeout rate, whiff rate and chase rate. Thanks for the free value, sportsbook doctors!
You can bet on all today's sports at FanDuel, America's #1 sportsbook, which has a great new customer offer where you can secure a No Sweat First Bet of up to $1,000. Click here to take advantage of this awesome offer.
Pickswise is the home of free MLB Picks. Check out the latest MLB Prop Bets and MLB Parlays as well as our MLB Best Bets from the experts.