MLB ALCS same game parlay (+814 odds): Boston Red Sox vs Houston Astros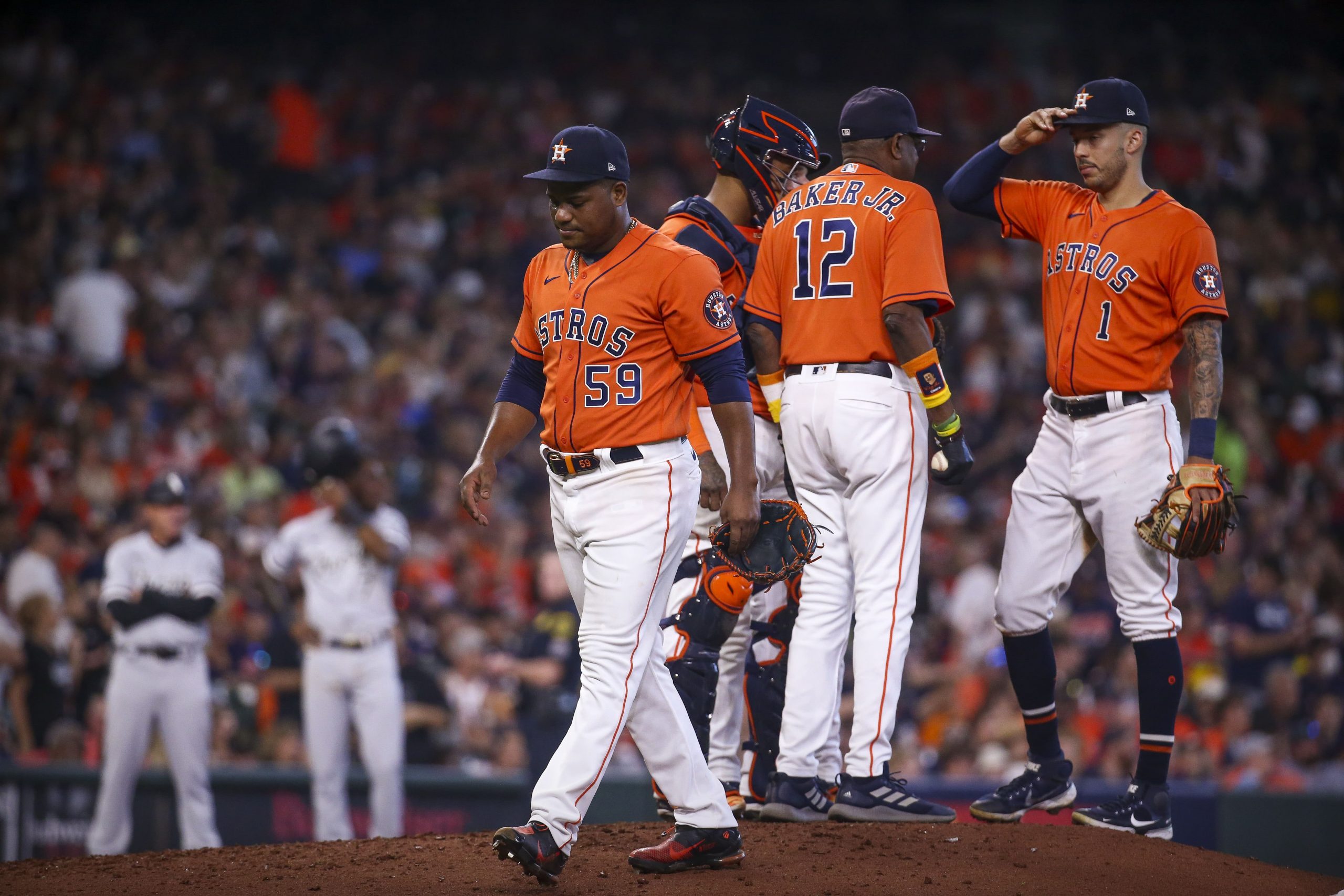 Whether you think the umps got the call wrong or not last night, it's time to move on. I know the check swing is going to dominate talk radio today but let's not forget, we have the Boston Red Sox and Houston Astros squaring off in the ALCS tonight at 8:07pm ET on Fox. It's time to gamble. Like always, there needs to be a same game parlay on this one. It doesn't have to be your main bet, just a little something on the side. Think of it as an awesome side dish at your favorite restaurant that you have to get every time you're there. By itself, it's not enough, but with a main course, it'll get you fat. Let's get fat tonight, people.
Before you read on, why not follow me on Twitter real quick? It makes sense. I don't always have time to post articles on Pickswise, but that doesn't mean you should miss them. I would actually hate it if you did.
Boston Red Sox -2.5 (+310)
Jose Altuve to record 2+ bases (-115)
Boston Red Sox -2.5 (+310)
Not to sound rude but Framber Valdez is on the hill for the Astros and I don't trust him. Not personally, because I don't even know the guy, but professionally. He's been pretty sus lately. Actually really sus. In his last 6 starts, Valdez has given up at least 4 earned runs in 4 of them. That's terrible. To give credit where credit is due, he did have a 13.2-inning stretch in which he gave up only 1 earned run, but that was against the Los Angeles Angels and Oakland Athletics. We're talking the Boston Red Sox here — way different story. Once Boston chases this guy from the game, they will see a Houston bullpen that has a 1.44 WHIP in the post season. They're allowing opposing batters to hit .278. That may get you by the Chicago White Sox, but that won't happen against the Red Sox. I think Boston comes out and smashes tonight.
For more on this one, check out our full game preview for Boston Red Sox vs Houston Astros
Jose Altuve to record 2+ bases (-115)
Here's the thing about same game MLB parlays. If you take one side, you can take a player off the other side and get a boost. Like just because you think the Red Sox are going to rake means that nobody else on the other side is going to do something. It's kind of dumb when you think about it. Altuve will get at least 1 at-bat versus Chris Sale, which is a good thing for him. If you remember Sale's Red Sox postseason debut in 2017, Altuve took him deep twice in that game. I know it was years ago but that definitely happened. More recently, Altuve has been raking in general. Over his last 6 games, he's recorded at least 2+ bases 4 times. I think he does it again tonight in an Astros loss.
Pickswise is the home of free MLB picks and predictions. Make sure to also check out our MLB parlays and MLB prop bets tabs for more expert picks.