MLB Cincinnati Reds vs St. Louis Cardinals same game parlay (+350 odds) today 7/17: Nolan Gorman goes off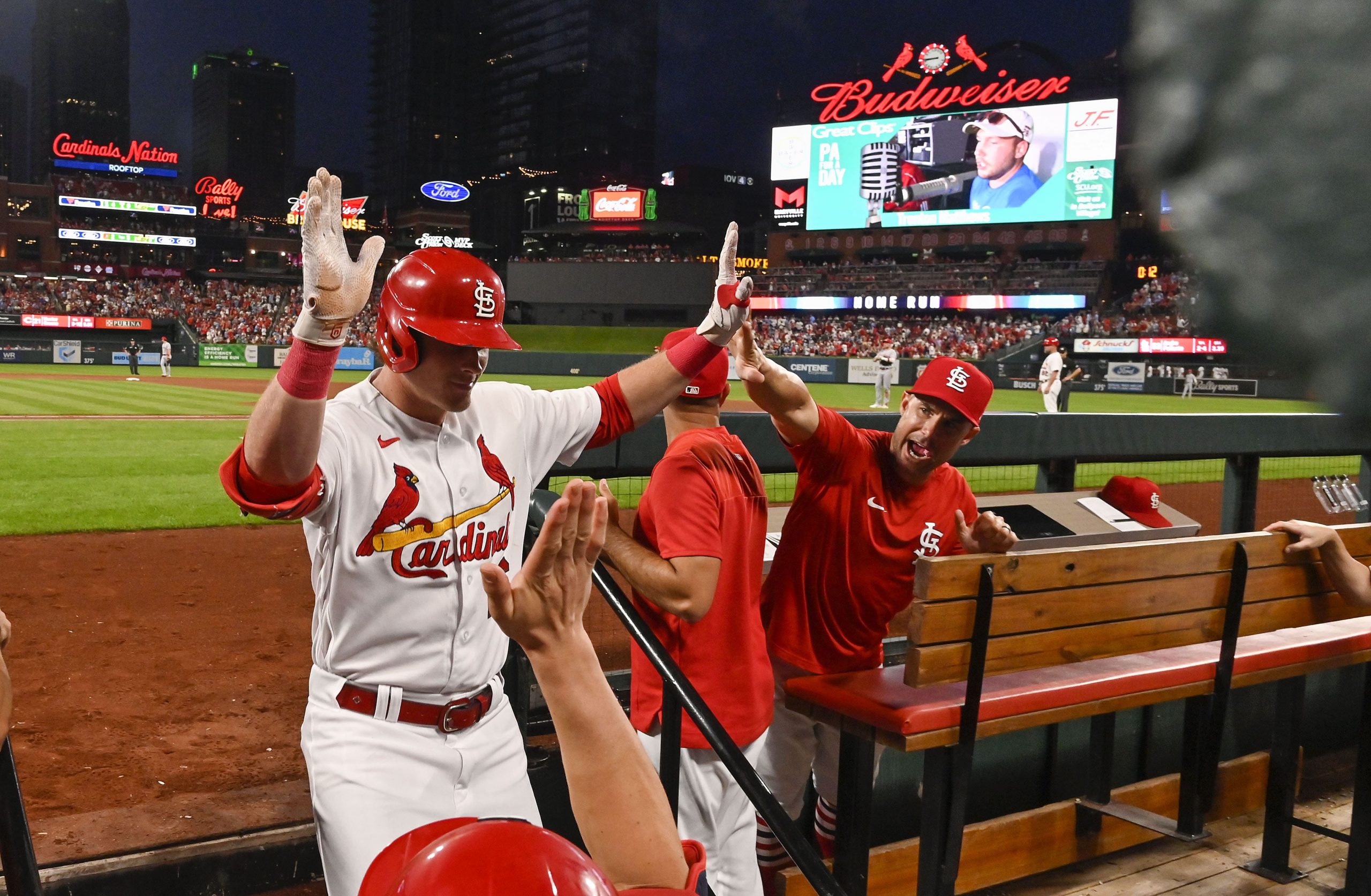 The Cardinals and Reds are wrapping up their last series before the all-star break, and will be meeting again in their first series afterwards. It's gone just about as expected, with the Cardinals dominating each of the first two games. The Reds were able to produce runs early in both games, but still fell by several runs in the end. These teams have had quite the opposite first halves of the season, so let's check out how we can make them profitable. Along with this same game parlay, be sure to check out our thoughts on the side and total for all of today's games.
Cardinals -1.5 (+110)
Nolan Gorman 2+ total bases (+160)
Steven Matz strikeout prop (TBD)
Let's take a closer look at each leg of our same game parlay.
Cardinals -1.5 (+110)
While this series has largely gone as expected, one aspect of this finale that is quite different is the fact that Steven Matz will be on the mound for the Cardinals. His last start was May 22 against the Pirates, but he exited that game before even recording an out. The team went on to win that game 18-4, as they've been dominating NL Central opponents all season. Matz's last true start was against the Mets 5 days prior to that game, and was another win for St. Louis. That was the second time he had helped take down New York in a 3-week span.
If Matz and the Cardinals can beat one of the National League's best, they should be able to complete the sweep against one of its worst. The Reds are tied with the Cubs for the 2nd-worst record in the National League. Although Washington has the worst record, it's Cincinnati with the worst overall pitching staff. They have a 5.30 team ERA and their 5.42 bullpen ERA is so much worse than any other team that it's the only one above 5.0. They'll hope for the best with Graham Ashcraft on the mound. However, he's a rookie pitching to the current betting favorite for the NL MVP in Paul Goldschmidt. The Cards' top 3 hitters are all projected to start, which means another top-10 hitter in Tommy Edman. Ashcraft may have a bright outlook, but his immediate future looks bleak.
Be sure to check out our full game preview for the Cincinnati Reds vs St. Louis Cardinals
Nolan Gorman 2+ total bases (+160)
Now it's time to get some serious value. Goldschmidt deserves all of the attention he gets with his MVP-caliber season, and Nolan Arenado is a household name at this point. Even after those superstars, most would target leadoff man Tommy Edman or center fielder Dylan Carlson. While that's understandable, Nolan Gorman is rather disrespected in this spot. He actually has a higher slugging percentage than both Edman and Carlson, despite having fewer total bases. That's simply due to him playing half as many games. However, he is incredibly effective when he's in the lineup. That's been the case in this series, and he had 4 total bases in the opener on Friday. Obviously no one can have much of a record against Ashcraft as he's a rookie, but Gorman has hit him well already. He's 2-for-3 against the Reds starter, and should add to that in this game.
Steven Matz strikeout prop (TBD)
This is a prop that I was looking to target, but has not been listed just yet. It's not included in the overall odds above and with just hours before first pitch, there's certainly no issue with a nice +350 payout. However, if you're willing to wait it out to include Matz's strikeout prop, I still wanted to share the information that I had prepared. I'll be sure to update this article if his prop indeed gets posted. With that said, let's take a look.
Matz has had some time off recently, but he should be trusted in the strikeout department. His prop should not be not set as high as it normally would be given that this is his first start back. That provides value for the lefty as he's still within the top 30 in terms of strikeout percentage with the 9 starts he's had this season. Among those was his start against the Reds in which he struck out 6 batters. That was right in the middle of a 3-game stretch where he struck out 6 batters in each start. Since then, the Reds have become even more prone to striking out and have now done so the 7th-most of any team. Given that Matz had 7 strikeouts in each of his last 2 full starts, he can get to what should be a lower number.
Don't miss our NRFI/YRFI best bets for today – we're on a 17-3 run!
What is a Same Game Parlay?
Check out our guide on what is a same game parlay and where can I bet it?
Pickswise is the home of free MLB picks and predictions. Make sure to also check out our MLB parlays and MLB prop bets tabs for more expert picks.