Monday NHL five-team mega parlay (+1677 odds): Lightning primed to strike against Panthers
It is another busy schedule in the NHL on Monday, with 10 games on the docket. Among the teams in action are two division leaders—the defending Stanley Cup champion Tampa Bay Lightning and the league-leading Toronto Maple Leafs.
Here's our five-team parlay for Monday:
Coyotes ML (+110)
Islanders ML (-145)
Maple Leafs -1.5 (-125)
Lightning ML (-170)
Jets +1.5 (-200)
For this play we mix in one favorite against the spread, one underdog on the puck like, and three outright winners (two favorites and one underdog). Let's break down each of the five legs one by one.
Arizona Coyotes ML over St. Louis Blues (+110)
It's the middle of February and we have a seven-game NHL series on our hands. It's the sign of the times, I guess. Due to numerous teams being sidelined by Covid-19, the league was forced to make some adjustments to the schedule and that resulted in the Coyotes and Blues facing off for seven straight games. Sure enough, the teams split the first six games by the narrowest of margins—setting up the rubber match on Monday. It could not be any closer so far. The Blues have 20 goals through six contests while the Coyotes have lit the lamp 19 times. St. Louis was as much as a -180 favorite earlier in the series but the markets have adjusted, as it has become obvious that these two clubs are evenly matched. The Coyotes are still at plus money, though, and that has good value at home.
Be sure to check out our full game preview for St. Louis Blues vs. Arizona Coyotes.
New York Islanders ML over Buffalo Sabres (-145)
The Islanders are coming off of a huge win over division-leading Boston on Saturday. They finally seem to be playing close to their potential, winning three out of their last four games and grabbing points in their last six. Mathew Barzal was able to break a tie against the Bruins with a third-period goal to extend his point streak to eight games. Goalie Semyon Varlamov recorded 28 saves to improve his record to 6-2-2 on the year. The Sabres haven't played a game in the entire month of February due to Covid-19 complications, so they are a bit of a wild card here. Chances are good, of course, that they will show signs of rust. Look for the Islanders to stay hot and come away with a win in this one.
Be sure to check out our full game preview for New York Islanders vs. Buffalo Sabres.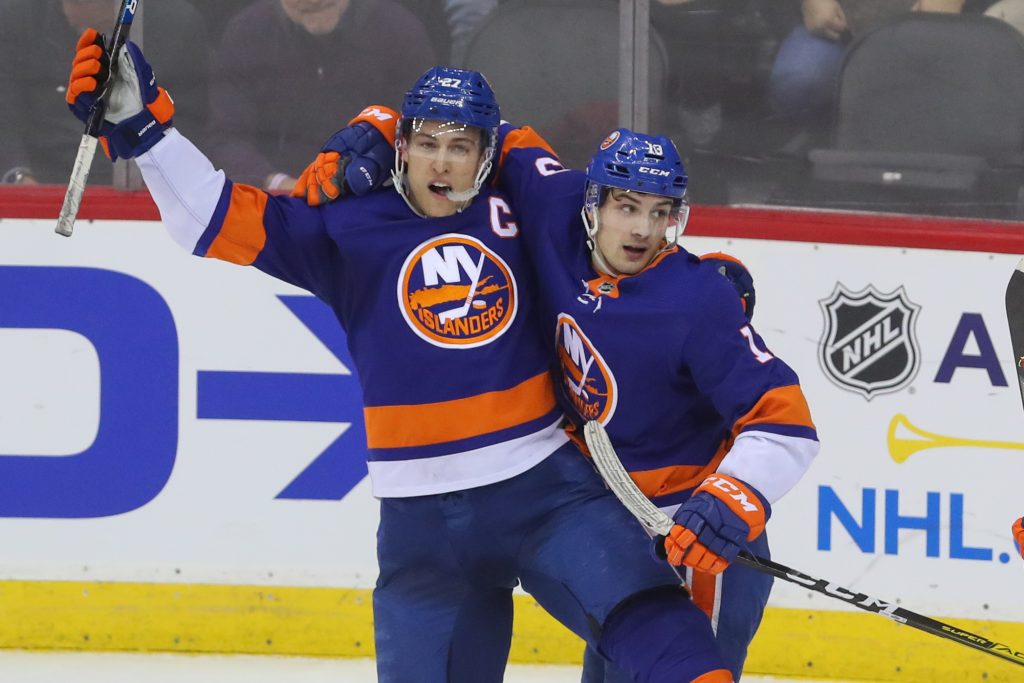 Toronto Maple Leafs -1.5 over Ottawa Senators (-125)
This matchup features teams on bookends of the entire NHL standings; it's the first-place Maple Leafs against the last-place Senators. Toronto is off to its best start since 1993-94, currently 11-3-1. Ottawa, on the other hand, is 3-12-1. Additionally, the Leafs are 6-2-0 at home while the Sens are 2-7-0 on the road. The Maple Leafs are scoring the fourth-most goals in the league; the Senators are dead last in goals allowed per game. Ottawa is also sixth-worst in penalty killing and seventh-worst in incurring penalty minutes. All signs point to another scoring barrage for the Leafs, while goalie Federick Andersen should stymie the Sens at the other end of the ice.
Be sure to check out our full game preview for Ottawa Senators vs. Toronto Maple Leafs.
Tampa Bay Lightning ML over Florida Panthers (-170)
The Lightning are coming off of a 6-1 win over the Panthers to even the season series at 1-1. Following a scoreless first period, the Bolts' offense came to life in the second period, scoring four goals. Tyler Johnson found the back of the net twice and goalie Andrei Vasilevskiy was tremendous in the crease, recording 33 saves while allowing only one goal. TB captain Steven Stamkos was recently removed from the NHL's Covid-19 list, so there is a chance he will be back for this one. Either way, Tampa Bay is a far superior squad and should once again take care of business.
Be sure to check out our full game preview for Florida Panthers vs. Tampa Bay Lightning.
Winnipeg Jets +1.5 over Edmonton Oilers (-200)
The main objective for Winnipeg in this game is to shut down Edmonton stars Connor McDavid and Leon Draisaitl. The Jets should be able to accomplish that feat, as difficult as it is. They are 10th in the league in goals against at 2.64 per game. In two head-to-head matchups this season, they have limited McDavid and Draisaitl to one power-play point apiece. That is a smashing success relative to how the rest of the league generally fares against those two players. With their newest addition of Pierre-Luc Dubois, the Jets' center depth matches up nicely against the Oilers. Meanwhile, Winnipeg netminder Connor Hellebuyck is sporting a 2.36 GAA and .921 SVP.
Be sure to check out our full game preview for Edmonton Oilers vs. Winnipeg Jets.
Pickswise is the home of free NHL picks and predictions. Make sure to also check out our 'NHL parlays', 'NHL best bets', and 'NHL props' tabs for free plays all season long.