NBA Same Game Parlay: San Antonio Spurs vs. Los Angeles Clippers (+1550)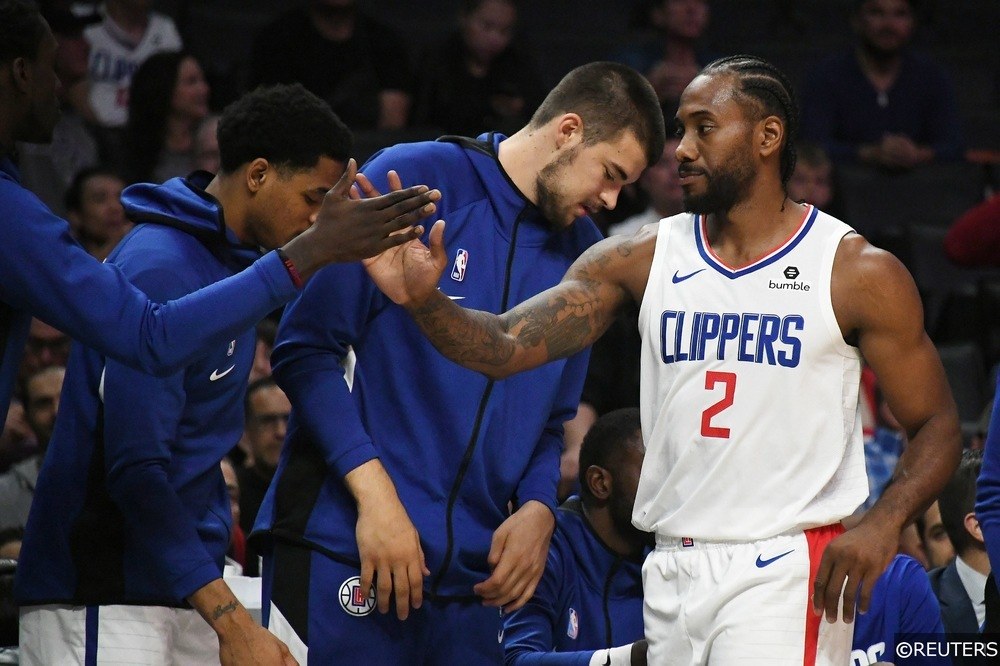 The Los Angeles Clippers will look to keep up their strong start here, while the San Antonio Spurs will try to snap a four-game losing streak by pulling off an upset. Will Kawhi Leonard punish his former team, or does Gregg Popovich have a few tricks left up his sleeve?
What better way to make this Western Conference clash even more entertaining than by betting a same game parlay? We've also got thoughts on the side and total, which you can find out in our full game preview. If you're new to same game parlays and want to find out more, be sure to check out our handy guide, which details how they work and which sportsbooks currently offer them.
Los Angeles Clippers to win by 11+ (+130)
Kawhi Leonard under 27.5 points (-118)
Paul George over 24.5 points (-110)
DeMar DeRozan over 20.5 points (-110)
Parlay odds: +1550
The benefit of same game parlays is that you can put together plays that correlate with each other. Then we get a big odds boost from throwing in the DeRozan over, when I don't think it conflicts. Let's break them down one by one.
Los Angeles Clippers to win by 11+ (+130)
I think there's a very good chance the Clippers win this game in a blowout. Three of their past four victories have come by at least 13 points, and they certainly have the firepower to beat any team by a large margin. Then throw in the fact that the Spurs are struggling mightily, having lost four straight entering this one. A couple of those losses have been really ugly, like when they lost to Utah by 21 in their most recent game, so they certainly aren't strangers to lopsided results. They didn't really make any moves this offseason, and they're getting nothing from LaMarcus Aldridge these days. I don't see any reason to believe this one will be close.
Kawhi Leonard under 27.5 points (-118)
Despite the Clippers' success this season Leonard actually hasn't been scoring a ton. He's only gone over 27 points once in five games, and even then he only had 28. We certainly don't need him to score 30 for the Clippers to win this game by 11+. He was really off last time out, shooting just 4/21 from the floor, and the Clippers still managed to beat the Suns. He hasn't been getting to the free-throw line as much, or shooting as many threes as he did last year. Popovich will surely center his game-plan around slowing him down, so I don't think he's going to have a huge night.
Paul George over 24.5 points (-110)
If the Clippers win by at least 11 but Leonard doesn't have a huge scoring night, guess who probably did? George. The sharpshooter clearly heard all the jokes about his playoff performance this offseason, as he's come out rejuvenated and with a chip on his shoulder. He's made at least four three-pointers in four straight games, and he went off for 39 points in Los Angeles' last game against Phoenix.
DeMar DeRozan over 20.5 points (-110)
We get a big odds boost for throwing in this over with the Clippers winning big, but I actually like this play the most. DeRozan is shooting a lot more threes than he ever has in San Antonio, but nobody seems to have noticed yet. Through six contests he's averaging 2.5 attempts per game after averaging only 0.5 and 0.6 the prior two seasons. With Aldridge providing nothing he is picking up the scoring slack, and he's scored at least 19 points in five of his six games. He's gone for at least 23 in four of those six, so I think he's a very good bet to reach 21 here. In four games against the Clippers last year, he scored at least 24 points three times.
Pickswise is the home of free NBA Picks and Predictions. Check out the latest NBA Prop Bets and NBA Parlays as well as NBA Best Bets from our NBA experts.