NCAA Tournament Elite Eight line movements: Baylor an even bigger favorite
The NCAA Tournament Elite Eight tips off on Monday and continues on Tuesday. It's safe to say that the true essence of March Madness has remained on display, with two double-digit seeds—Oregon State and UCLA—still in contention for Final Four berths. Let's take a look at where some of the money on the upcoming games has gone to sway certain lines one way or the other.
Line movements
Move for the favorite
Baylor -6.5 to -7.5 vs. Arkansas
Move for the underdog
Oregon State +8.5 to +7.5 vs. Houston
Move for the under
Houston-Oregon 131 to 129
Baylor-Arkansas 150 to 148
Michigan-UCLA 137.5 to 136.5
Baylor vs. Arkansas ATS
Baylor opened as a -6.5 favorite in its showdown against Arkansas, a No. 1 vs. No. 3 meeting in the South Region. The Bears, who are the second favorites to win the National Championship behind Gonzaga, are now giving 7.5 points.
Although there are some other formidable teams left in the Big Dance, it is looking more and more like a highly-anticipated Gonzaga vs. Baylor final is in the cards. Neither team as had a problem holding up its end of the bargain through three rounds. Arkansas, on the other hand, had all kinds of trouble with 15th-seeded Oral Roberts on Saturday. If Max Abmas' relative open three had gone in at the buzzer, the Golden Eagles would have been the first No. 15 seed to reach the Elite Eight. I'm not sure if these Razorbacks are good enough to cover a proverbial field goal against Baylor—and nether is the public.
Baylor Bears vs. Arkansas Razorbacks preview and picks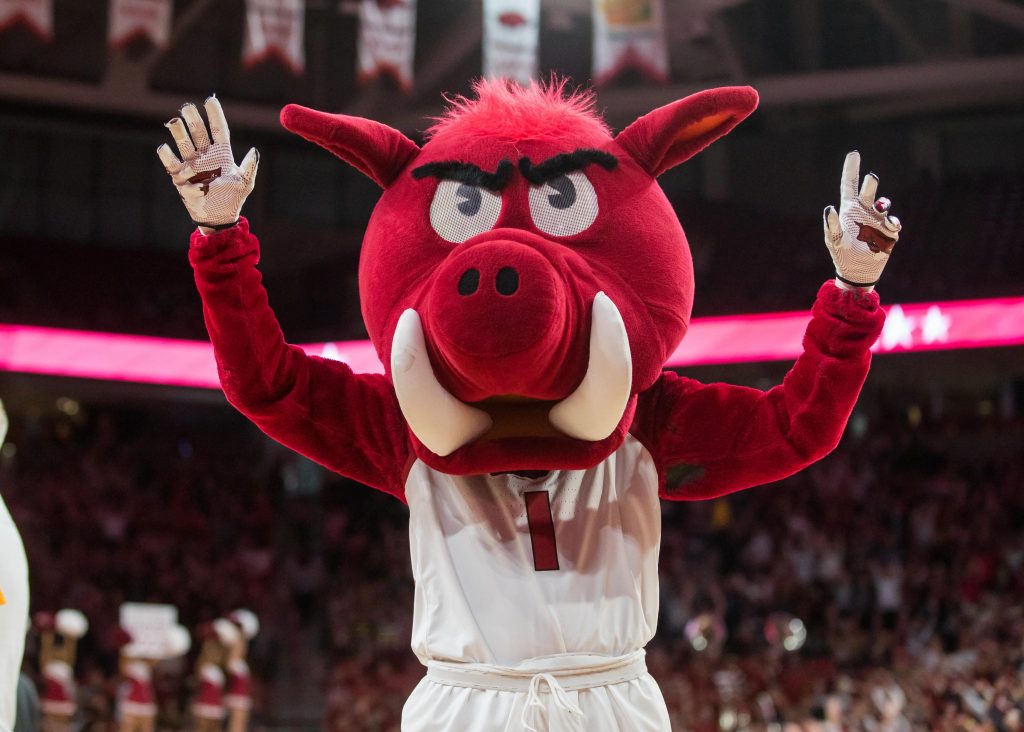 Baylor vs. Arkansas Game Totals
Even though these Elite Eight games obviously haven't had much time to be on the books following the conclusion of Sweet 16 action, the Baylor-Arkansas total has also moved a fair amount. It opened at 150 and now stands at 148.
Punters who have bet down the total so far may be noting the fact that Arkansas and Oral Roberts went a combined 9-for-40 from three-point range during their Sweet 16 thriller. The Hogs may not have much more luck against Baylor's athletic backcourt.
Houston vs. Oregon State ATS
Both games on Monday night currently have 7.5-point spreads. Whereas Baylor-Arkansas climbed from 6.5, Houston-Oregon State decreased from 8.5. Oregon State opened as a +8.5 underdog and is now getting only 7.5 points—still a sizable margin, but clearly the public is putting some respect on the Beavers' name for their incredible runs in both the Pac-12 Tournament and NCAA Tournament.
Oregon State is shooting 38.9 percent from the land of plenty during the Big Dance. If the underdogs can keep that up, they may be able to make this No. 2 vs. No. 12 Midwest Region showdown competitive from start to finish
Houston Cougars vs. Oregon State. Beavers preview and picks
Pickswise is the home of March Madness Predictions. Check out all of our March Madness Picks, including daily March Madness Parlays throughout the NCAA Tournament.