March Madness 2022: NCAA Tournament First Four best bets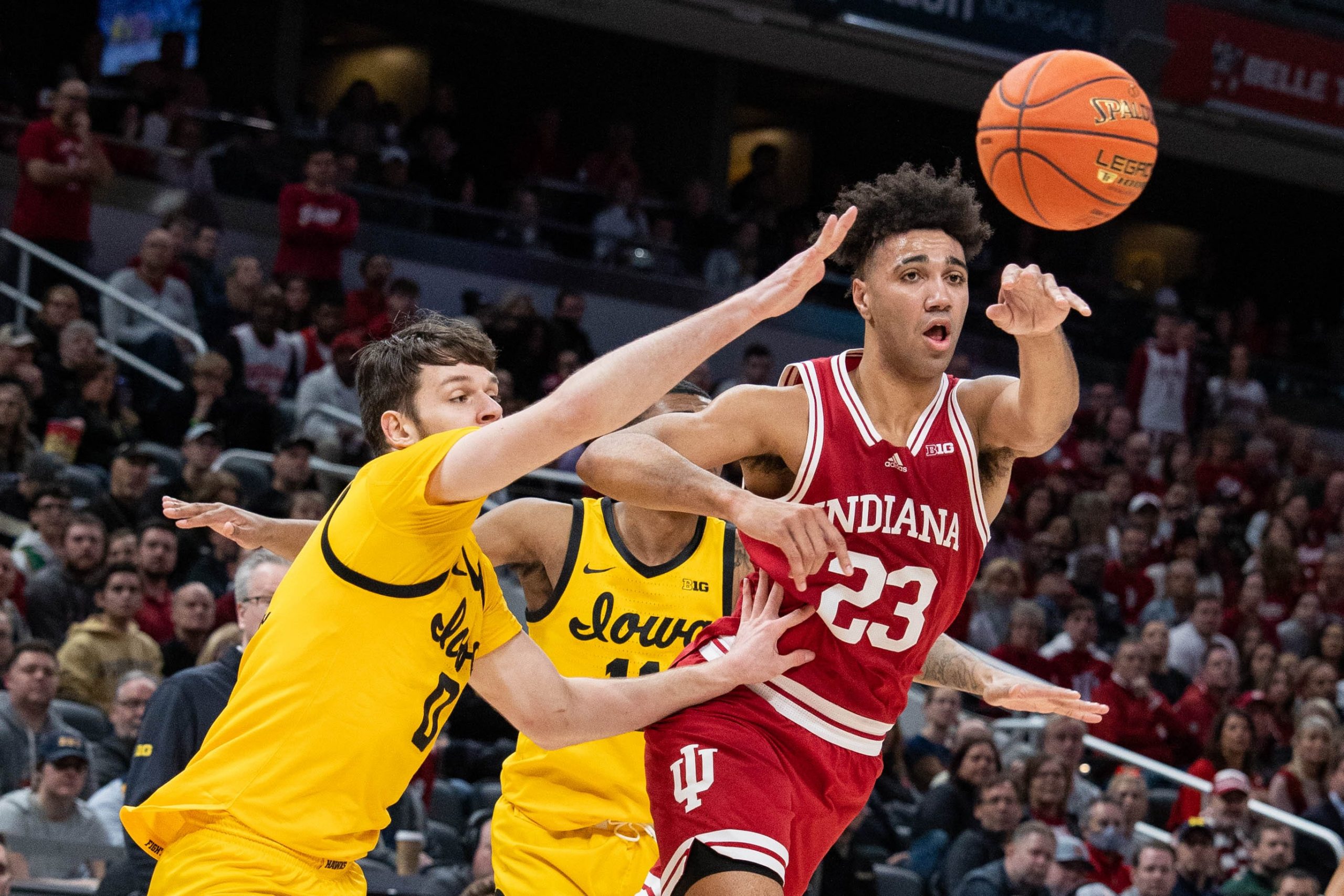 The bracket is out and the madness is just days away. Most people would probably define the start of the "madness" portion of March Madness as Thursday's action, but we have 4 games that will help fill the 48 hours before the greatest 2 days in sports. Before the larger bracket kicks off, we have the First Four to look forward to.
Winning money in these games counts the same as Thursday and Friday, so read below for two recommendations of bets to consider. Also, be sure to keep an eye on our March Madness hub for all the content to get you primed.
Indiana Hoosiers -4 over Wyoming Cowboys
The Hoosiers did just enough in the Big Ten Tournament to land in the First Four and draw a Wyoming team that had a great season in the Mountain West Conference. Wyoming ranks in the top-70 in both KenPom adjusted offensive and defensive efficiency, but it's their offense that is particularly difficult to handle. The offense centers around big man Graham Ike and 6'7″ point guard Hunter Maldonado. Wyoming runs their offense through the post at the highest rate in the entire country, and it's not particularly close. Per Synergy, Wyoming utilizes post-up's on 39.3 percent of their possessions with Purdue behind them at 24.8 percent. Ike is obviously a major part of this, but Maldonado uses his size and strength to back down smaller opposing guards.
However, Indiana has an excellent interior defense and has seen a ton of post-up's in Big Ten play this season. As mentioned above, Purdue ranks second nationally in post-up rate, but Ohio State, Wisconsin, Michigan, and Illinois all rank in the top-35 as well. Despite facing these very good teams, Indiana still ranks 9th in the country in field goal percentage defense at the rim. Trayce Jackson-Davis will likely draw the Ike assignment, and Race Thompson seems like a perfect player to guard Maldonado. If the Hoosiers can negate the success of Wyoming in the paint, the Cowboys' offense could be out of sorts.
On the other end, Ike will need to defend Jackson-Davis as well. Jackson-Davis has been on a tear lately, averaging 25.3 points per game in the Big Ten Tournament. He is excellent at drawing fouls, so if Ike gets into early foul trouble, it would be a major hit to Wyoming at both ends. Expect the Hoosiers to make enough plays to cover the spread and move on to face Saint Mary's on Thursday.
Read our picks for which March Madness teams will be on upset watch in the first round
Bryant Bulldogs +2 over Wright State Raiders
This game features the Bryant Bulldogs from the Northeast Conference against the Wright State Raiders from the Horizon League. The winner will move on to face Arizona on Friday, and based on the matchup, it's likely that it will be Bryant. Bryant plays at one of the fastest tempos in the country, ranking seventh nationally, per KenPom. It's no surprise to see them rank fifth in transition offense rate, which is an area in which they could find success against Wright State's defense. Per Synergy, Wright State ranks in just the 22nd percentile in transition defense. We're likely to see a ton of threes fired from fast-break opportunities, as Bryant ranks 44th nationally in three-point attempt rate. This means their games involve a ton of variance, but hopefully they can knock down enough of them for the sake of this bet.
On the other end, Bryant isn't a particularly strong defensive team, ranking just 218th in KenPom's adjusted defensive efficiency metric. However, their defensive philosophy could work against Wright State. Bryant plays zone on over 68 percent of their defensive possessions, and Wright State has struggled against zone defenses this season. Per Synergy, Wright State ranks in just the 18th percentile in zone offense this year. The primary reason for this is that they prefer to play through the post, evidenced by their ranking of 26th in post-up frequency, per Synergy. This is difficult to do against Bryant's zone, as the Bulldogs allowed the 15th-lowest post-up rate in the country. When and if Wright State is able to generate post-up's in this game, Bryant has a good defender in Hall Elisais, who ranks 16th nationally in block percentage. This game should be a fun watch given the fast tempo, and expect Bryant to emerge with the win.
Don't miss our predictions for which teams will emerge from each March Madness region
Pickswise is the home of March Madness Predictions. Check out all of our March Madness Picks, including daily March Madness Parlays throughout the NCAA Tournament.