NFL AFC Championship predictions, odds and best bets: Chargers ready to make a run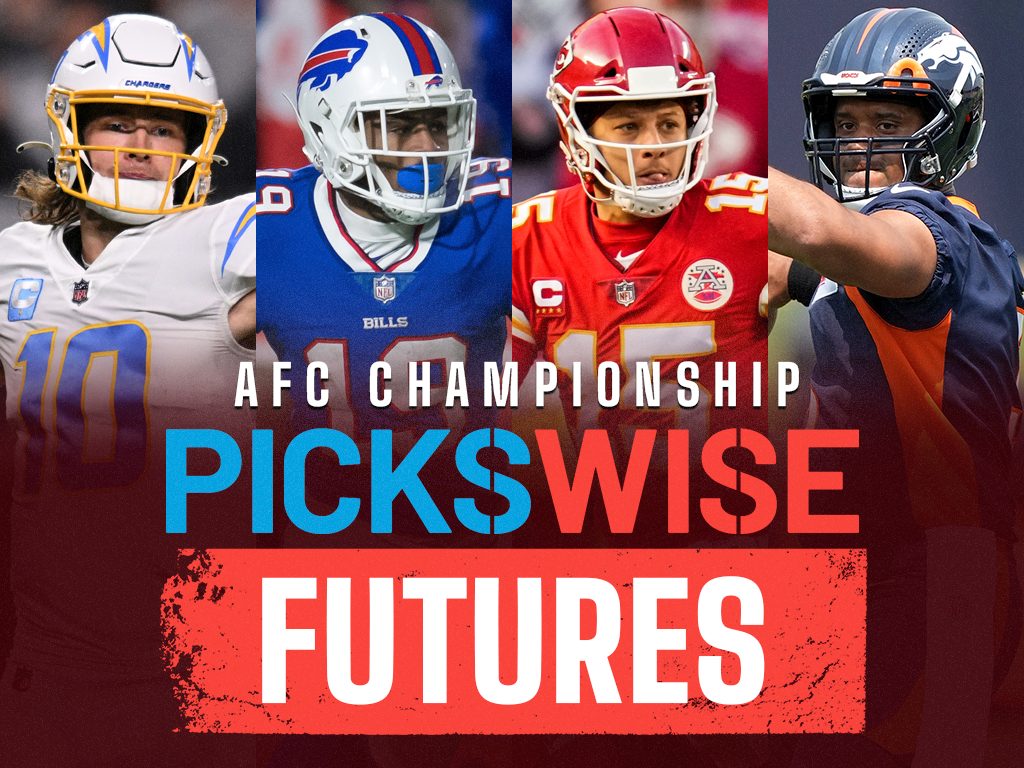 The 2022 NFL season is finally looming over the horizon. Football is coming back and training camps are getting started. The race to become Super Bowl champions begins again on September 8 and one thing's for sure — the battle to be the AFC representative is going to be wild.
It's no stretch to say that of the 16 AFC teams, at least 13 will consider themselves genuine playoff contenders this year, with the possible exceptions being the Jaguars and Jets (who are both expecting to make massive strides forward in 2022 after winning just 7 games between them last year) and the Houston Texans, who are still some way off returning to elite ranks but have a whole load of elite draft picks with which they could remedy that situation.
What that leaves is at least 3 teams in the AFC East, 2 in the AFC South and literally every team in the AFC North and AFC West divisions, thinking they have a shot this year, and with only 7 playoff places to go round, something has to give.
It's time to take a look at the fascinating race to represent the AFC in Super Bowl LVII – scheduled for February 12 in Glendale, Arizona. Let's take a look at the odds and the best bets to be made.
AFC winner odds
Odds provided by DraftKings Sportsbook and FanDuel Sportsbook, best odds shown
Buffalo Bills (+350, FD)
Kansas City Chiefs (+600, DK)
Los Angeles Chargers (+850, FD)
Denver Broncos (+850, FD/DK)
Baltimore Ravens (+1000, DK)
Cincinnati Bengals (+1100, FD)
Indianapolis Colts (+1200, FD/DK)
Tennessee Titans (+1500, FD/DK)
Cleveland Browns (+2000, FD)
Miami Dolphins (+2000, FD/DK)
New England Patriots (+2500, DK)
Las Vegas Raiders (+2500, FD)
Pittsburgh Steelers (+5000,  DK)
Jacksonville Jaguars (+6500, DK)
New York Jets (+8500, FD)
Houston Texans (+13000, DK)
Let's look at another couple of team odds that highlight the level of competition in the AFC. Last season's #1 seeds for the playoffs, the Tennessee Titans, have +1500 odds and are only 8th favorites to win the conference this year. And last year's AFC champions, the Cincinnati Bengals, are only 6th favorites to do it again at +1100. The Steelers look the most likely of last year's playoff teams to fall short this time after the retirement of franchise QB Ben Roethlisberger, but there are plenty who missed out on the postseason last time looking to break in this time, not least the Dolphins, Browns, Ravens, Colts, Chargers and Broncos.
We've selected the Buffalo Bills as our early picks for the Super Bowl and they really rate better value at +650 to win it all than they do at just +350 to win the AFC, which really is the hard part of their season. If they can get through this tough field, seeing off the NFC champions could seem relatively easy! So instead, for a bet on the AFC champions, we're looking for something at more meaty odds.
AFC winner best bet: Los Angeles Chargers +850
It's still something of a mystery how the Chargers managed to miss the playoffs last season. They looked one of the most talented teams in the conference for most of the year, starting 4-1 after consecutive wins over the Chiefs, Raiders and Browns, and they were still well in the hunt in December, beating eventual AFC champs Cincinnati and looking good at 8-5. However, they faded horribly down the stretch with overtime losses to the Chiefs and disastrously to the Raiders in Week 18, as well as a costly loss in Houston. They have what they need to succeed in quarterback Justin Herbert, though, backed up by RB Austin Ekeler and receivers Mike Williams and Keenan Allen, while Gerald Everett provides a nice upgrade on veteran Jared Cook at tight end.
The Chargers' big problem — and the reason they became known for their dramatic shootout wins and losses — was that their defense couldn't stop anyone for most of the year, as scorelines of 47-42, 41-37, 41-22, 28-34, 29-41 and 32-35 underline. The good news for Bolts fans is that the cavalry has arrived. Veteran pass-rusher Khalil Mack arrived in a trade to give the Chargers a real outside threat opposite Joey Bosa, while cornerback JC Jackson looks a great free-agent acquisition from New England to boost a secondary already patrolled by Derwin James and Asante Samuel Jr. Kyle Van Noy is another wily veteran recruit. The big concern remains stopping the run, but the unheralded arrival of former Ram Sebastian Joseph-Day could be a big help there. If the Chargers' defense can just improve even to the middle of the pack, their smooth-running offense can do the rest.
They appeal more than the Chiefs, who have lost a key weapon in Tyreek Hill, and while Denver had a playoff-ready roster that was just missing a quarterback, it's probably asking too much of Russell Wilson to get them to the Super Bowl in year one of his new offense. The Bengals rode their luck last year but are arguably going to be stronger still this time, especially as they continue to strengthen their suspect offensive line, even so, they can't expect everything to magically fall for them this time and they can be sure of another tough battle in their division.
#The Browns can't be supported until we have any certainty on the disciplinary action against new QB Deshaun Watson, which could still range from no suspension to him missing the entire season. Jacoby Brissett could certainly hold the fort if it's a relatively short ban (the Browns went 2-0 under Case Keenum last year) but it's best to make an assessment of their prospects when we have the full picture.
Read our best bet and longshot for the NFC this season
AFC winner longshot bet: Indianapolis Colts +1200
It's something of a stretch to call the Colts and their talented roster longshots, but they're listed 7th in the conference by both FanDuel and DraftKings, so are expected to barely scrape into the playoffs, and they might just be quite a bit better than that this year. Long gone are the days of franchise quarterbacks Peyton Manning and Andrew Luck at Lucas Oil Stadium, but a short-term hire of veteran Matt Ryan might just provide both club and player with what they are looking for.
The Colts don't need their quarterback to be great when they can lean on fantasy football star Jonathan Taylor at running back, they just need him to not do stupid stuff, a test which Carson Wentz failed at the worst possible times. Ryan doesn't have much time left, but he should relish the weapons (and offensive line) in front of him after his recent struggles in Atlanta. The Colts should really have only the Titans to beat to get one of the top 4 seeds in the AFC playoffs and there's enough emerging talent on both sides of the ball to make them a threat to all in the playoffs.
Pickswise is the home of free expert NFL Picks and NFL Odds. Be sure to check out all of our season previews and NFL Futures Bets leading up to the 2022 NFL season.