NFL Sunday same game parlay (+1020 odds): Philadelphia Eagles vs Atlanta Falcons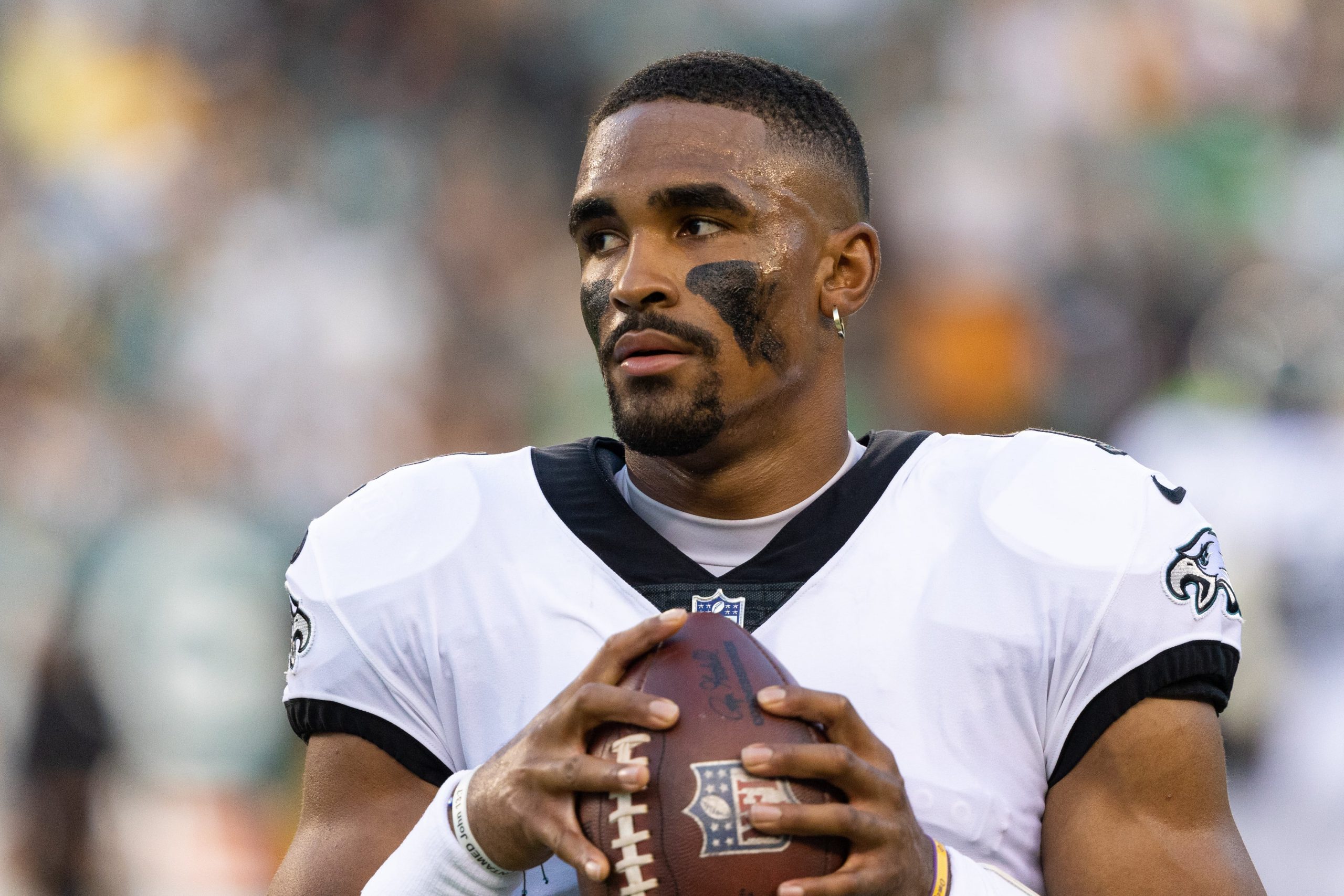 It's the greatest time of the year. Imagine not sitting in front of your television for 12 hours straight on Sunday. Seriously do it. It would be crazy not to, right? Now think about the fact that there are people not doing that and say a quick prayer for them. Couldn't be us. We've got the Philadelphia Eagles and Atlanta Falcons on FOX at 1pm ET. That's enough for me to drop a same game parlay no questions asked.
Don't forget that you can also follow me on Twitter for any other bets I might throw out throughout the day. You never know when magic will just drop on the feed. Follow now and turn on notifications.
Jalen Hurts over 236.5

 yards passing (-114)
Jalen Hurts over 45.5

 yards rushing (-114)
Russell Gage over 50.5

 yards receiving (-114)
Miles Sanders over 13.5

 yards receiving (-114)
Jalen Hurts over 236.5

 yards passing (-114)

Jalen Hurts gets no respect. None. Even though he came off the bench last season and dropped 300+ passing yards in 2 of his last 3 games. Here's the thing, the Eagles have weapons and I doubt their defense pitches a shutout. Translation, Philadelphia won't be able to just sit on the ball Sunday. Devonta Smith and Jalen Reagor are both competent receivers and when you add Dallas Goedert and Zach Ertz to the mix, we have a little bit of magic happening. I don't know that Hurts will go for 300+ again but I think 250+ is well within his range of outcomes.

For more on this one, check out our full game preview for Philadelphia Eagles vs Atlanta Falcons.
Jalen Hurts over 45.5

 yards rushing (-114)

The good people at FanDuel must have forgotten what "dual-threat" means. That's all I can come up with after seeing this line. I know what you are thinking, "it's dumb to take a quarterback's passing and rushing yard props over in the same game". Is it though? People said the same thing last season when our guy went for 338 and 63 against Arizona. They said it the very next week went 342 and 69 against Dallas. The fact is, this number is pretty low as I would have Hurts' floor at about 50 rushing yards Sunday. He's going to carry the ball roughly 10 times in this game. Chances are, he can average at least 5 yards on each carry which would put him over 45.5. That's just how math works.
Russell Gage over 50.5

 yards receiving (-114)

Everyone is wondering who is going to replace Julio Jones in the Atlanta Falcons offense and I have the answer, Russell Gage. I'm kidding, that's not going to happen but that doesn't mean our guy Russell can't throw up a 50-burger on Sunday. We're talking Russell Gage here. The same guy who hung a 9-114 line on the Seahawks in the first game of last season. The kid is only 25 and now that Julio is gone, this Falcon is looking to fly. I expect this game to be one in which each team is able to move the ball a little, so the environment suits the play. The Eagles were middle of the pack last season at defending the receiver position and will no doubt have Calvin Ridley on their radars Sunday. That should open up Gage for a little pitch-and-catch action with Matt Ryan.
Miles Sanders over 13.5

 yards receiving (-114)

This guy has probably burned you in fantasy before, but we need to move on. Especially when we are talking about 13.5 receiving yards. He could trip and fall for 13.5 yards, people. I actually thought this was a first-drive line when I saw it for the first time. With a guy like Hurts at QB, we will see some security blanket type stuff Sunday. Miles Sanders is more than capable of handling that role. He had 21+ receiving yards in each of the last 3 games he played last season. The Eagles targeted running backs 10 times in their last preseason game so the RB is in the mix when the QB drops back. I will be playing this one straight too.

Pickswise is the home of free NFL picks and predictions. Make sure to also check out our 'NFL parlays' and 'NFL prop bets' tabs for more expert picks.