NFL Teaser Picks and Parlay for Week 10: Falcons fly high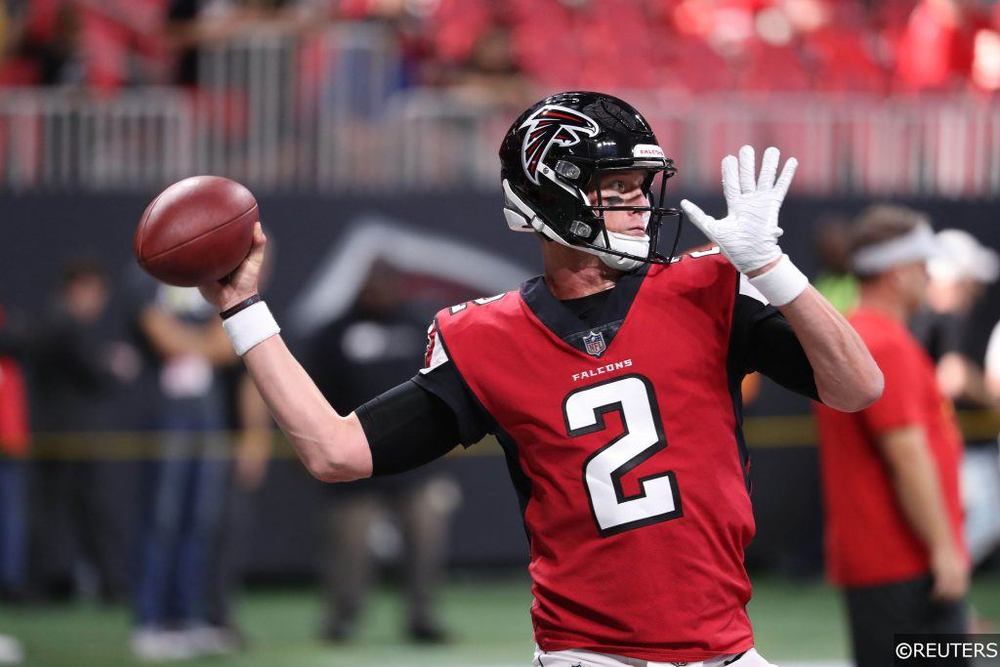 The NFL teaser is truly the greatest bet an NFL bettor can make. It's baffling that anyone could take a slate of NFL games, pick 2 games, move the line 6 points in their favor and still lose. It's actually one of, if not the greatest, wonder of the world. Still people do it so I felt the need to help those people out because that's a natural reaction for me. People helping people — it's powerful stuff. Not only did I include the teaser for the week, but also a little money line parlay. Selfless.
On top of this article, you should definitely check out our expert NFL picks this week. It's just a smart thing to do. Also, bets can be added to the card, so why not follow me on Twitter in case we get some last-second action? There's always late news for some of these games, so there is always a chance for opportunity to knock.
NFL Teaser Week 10 – 2-team, 6-point (-120) *DraftKings
Atlanta Falcons +14
This one is the easiest bet of all time and I'm still not sure it's real. I mean, I've put it in and it's been accepted…but it must be a mistake. I do apologize for including this one in the NFL teaser after I put it in the NFL underdogs article but I had to. When you see a team that hasn't been beaten like this in weeks getting 2 touchdowns, you take it. Especially a scrappy team like the Falcons. It's just how things are done. I don't make the rules. The Cowboys should step up after getting embarrassed last week but I'm not sure it will be enough. This one could be a backdoor or outright win. Either way, it's a great NFL teaser target.
Be sure to read our full game preview for Atlanta Falcons vs Dallas Cowboys
Minnesota Vikings +9
It's insane to back any Kirk Cousins team but that's what we're doing here. It just makes sense. The trick to backing Kirk Cousins is the not taking him to win. That's dumb. But Kirk and the Vikings with 9 points is 8-0 this season. That's 100% if you into that kind of thing. Look, I like the Chargers and they are a good team but they have the NFL's worst run defense in terms of yards per rush attempt. Captain Kirk needs a run game to be successful and he will have one Sunday. I don't think the Vikings win this game but they should definitely cover 9 and cash the NFL teaser again this week.
Don't forget to read our full game preview for Minnesota Vikings vs Los Angeles Chargers
Week 10 NFL parlay (+100) *DraftKings
Tennessee Titans ML
First off I am going to apologize to TMan and Lesley Whodat for picking against the Saints again. I promise I'm not trying to pick on them for having Trevor Siemian as their quarterback. It's not their fault even though it kind of is for signing him but that's not what this is about. This is about the Tennessee Titans and how they're always expected to come back to earth after beating up on a really good team but then they don't. They beat the Buffalo Bills and we supposed to come back to earth. Didn't happen. They beat the Chiefs the next week. Then they beat the Colts, then they beat the Rams. They even lost Derrick Henry in there somewhere. Didn't matter. This team is good and Trevor Siemian is not. Have to go Titans here.
Be sure to read our full game preview for New Orleans Saints vs Tennessee Titans
Buffalo Bills ML
We have to pick a team to line up with the Titans. We just do. That's how parlays work. It's in our best interest to take a team that has a zero percent chance of losing and that's the Buffalo Bills. They just got beat by the Jacksonville Jaguars last week and that can only mean one thing this week. Bloodbath. It's like middle school. If you are a tough guy and happen to get beat up, you find a smaller guy that you know you can take and pick fight with him. That smaller kid happens to be the New York Jets and the NFL is the one who picked the fight. This game is going to be a bloodbath and it will cash this parlay.
Be sure to read our full game preview for Buffalo Bills vs New York Jets
Pickswise is the home of free NFL picks and predictions. Make sure to also check out our NFL parlays and NFL prop bets tabs for more expert picks.