NFL Week 3 same game parlay (+741 odds): Tampa Bay Buccaneers vs Los Angeles Rams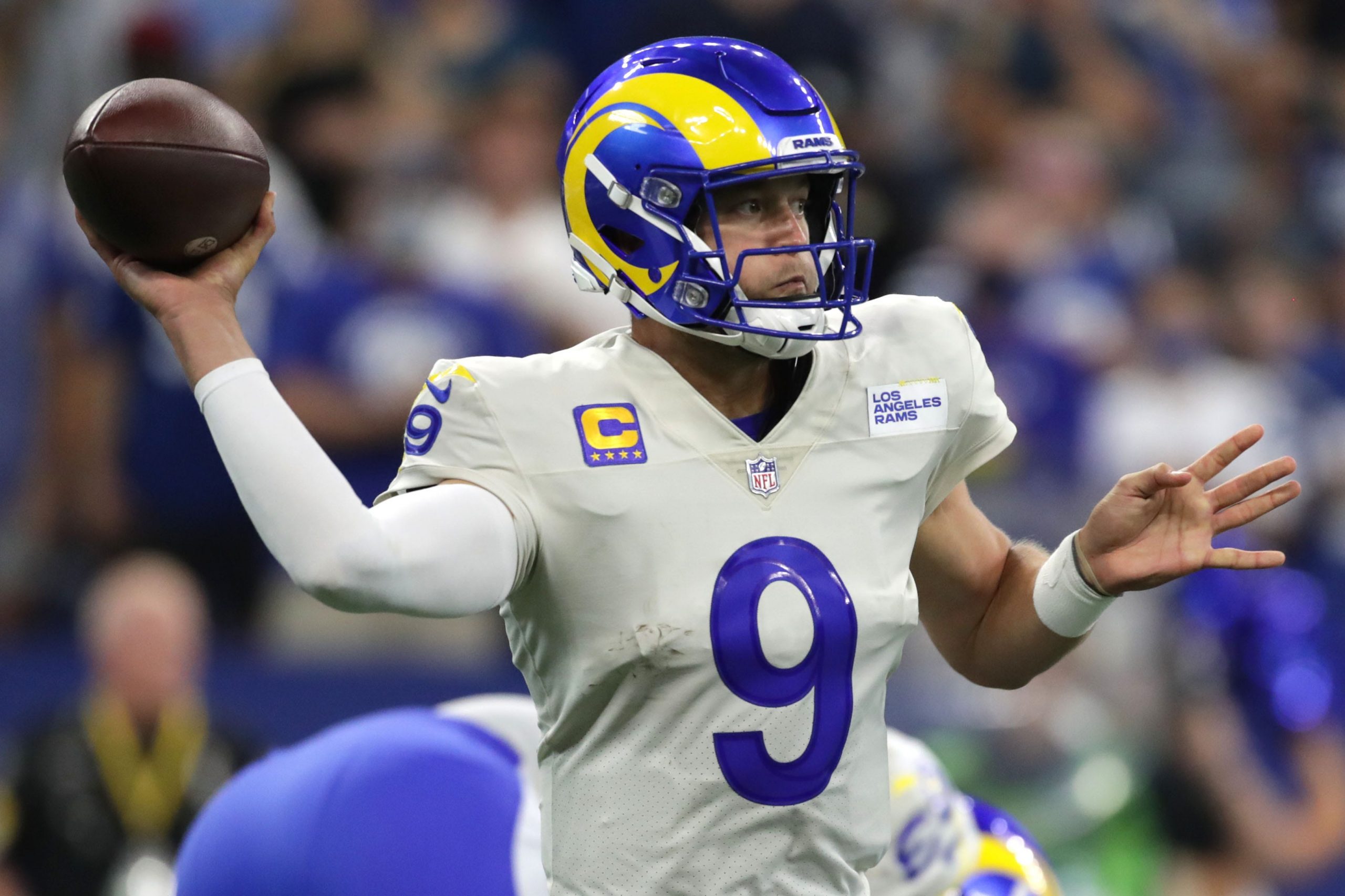 Let's just cut the noise. This is the game of the day. The Los Angeles Chargers and Kansas City Chiefs is a close second but this is the one. When the Tampa Bay Buccaneers and Los Angeles Rams take the field at 4:25pm ET on FOX, it will feel like a playoff game in September. It could be the beers and bets that make it feel like that but it will mostly be the football. Tom Brady versus new Matthew Stafford is must-watch gambling at the moment and we should definitely have a same game parlay on this one.
Don't forget that you can also follow me on Twitter for any other bets I might throw out throughout the day. You never know when magic will just drop on the feed. Follow now and turn on notifications.
Matthew Stafford 325+
 passing yards 
(+140)
Tom Brady 325+
 passing yards 
(+152)
Chris Godwin 80+
 receiving yards 
(+118)
Matthew Stafford 325+
 passing yards 
(+140)
Let me tell you people a little something about this game. This is an over bettor's dream. For starters, the Buccaneers have a very good run defense. We're talking top-5 in the NFL by my standards. I don't think Sean McVay is going to try to challenge this group in this game especially with Darrell Henderson's bruised ribs. It's going to be throw time. And when throw time happens, more plays happen. That's just how math and play clocks work.
We haven't seen the Rams run more than 60 plays yet this season but that's because their play counts have been governed so far by playing slow teams. The Buccaneers are the second-fastest offense in the NFL in neutral situations so that won't be a problem this week. They also light up the scoreboard so the Rams likely won't get to a point where they sit on the ball. The Buccaneers gave up 400+ passing yards to Dak Prescott Week 1. I think this game plays out the same type of way.
For more on this one, check out our full game preview for Tampa Bay Buccaneers vs Los Angeles Rams.
Tom Brady 325+
 passing yards 
(+152)
Now the Rams have looked really good defending the pass this season. That's a fact but I think it has more to do with the ugly factor. If you're ugly too, you know what I mean. What you have to do is hang around with other ugly people and you look better. It's science. The Rams have been hanging around ugly passing teams and looking better for it. That won't happen this week given the game script and the fact that Brady is the quarterback of the Buccaneers. Not for nothing but Carson Wentz just hung 247 passing yards and he didn't even play the whole game. I think we see a few extra possessions this week with elevated pass attempts. Brady should go over 325 yards.
Chris Godwin 80+
 receiving yards 
(+118)
If Brady is throwing for 325+ yards then someone is going to have to be catching these passes and gaining these yards. That's just how things work. That somebody should be Chris Godwin. For one, Antonio Brown is likely to miss this game. That will open up other opportunities for other guys. I know Scotty Miller and Tyler Johnson will be hanging around but that shouldn't hamper Godwin. The Rams have a great secondary but let's not pretend Michael Pittman didn't just torch them for 123 yards last week. Godwin is finally healthy and he looks it so far. He already had a 100+ yard game and I think he has another one Sunday afternoon.
Pickswise is the home of free NFL picks and predictions. Make sure to also check out our 'NFL parlays' and 'NFL prop bets' tabs for more expert picks.