NHL Friday mega parlay (+967 odds): Roll with 3 puck lines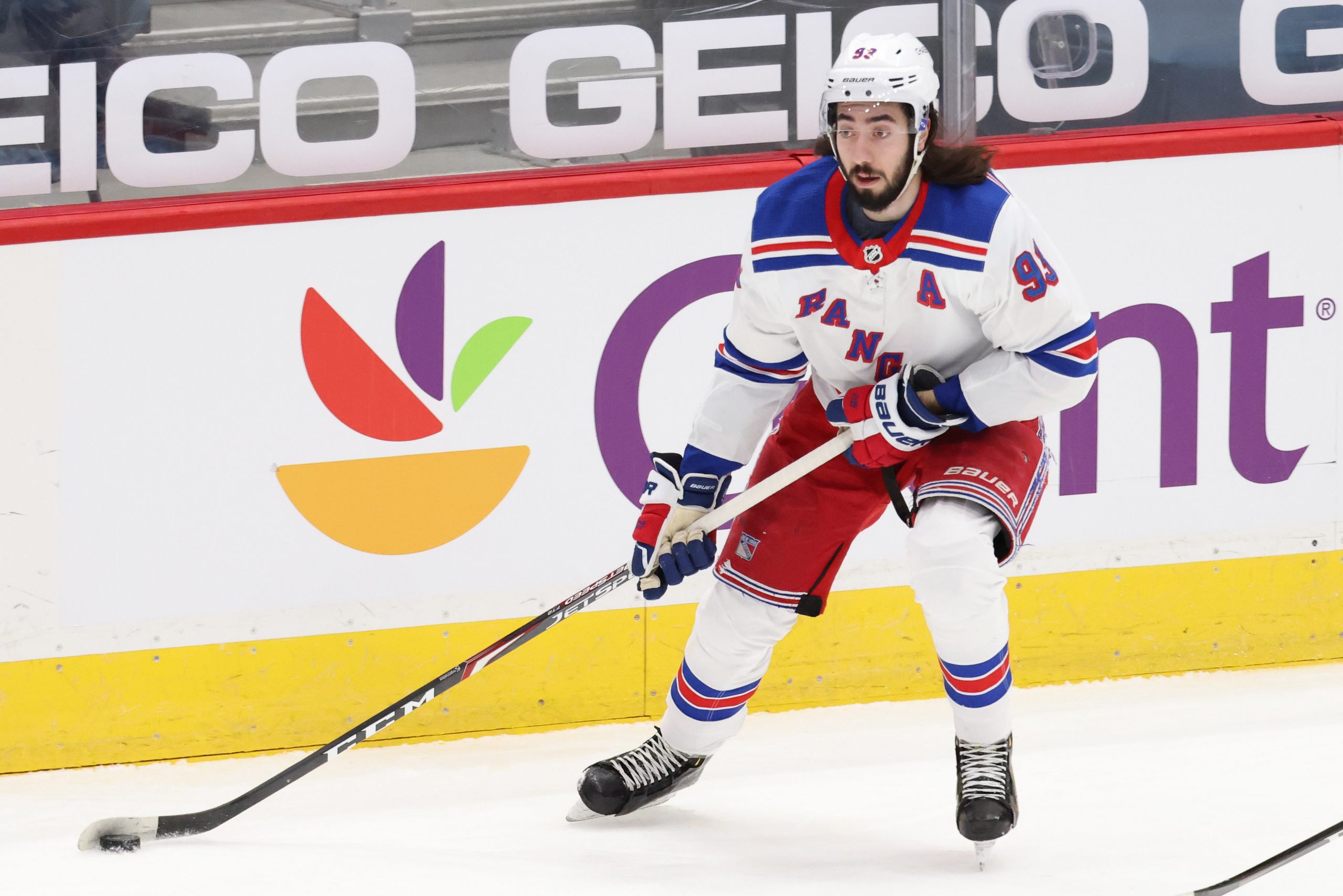 There are 7 games on the NHL schedule for tonight, and one way to enhance the action is with a mega parlay. We hit last night's mega parlay at +1117 odds, so we are looking for back-to-back wins. Along with this parlay, don't forget to check out our full game previews for each matchup tonight. You can also follow Pickswise and myself on Twitter for plenty of betting content covering all sports.
In today's mega parlay, we are taking a look at 3 puck lines. Let's break down each leg one by one.
Rangers -1.5 (+128)
Capitals -1.5 (+168)
Panthers -1.5 (-134)
New York Rangers -1.5 (+128) over Buffalo Sabres
These teams are going in opposite directions. The Rangers are 8-2-0 in their last 10 games and just had a 7-game win streak snapped by Colorado. This is a great bounce-back spot as they'll look to pounce on a bad Buffalo team. Buffalo is 1-8-1 in their last 10 games and in the bottom 4 of the NHL standings. The Sabres have not even covered a 1.5-goal spread in 5 games dating back to November 27. The Rangers have 4 wins of 2+ goals in their last 7 games.
Head to head, the Rangers have a statistical advantage across the board. They're just a better team than the Sabres. New York has the better special teams unit, they score more goals, allow far fewer goals, and have a much better goal differential. In addition, they block more shots and are a much more physical team as they have almost double the amount of hits than Buffalo. The Sabres will have to dig deep to stay in this one.
Be sure to check out our full game preview for New York Rangers vs Buffalo Sabres
Washington Capitals -1.5 (+168) over Pittsburgh Penguins
Washington has already dominated Pittsburgh once this season, cruising to a 6-1 victory on November 14. The Penguins were just beginning to get healthy, but they suffered a big blow when leading scorer Jake Guentzel went down with an upper-body injury in their last game. He is considered week-to-week. Piitsburgh's 18th-ranked offense was already struggling, but this loss will certainly hurt their goalscoring department, as this setback compounds the losses of Evgeni Malkin and Bryan Rust.
Washington has been fantastic at home, losing just once in regulation while picking up 22 out of 28 possible points at the Verizon Center. Furthermore, the Capitals haven't been as reliant on their power play to score goals, as they have in seasons past. This is good news, considering the Penguins boast the league's top penalty-kill. Washington's power play is just 21st in the league at 17.6%, yet the Capitals are still scoring 3.5 goals per game, a mark good for 5th in the league. With the Penguins missing their leading scorer, and the Capitals continuing to roll this season, take Washington to defend home ice in this marquee matchup.
Be sure to check out our full game preview for Pittsburgh Penguins vs Washington Capitals
Florida Panthers -1.5 (-134) over Arizona Coyotes
The Florida Panthers have the best record in the NHL (17-4-4), while the Arizona Coyotes (5-18-2) have the worst. Offensively, the Panthers rank 2nd in expected goals per 60 minutes, goals scored and goals per game. Conversely, the Coyotes rank last or next to last in all those categories. Defensively, these teams are technically ranked closer, but it's still a wide gap. The Panthers are 12th, and the Coyotes 16th in expected goals against per 60 minutes, but their actual goals allowed totals are nowhere near that close.
Arizona has lost 4 of their last 5 games and being outscored 19-7 in that stretch. Florida's potent offensive attack should be looking to light the lamp early and often. All in all, this game should be dominated by the Panthers.
Be sure to check out our full game preview for Florida Panthers vs Arizona Coyotes