NHL Thursday mega parlay (+964 odds): Game 5s bring high totals and home-ice advantage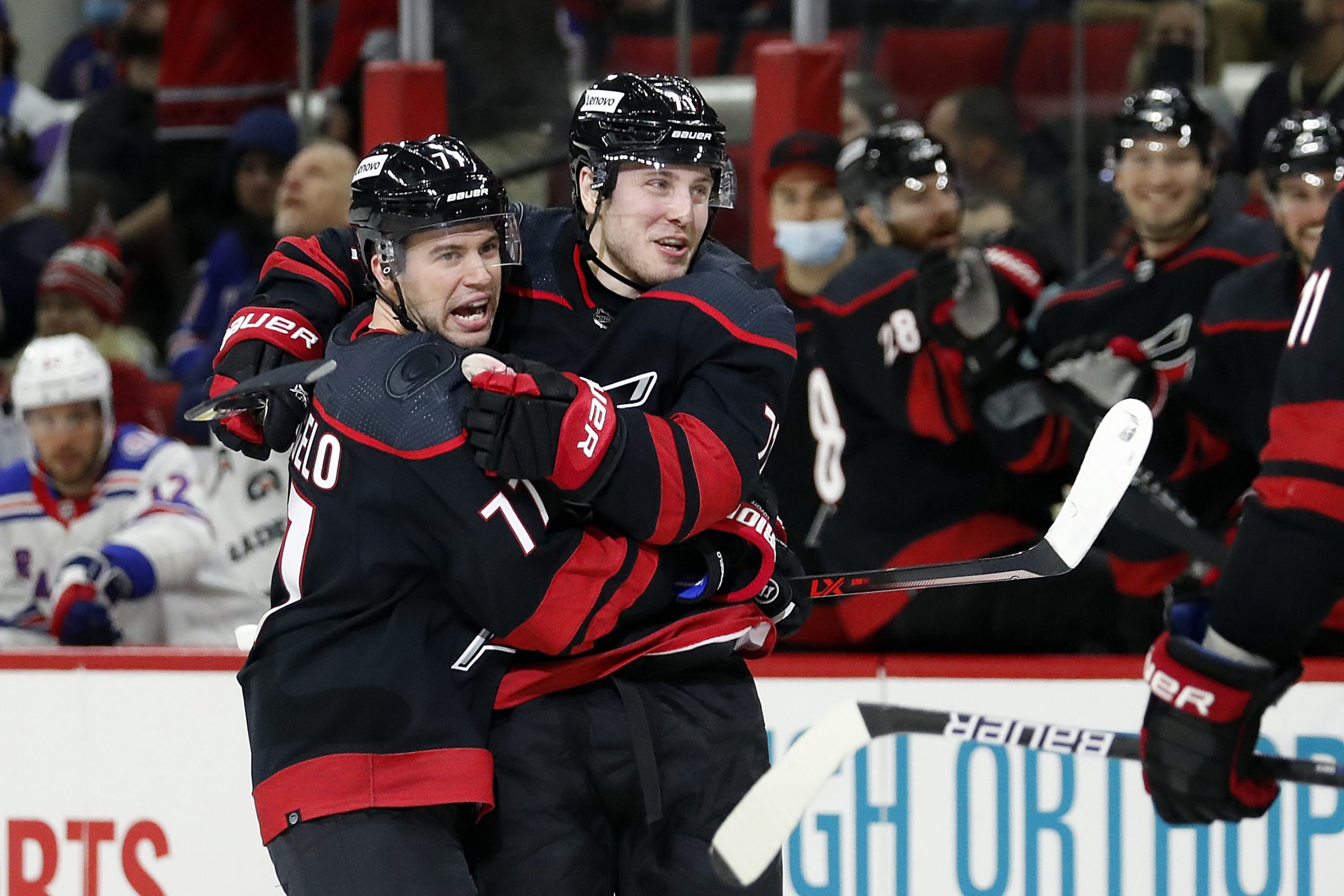 Although the Hurricanes lost Game 3 at Madison Square Garden, they played great and cleaned up a lot of prior mistakes. It looked like they would finally shake off their road game woes and win their first playoff road matchup in Game 4. That did not happen. Carolina remains undefeated at home and completely defeated on the road. Out west, it's do-or-die for the Flames. That situation has come earlier than widely expected for Calgary. There is a lot on the line Thursday which is a good recipe for entertaining hockey.
If you are looking to have some action and combine some picks from these games, check out these parlay picks that have +964 odds on DraftKings Sportsbook at the time of publishing.
Carolina Hurricanes -1.5 (+170)
New York Rangers vs Carolina Hurricanes Over 5.5 (+115)
Edmonton Oilers vs Calgary Flames Over 6.5 (-120)
Parlay odds: +964
Carolina Hurricanes -1.5 (+170) over New York Rangers
Fool me once, shame on you. Fool me twice, shame on me. At this point, if you bet the Hurricanes on the road or against them at home, you might just be fooled. When it looks like Carolina's home winning and road losing doesn't look sustainable, those trends just keep on rolling. Until they show anything remotely deviating from the way they play at home, the Hurricanes will continue to be a solid play. Carolina is a perfect 6-0 at home in these playoffs with a +2.5 goal differential per game. Whatever it is about the Hurricanes playing in their own barn, it's true home-ice advantage.
The Hurricanes' team strength all season long, and at least at home in the playoffs, has been goal prevention. They have held opponents to 1.17 goals per game at home in these playoffs. With those kinds of numbers, Carolina doesn't even need to have a prolific offense to get the job done. Fortunately for Carolina, they were still a top 10 scoring team in the NHL during the regular season. The Rangers finished in the bottom half of the league in scoring in the regular season as they also relied on goal prevention for success. In the arena where the Hurricanes play their best hockey and emphasize their strengths the most, they should keep the status quo as they did in games 1 and 2.
Be sure to check out our full game preview for New York Rangers vs Carolina Panthers
New York Rangers vs Carolina Hurricanes over 5.5 (+115)
As the Rangers and Hurricanes become more acquainted, their game totals are climbing higher and higher. All 4 games have gone under but after just 5 goals were scored in the first two games, there were 9 goals scored in games 4 and 5. These teams met head to head 4 times during the regular season in games that averaged 6 goals. They appear to be trending back toward that number and the Hurricanes being at home definitely helps the cause.
Carolina's 4 first-round home games also averaged 6 goals as the Hurricanes scored 18 goals in those 4 matchups. While their strength is goal prevention, they have scored 5 goals in half of their home games in the playoffs. On the Rangers side, Igor Shesterkin has played much better against Carolina than he did against Pittsburgh. But the Rangers are still prone to high numbers. They have allowed 3+ goals in 6 games these playoffs and have scored 3+ goals in 8 games. Being back home will add some jam to Carolina's offensive game. The Rangers will just have to keep up and they are more than capable.
Get our two best NHL player props for tonight's action
Edmonton Oilers vs Calgary Flames over 6.5 (-120)
During the regular season, the Flames were a team that excelled in goal prevention but could also score in bunches thanks to one of the best top lines in the NHL. In these playoffs, they have yet to put both strengths together at the same time. After a series full of unders against Dallas, the 4 games in this Flames-Oilers series have averaged 9 goals per game. Calgary front-loaded their goal scoring as they put up 9 in Game 1. They have since been outscored 14-7 in the past 3 games. Neither team has done a great job preventing the opposition from generating offense. There are no indications yet of a low-scoring game.
Connor McDavid, Leon Draisaitl and Evander Kane are top 3 in scoring in these playoffs. They are producing at a clip that not only is carrying the Oilers, but carrying high game totals. Edmonton has scored an average of 4.27 goals per game in the playoffs which is typically enough to take the total over if the other team can score just a couple of goals. Calgary obviously has the horses to keep up in a high-scoring game. They'll need those guys to show up with their backs against the wall on Thursday. If they do, this could be another shootout.
Be sure to check out our full game preview for Edmonton Oilers vs Calgary Flames
Pickswise is the home of free NHL Picks and NHL Predictions. Check back for our daily NHL Best Bets, including our favorite NHL Prop Bets.