NFL
Back
Patriots team plane delivering 1.2 million N95 masks to health care workers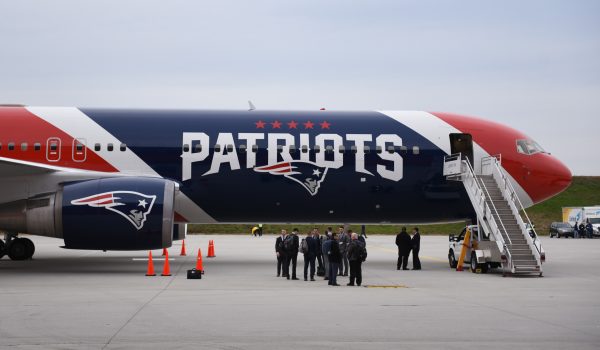 NFL
10:54AM
Fri 3rd April 2020

NFL
10:54AM
Fri 3rd April 2020
Alex Alarcon
See Bio
Content Manager for Pickswise.com The home of free sports picks and experts best bets.
See Bio
Content Manager for Pickswise.com The home of free sports picks and experts best bets.
New England Patriots owner Robert Kraft decided to jump in and help health care workers among the COVID-19 pandemic. This pandemic has stopped a majority of sporting events thus far as the complete list of sports being played and canceled across the world can be found here. Kraft along with Massachusetts Gov. Charlie Baker teamed up to load the Patriots team plane with 1.2 million N95 protective masks to help aide the front line health care workers. Kraft and Baker worked alongside China to bring over the protective masks overseas as the United States is currently experiencing a shortage of N95 masks. Here is what Baker had to say about the successful delivery.
"Tonight's arrival of a major shipment of N95 masks on the Patriots' plane was a significant step in our work to get front-line workers the equipment they need," the governor later said on Twitter. "And it's an example of how collaboration and partnership can lead to real solutions during these challenging times."
With now 1.2 million N95 masks ready for use in Massachusetts, Kraft did not stop there. He also purchased another 300,000 protective masks for New York state. During this pandemic, it's great to see Patriots owner Kraft use his resources to help out the states. It will be interesting to see if more team resources are used during this time. Baker finished off the day with his final statement to the press which read.
"The Krafts, our partners Ambassador Huang Ping, Dr. Jason Li, Gene Hartigan, and our COVID-19 Command Center personnel teamed up to get this job done and we eagerly await the plane landing at Logan Airport soon, "Our administration will keep pursuing the PPE necessary to support our brave front-line workers who are working tirelessly to save lives during this pandemic."
Coronavirus donations from sports👏

$35m – NFL Organisation
$25m – Steve Ballmer (Clippers Owner)
$5m – Drew Brees
$2.7m – Germany Soccer Team
$1.8m – Ronaldo & Jorge Mendes
$1.1m – Messi
$1.1m – Pep Guardiola
$1.1m – Conor McGregor
$1.02m – Federer
$1m – Golden State Warriors pic.twitter.com/7pd2dtZZMZ

— Pickswise (@Pickswise) March 30, 2020
As shown in the tweet above, a majority of teams and owners have already stepped in to help during this pandemic. The highest team owner donation was from Los Angeles Clippers owner Steve Ballmer donating $25 million to help with the cause. The highest NFL player donation came from QB Drew Brees of the New Orleans Saints with a total of $5 million.
At the moment, it seems the NFL is not postponing any big events as they are still rolling with the NFL Draft later this month. However, there could be a huge delay in the Los Angeles Rams and Chargers SoFi stadium as on Sunday a trade worker at the site had tested positive for COVID-19. During this time it is important to stay at home and remember the six-feet of social distancing. Stay safe everyone.
Last updated: Fri 3rd April 2020