Pickswise MLB Experts' Best Bets for World Series Game 2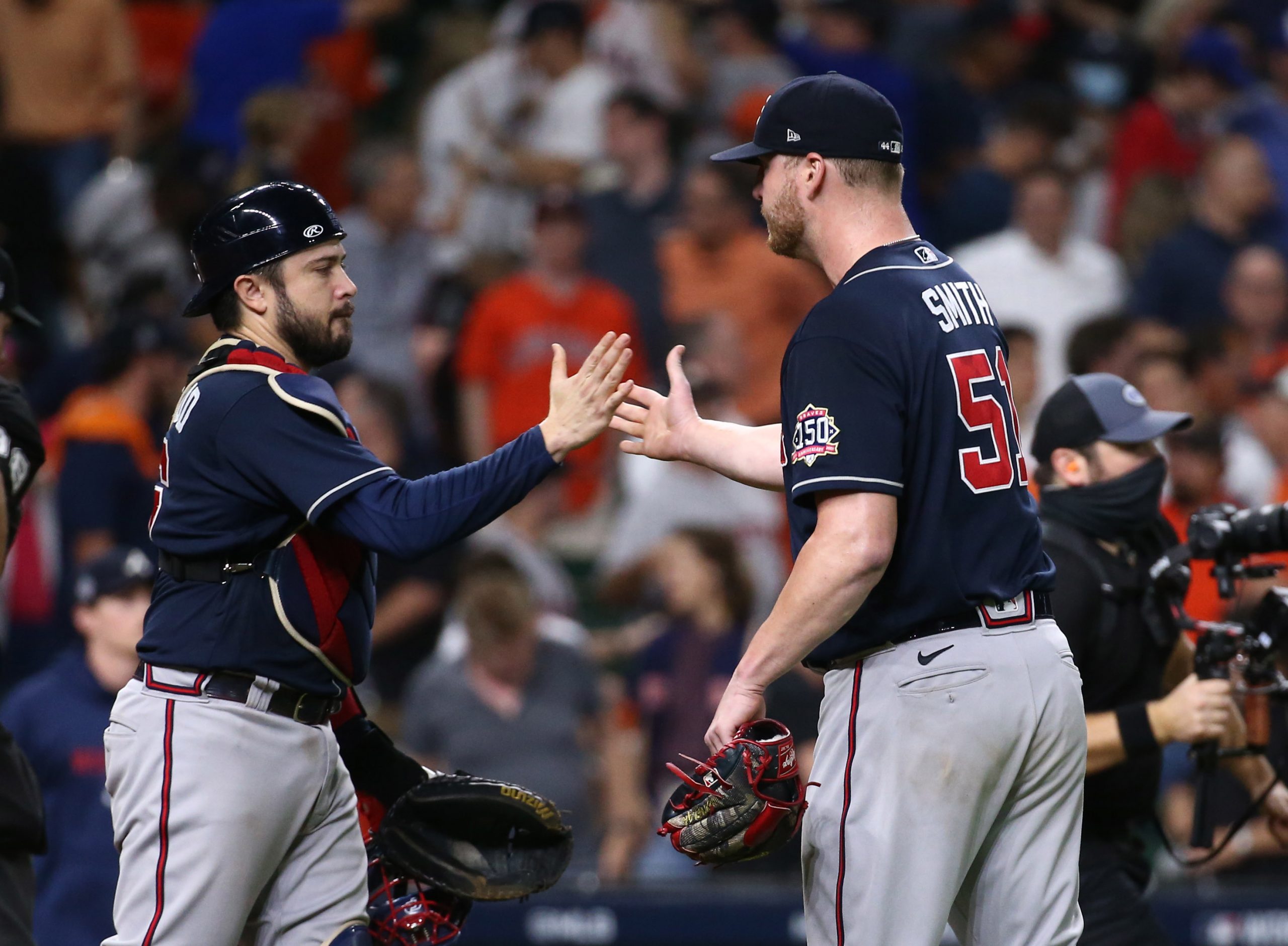 Buckle up, we've got an exciting series on our hands. The Braves pulled off an upset in Game 1 of the 2021 World Series, defeating the Astros 6-2 on the road. We can't wait for Game 2, and here at Pickswise we've got a ton of great content coming. Most notably our full game preview with a free pick on the side and total.
Be sure to also check out our MLB news tab, where you'll find same game parlays and prop bets for every game of the series. Meanwhile, we've also assembled a roundtable of three of our leading MLB experts. Nick Galaida, Nick Musial and Keith Schmelter all crushed their handicapping this season, and now we're bringing them together for one last ride. Welcome to the Pickswise World Series roundtable.
For every game of the series, all three experts will be providing a best bet. Without further ado, let's dive in:
Nick Musial – Astros ML
In Game 2, José Urquidy (8-3, 3.62 ERA, 4.38 xFIP) gets the ball for Houston opposite Max Fried (14-7, 3.04 ERA, 3.45 xFIP) for Atlanta. Houston can even up the series as the short home favorites. Urquidy last got the ball for Houston in Game 3 of the ALCS, exiting in the 2nd inning while enduring some tough luck.
Urquidy may just be tasked with navigating through Atlanta's lineup one time, as he's made only 2 appearances in October. Houston has enough capable out-getters in their bullpen to cover 9 innings, with Christian Javier potentially piggy-backing Urquidy. Houston's league-leading offense is too lethal to be held down for back-to-back games. Take Houston to even up the series.
Keith Schmelter – Braves ML
Jose Urquidy struggles in the spotlight. His first start of this postseason came in Game 3 of the ALCS and the Red Sox tagged him for 6 runs on 5 hits with 2 walks in 1.2 innings. His 2 walks was just the second time he's allowed more than 1 walk in his last 16 starts as Urquidy normally has great control since he ranks in the 96th percentile for walk rate.
Although he had a poor last start, Max Fried is the better pitcher in this matchup. Fried's last start came against the Dodgers in Game 5 of the NLCS and he allowed 5 runs on 8 hits including 2 home runs in just 4.2 innings. Prior to that, he had allowed more than 2 runs in just 1 of his last 7 starts. The Braves offense started early last night and expect them to do the same tonight.
Nick Galaida – Braves ML
Through 28 turns in the rotation during the regular season, Max Fried posted a 3.04 ERA, 3.49 xERA, and a 3.31 FIP. Fried was even better after returning from the injured list at the beginning of May, delivering a 2.44 ERA and a 3.09 FIP across his last 25 outings. In his last 12 trips to the mound during the regular season, Fried delivered 12 quality starts, including a 1.56 ERA and a 2.65 FIP. Against Milwaukee during the division series, Fried was outstanding, holding the Brewers scoreless across six innings of work.
He was similarly dominant against the Dodgers in Game 1 of the NLCS, holding them to only two earned runs in six innings for his 14th straight quality start. Fried was tagged for 5 earned runs in his second start of the NLCS against Los Angeles, but bettors can confidently count that performance as an outlier. Atlanta is in a great position to take a commanding 2-0 series lead with their best pitcher on the hill tonight.
Pickswise is the home of free MLB picks and predictions. Make sure to also check out our MLB parlays and MLB prop bets tabs for more expert picks.