Pickswise's 2021 March Madness Handicapper Contest: Tuesday Elite Eight Expert Picks and Predictions
The stakes in the NCAA Tournament are now higher than ever, as the fun continues on Tuesday with the final day of the Elite Eight.
After Houston and Baylor punched the first two tickets to the Final Four on Monday, we have two more games to salivate over and our expert judges are here to give you their locks of the day and best bets for the Pickswise $10,000 Capper Contest! With the likes of Megan Nunez and Bets By Bob all participating, make sure you find out who the best bettors around are backing before placing your own bets.
Also involved in the contest are top college basketball insider Jon Rothstein, and ex-player and talent expert Rashad Phillips. Make sure you also check out Jon's picks here.
Here at Pickswise, we specialize in providing free expert picks and predictions, and you can find all of our picks on the side and total for every game throughout March Madness.
Lock of the Day: Michigan -7.5
Going to lay the chalk here with Michigan. I've doubted Michigan their last two games and they have proven me wrong. They had an absolutely dominant game over Florida State and now they get a UCLA team that wouldn't be in this position if it weren't for about 12 missed free throws and 14 turnovers from 'Bama. Michigan isn't going to turn the ball over and I know they will make up for the free throws they missed in their blowout game over FSU. Besides from them usually being so good on the stripe, they have Hunter Dickinson who is an absolute force in the paint and then you have Maize and Blue who have out-rebounded tournament opponents by 25%. I've believed in dogs up until these games and I feel like the chalk will prevail and cover.
Be sure to check out our full game preview for UCLA Bruins vs. Michigan Wolverines.
Additional Bet: Gonzaga -9
I haven't bet on or against the Zags all season but it comes to the point where I have no choice. This team has been incredible. Usually I see a team laying nine and I turn the other way, but not with Gonzaga. The last time they didn't beat a team by double digits was back in December against West Virginia which seems like an eternity ago. This USC team will be a real test as their defense is a stone wall, they are big and Evan Mobley can get hot. The Trojans will give the Zags some fits on the inside but this is a team I believe can carve out any zone as their passing is Globetrotter-esque. I think USC will keep it close but the pure shooting, ball handling and their loose play style will pull the Zags away in the end and they get the cover. 
Lock of the Day: UCLA vs. Michigan over 136.5

My lock of the day for today's action is the over in UCLA vs. Michigan. Both of these teams boast top-15 offenses and UCLA's success against Alabama's vaunted defense gives me some hope the Bruins can also find scoring avenues against Michigan. I don't think anyone on UCLA can contain Hunter Dickinson, either, and that's a glaring problem. Take the over here.
Additional Bet: USC vs. Gonzaga under 155
While USC's defense is deservedly getting a lot of shine in this tournament and ahead of this matchup, Gonzaga's defense is also among the top 10 nationally. The Bulldogs shut down a very good Creighton offense on Sunday and I'm not sure USC has the firepower to challenge Gonzaga on that end consistently. The Trojans' defense may propel them to a win or keep this one close, but their offensive scheme is unimaginative and their perimeter decision-makers are shaky. A line of 155 is just too much for me.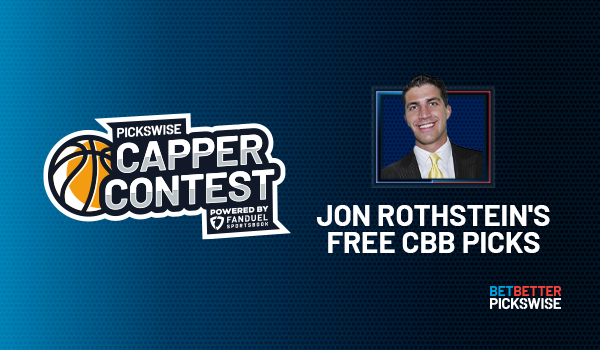 CBS analyst and college basketball expert Jon Rothstein has been on a roll with his picks lately, and is looking for even more success! Read his predictions for Tuesday's Elite Eight games here.
Lock of the Day: USC +9
We have stats and then we have the eye test. Yes, the Zags beat everyone by double digits. No one can challenge this team because they are so good. Well, my bracket has USC vs. Gonzaga and I am not surprised at this matchup. USC is the real deal and can match up with the Zags. Size, defense, superstars, this is going to be the best game to watch and might be the one where Gonzaga is going to say we better bring our A-game to win or else. Nine is a lot for a team that has dominated in this tournament.
USC has  beaten everyone by double digits in the tourney as well, including a Kansas beatdown that was never a game. USC is shooting over 50% recently and they will continue that today, because they have gelled. This is going to be a high-scoring battle, a fun game, and you have two top-15 offensive efficiency teams (they won't waste possessions). This isn't going to be a boring grind-out game, trust me. USC's free throws might come into play late but nine points is way too many for a team that can upset Gonzaga. Take the points and let's see if the Mobley brothers can deliver one more time for us. 
Additional Bet
: USC vs. Gonzaga over 155
Well , I just said this is going to be an offensive shootout between the top-scoring teams in the tourney and this year. Gonzaga gets over 80 every game and USC has stepped up their offense. We've got teams who can score in many ways, that's why we have such a big number posted. Creighton only got 65 — I am positive USC will get a lot more than that. Expect both teams to get in the 80-point range. With USC scoring like they have and Gonzaga the #1 offense this year,  55% field-goal percentage and 93 points per game, if they get anywhere close to that you can expect a game in the 160s at least. Look for both to break 80 in what we think will be a great game to watch and win. It will be raining threes all night, dunks, two-pointers you name it — points will be plenty. USC fights to the end. 86-81 is a realistic score and a sweep for us. 
Be sure to check out our full game preview for USC Trojans vs. Gonzaga Bulldogs.
Lock of the Day: Gonzaga -9
USC is a tricky matchup for Gonzaga, as the size of the Trojans can potentially cause some big issues for Gonzaga's offense. However, I think USC is a tad overvalued based on how they have shot the ball lately. Against Kansas, USC shot 11/18 from three, and then followed that performance with 10/17 three-point shooting. If USC is going to shoot above 50 percent from three again, they will have a great chance to cover this spread.
However, I'm skeptical of that happening again, which should allow Gonzaga to eventually pull away. The key to the game for Gonzaga is their ability to play in transition, which they do at the 17th-highest rate in the country. The reason this is key is that if Gonzaga can score in the open court, it doesn't allow for USC's excellent half-court defense to get set. Per Synergy, USC ranks in the 87th percentile in half-court defense, but only the 80th percentile in transition defense. Obviously the 80th percentile is still very good, but in an Elite Eight game, the margins are thin. I see USC remaining competitive for 25-30 minutes, before Gonzaga eventually wins by double digits.
Additional Bet
: UCLA vs. Michigan over 136.5
I like the over in this matchup, as I think both offenses present some challenges for their opponent. UCLA is outstanding in pick and roll offense, ranking seventh in the country in points-per-possession on pick and rolls. Michigan's defense has been very good this year, but ranks in just the 41st percentile in pick and roll defense. If UCLA can get Hunter Dickinson in pick and roll defense, they have a good chance to score. Per Synergy, Dickinson ranks in the 26th percentile in guarding the "roll man" in pick and roll settings. On the other end, Dickinson should feast, as UCLA ranks just 139th in field goal percentage defense at the rim. I expect both offenses to have solid games, making the over appealing even with a projected low-possession game.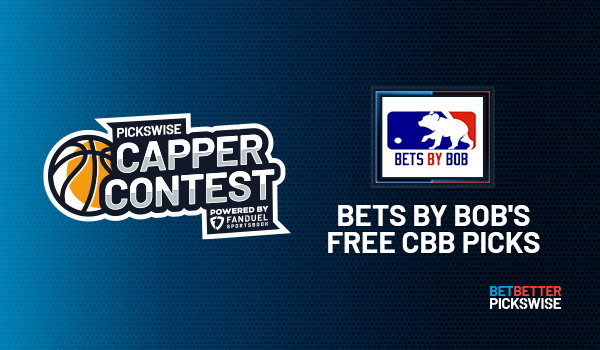 Our college basketball expert, BetsByBob, has been on a serious roll with his picks lately. Find out his best Elite Eight bets here.
Jacob Herr (Pickswise contest winner):
Lock of the Day: Michigan -7.5
Additional Bet: Gonzaga -9
Pickswise is the home of March Madness Predictions. Check out all of our March Madness Picks, including daily March Madness Parlays throughout the NCAA Men's Basketball Tournament.