NFL
Back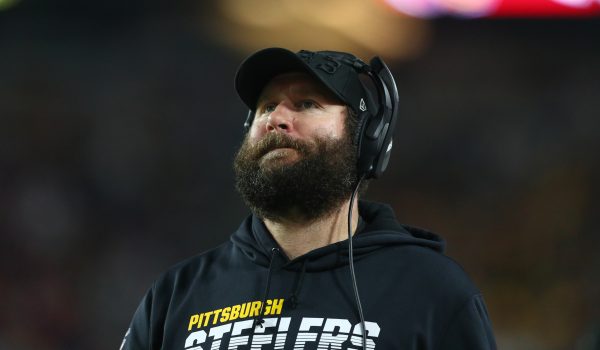 Pittsburgh Steelers: What will their 2020 record be?
The Pittsburgh Steelers have missed the playoffs on two consecutive occasions—a veritable drought by their lofty standards. In fact, they have not endured a three-year drought since 1998-2000.
Can they avoid such a skid by being one of the AFC's top seven teams in 2020? A schedule that includes the NFC East and the AFC South plus both the Cincinnati Bengals and Cleveland Browns twice each certainly offers a good opportunity.
Week 1: @ New York Giants
Ben Roethlisberger has not played a game since the Jurassic Era (well, it feels like that at least). There might be enough signs of rust such that even a mediocre-to-bad team like New York can capitalize. Loss
Week 2: vs. Denver Broncos
Pittsburgh's reward for not winning the AFC North last year is avoiding Kansas City in the regular season (that pleasure goes to the Ravens). A date with Denver is far more appealing. Win
Week 3: vs. Houston Texans
The Steelers' early-season schedule could hardly be easier, and at the very worst they will be 2-1 through three weeks. Houston is going to be worse than it was in 2019. Win
Week 4: @ Tennessee Titans
Although the AFC South is nothing to write home about, a road test in Tennessee is as tough as it gets in that division. Derrick Henry will be too tough to stop in this one. Loss
Week 5: vs. Philadelphia Eagles
In an intriguing all-Pennsylvania showdown, home-field advantage will likely be the difference. Of course, it might come down to which QB is still on the field: Roethlisberger or Carson Wentz? Win
Week 6: vs. Cleveland Browns
There will be plenty of intrigue surrounding this rematch of last year's bloodbath. Roethlisberger was not on the field for that one (things probably would have been much different if he had been), but he should be this time. Win
To say the second straight AFC North battle won't be as easy as the first one would be a gross understatement. Pittsburgh simply isn't good enough to go into Baltimore and win. Loss
Week 8: BYE
Week 9: @ Dallas Cowboys
The Steelers enjoy a bye with which to prepare for one of their biggest games of the year. This should be a good one, but the Cowboys in Jerry World will likely be able to take care of business. Loss
Week 10: vs. Cincinnati Bengals
Cincinnati twice in the last eight weeks of the season? Pittsburgh will most definitely sign up for that! Look for T.J. Watt to introduce himself not so warmly to No. 1 overall pick Joe Burrow. Win
Week 11: @ Jacksonville Jaguars
The Jaguars showed signs of being good a few years ago. But they never took the next step and now they have taken a step back. Pittsburgh should roll here. Win
Week 12: vs. Baltimore Ravens
Facing the Ravens on the road is not going to result in a victory, but Roethlisberger and company will have a better shot at home. Big Ben is still capable of coming up big on the biggest stages. Win
Week 13: vs. Washington Redskins
This could be a bit of a trap game coming off a showdown against Baltimore and soon to embark on a two-game road trip. Still, Washington is in rebuilding bode and won't be able to capitalize. Win
Week 14: @ Buffalo Bills
Plenty of importance will likely be riding on this contest, as the Bills could also be wild-card contenders. They generally play stout defense and Josh Allen is emerging. Loss
Week 15: @ Cincinnati Bengals
Following a setback at Buffalo, head coach Mike Tomlin will have his crew refocused and energized. The Steelers' anger will be taken out a Cincinnati squad positioning itself for another high draft pick. Win
Week 16: vs. Indianapolis Colts
Unless Philip Rivers significantly outplays Roethlisberger in a meeting between aging quarterbacks, this one won't be competitive. Rivers' supporting cast is far less impressive. Win
Week 17: @ Cleveland Browns
At 10-5, the Steelers will probably have clinched a playoff spot by now despite being too far behind Baltimore to contend in the AFC North. In a potential meaningless game for both, Cleveland prevails. Loss
How good will the Steelers be in 2020? Perhaps not that good, but a friendly schedule presents an enticing proposition. Throw an opponent like Denver into the mix with relatively easy divisional crossovers and that adds to the overall opportunity for success. Pittsburgh probably isn't going to win its division, but if Roethlisberger stays healthy the brief playoff drought should come to an end.
Last updated: Fri 29th May 2020