PropBetGuy's best player prop bets of the day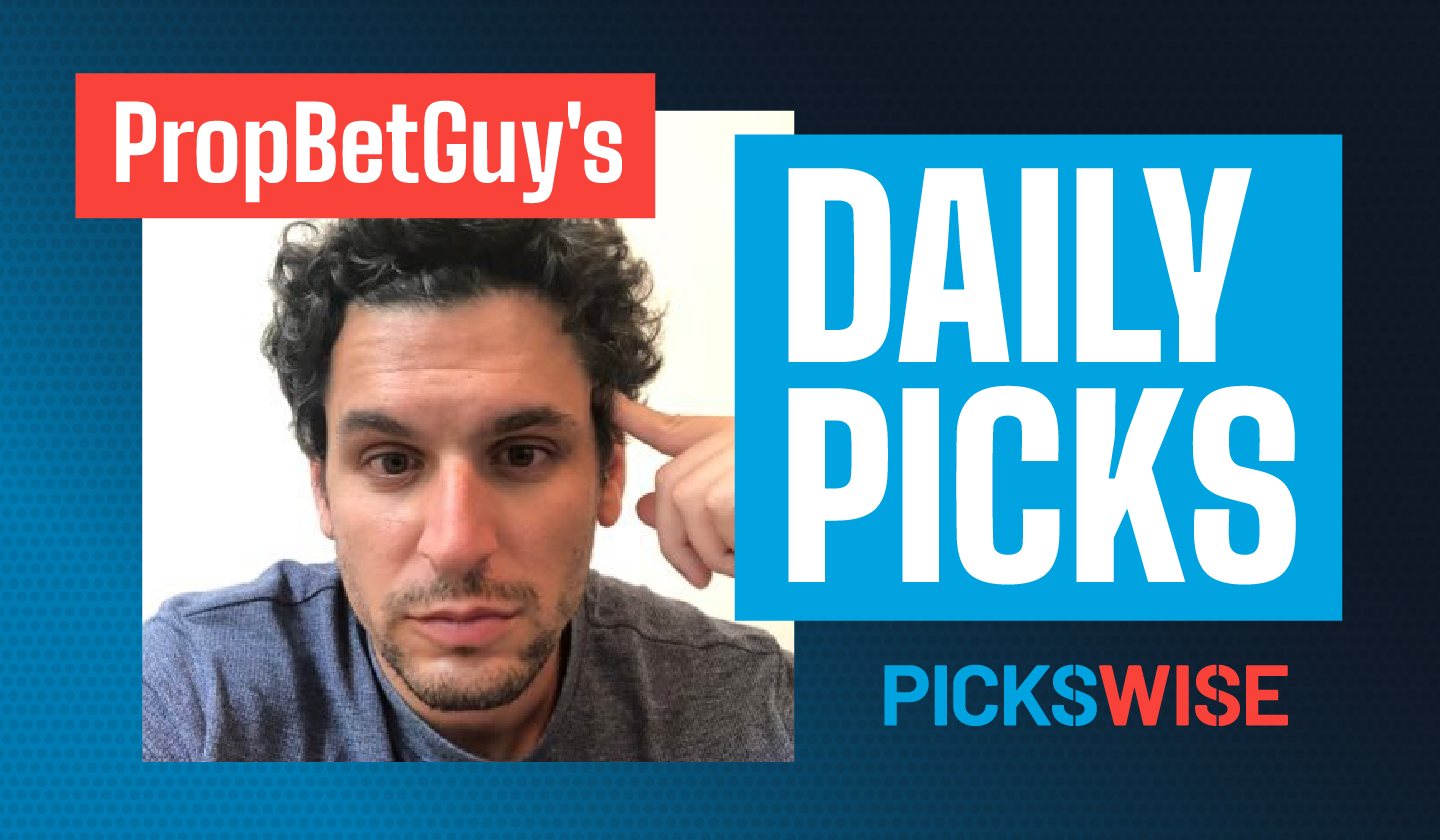 If you've been following me on Twitter, you know I'm all about posting my plays, analysis and recaps. With character limits really grinding my gears, a more functional source was needed. So, I asked the fine folks at Pickswise for a tiny sliver of their site for me to keep all of my daily plays and records. For some reason, they obliged! And therefore here we are, at my exclusive picks page.
So how will it work?
I will update this page daily with all of my plays (with the good old "incoming play" tweet still preceding). And just like I've been doing on Twitter, the plays will be provided with varying levels of analysis (or linked to my full articles). For MLB and NBA, only plays for the current day's games will stay live on the site, before refreshing the next day (to prevent confusion). For the NFL, plays will be kept up for the current week. The most recent play tweeted will sit at the top of each sport's section.
And, of course, I'll keep an up-to-date record for the preceding day and each current sport season.
Current Records:
Yesterday (Saturday 10/16): 2-1 +1.6u
NFL 2021: 27-32, -10.6u
MLB 2021: 229-195, +13.3u
NFL Week 6
Green Bay Packers vs Chicago Bears
Khalil Herbert (CHI) under 86.5 rushing + receiving yards (-113)
Herbert burst onto the scene last week versus the Raiders with 18 carries for 75 yards. Now, with Damien Williams out, he figures to see the lion's share of the running back work.
But still, this line reads as too high. Last week, Herbert was treated to an above average matchup versus Las Vegas' 6th worst run defense. The Packers rate much better (12th in yards allowed to running backs, and 13th in yards per carry). Plus, Chicago is much less likely to win the time of possession battle, as they were able to last week. Even with significant volume, I project Herbert's rush yard total in the low 60s.
And I'm tacking on receiving yards here as well. Herbert has yet to be targeted in the NFL, and did not show much as a pass catcher in college. In the Bears low volume pass attack, I don't expect much in the way of targets for Herbert.
Check out our full game preview of Packers vs Bears.
Dallas Cowboys vs New England Patriots
Dak Prescott (DAL) under 23.5 completions (-108)
Since Week 1, when the Cowboys were forced to go pass-heavy versus the Bucs, Prescott has stayed under this line in 4 of his 4 games. The Cowboys are leaning heavily on their dynamic run game with both Ezekiel Elliot and Tony Pollard. The result has the Cowboys on a 4 game win streak, with a pass play percentage ranking 29th in the NFL (which includes the Bucs game).
Dallas is likely to continue with their run-heavy script versus an exploitable Patriots run defense. Plus, New England has kept each of the 5 opposing starting quarterbacks they've faced under this line (average of 18.8 per game). Even if the Cowboys do opt to air it out, the Patriots are allowing the second highest depth of target. Prescott has been incredibly efficient, ranking 7th in the NFL in yards per pass aatempt.
As dynamic as the Cowboys are offensively, I see multiple outs with this under. I have Prescott projected at 21 completions.
Check out our full game preview of Cowboys vs Patriots.
Houston Texans vs Indianapolis Colts
David Johnson (HOU) over 20.5 receiving yards (-114)
Despite playing part in a rotating Texans backfield, Johnson has clearly emerged as the pass catching back. He's second on the team in targets and receptions, and third in receiving yards, having eclipsed this line in 3 of the last 4 games. The Texans have been creative with how they've deployed their versatile back, giving him more snaps as a receiver of late as well (including 9 last week).
The Colts have allowed a running back to eclipse this total in all but 1 game. Today, yet again, lends to a heavy pass-script for the reeling Texans, which should keep Johnson on the field plenty. I have the veteran back projected close to 30 yards receiving.
Check out our full game preview of Texans vs Colts.
Las Vegas Raiders vs Denver Broncos
Javonte Williams (DEN) over 9.5 rush attempts (-135)
After racking up 12, 13 and 14 carries in weeks 1-3, Williams has missed this in the last two games, mostly due to negative gamescripts. Week 6 represents a perfect get-right spot for him and the Broncos in general, versus the reeling Raiders. Las Vegas has allowed the 6th-most yards per carry this season, and Denver is likely to come into this one looking to establish the run.
Melvin Gordon is likely to play, but Williams has been the far superior runner of the two over the last few weeks. With Gordon dinged up and in a favorable matchup, this could be a breakout game for the rookie running back. Even if this jumps to 10.5, I still think it's worth strong consideration.
Check out our full game preview of Raiders vs Broncos.
Cincinnati Bengals vs Detroit Lions
Ja'Marr Chase (CIN) over 70.5 receiving yards (-115)
A month ago, I mentioned we wouldn't have receiving yard lines for Chase in the 50s much longer – it wasn't exactly my boldest of takes. But here we are with his with his highest line of the season, and I still see plenty of value on the over.
Chase has hit this line in 3 of his 5 games thus far. He's leading the Bengals in routes run and receiving yards (456 and a 36% yard share). He checks the advanced boxes too, ranking 7th in the NFL in yards per route run (3.0) and 10th in air yards (541).
And his opponent on Sunday, the Lions, have been pretty hapless against their opponents' premier intermediate/deep threat receivers:
Deebo Samuel 189 yards
Davante Adams 121 yards
Marquis Brown 53 yards (with several drops on big plays)
Darnell Mooney 125 yards
Justin Jefferson 124 yards
The Lions allow the most yards per pass attempt in the NFL, and are tied for 5th in 20+ yard receptions permitted.  Chase already has 7 plays of 20+ yards (tied for 4th). He should feast – I have his yardage projected in the high 80s.
Check out our full game preview of Bengals vs Lions
Seattle Seahawks vs Pittsburgh Steelers
Geno Smith (SEA) over 31.5 passing attempts (-115)
Miami Dolphins vs Jacksonville Jaguars
Dan Arnold (JAX) over 33.5 receiving yards (-120)
Pickswise is the home of free expert football picks. Our expert football handicappers are on hand season-long to provide you with the best NFL Picks and NFL Predictions along with College Football Picks, including our College Football Best Bets each week.