Should Cincinnati be in the College Football Playoff if it wins on Saturday?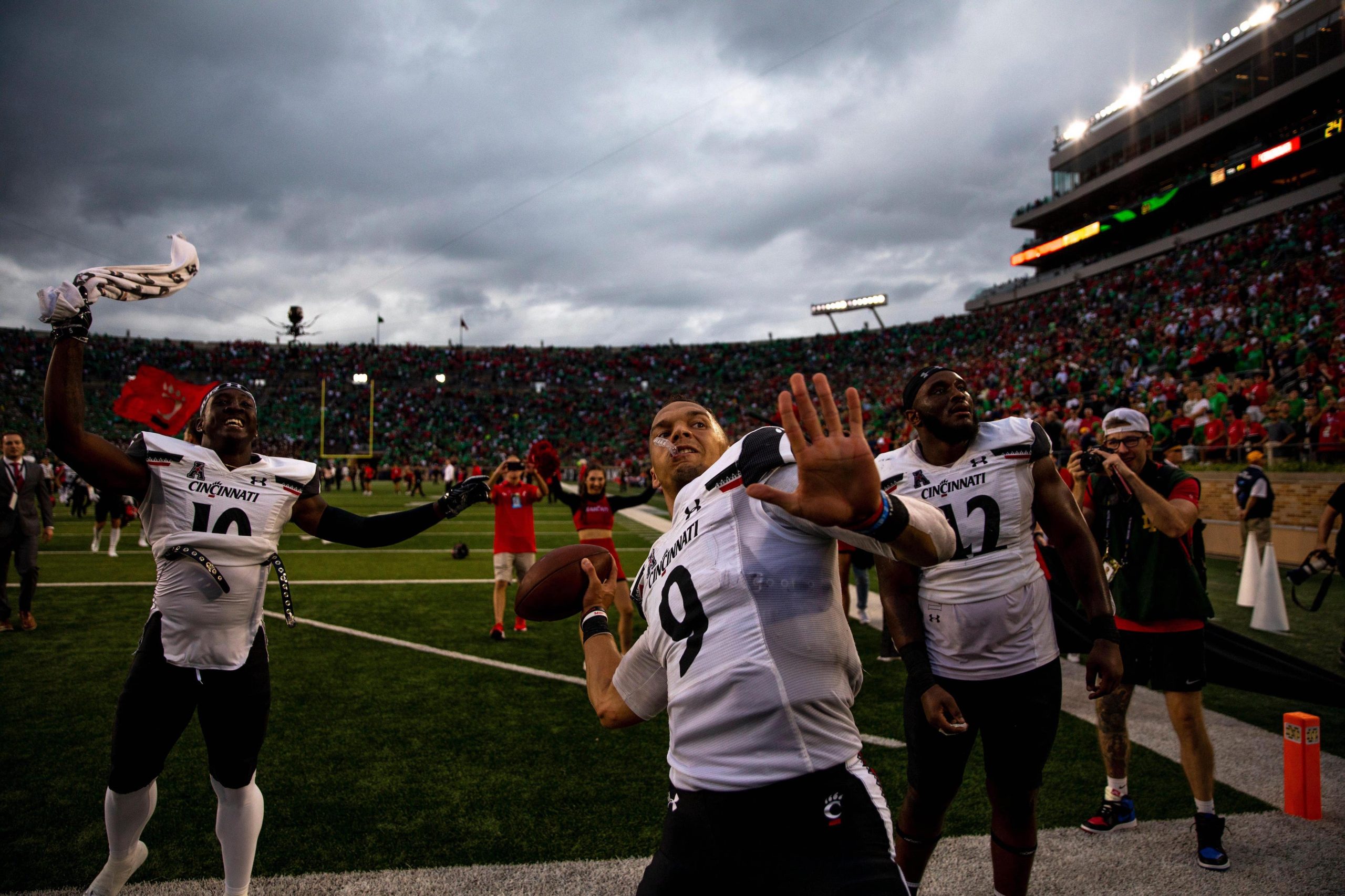 There are likely 6 teams still alive for 4 spots in the College Football Playoff. With Georgia (-220 at DraftKings to win the title) a lock even if it loses to Alabama in the SEC Championship, it's really 5 teams for 3 remaining spots in the national semifinals. Joining to the two SEC powerhouses in the equation are Michigan, Cincinnati, Oklahoma State, and Notre Dame. You could argue that Ohio State, Iowa, and Pittsburgh are in the mathematical equation, but no team other than the aforementioned 6 has better than +10000 odds to win it all.
No Group of 5 program has ever played in the College Football Playoff. Does Cincinnati deserve to become the first if it completes an undefeated regular season by beating Houston in the American Athletic Conference Championship? Let's break down both sides of the argument.
The case for Cincinnati
Simple math makes a strong argument for the Bearcats to get a berth. If they beat Houston, they will still have a zero in the loss column. Every team other than Georgia will have at least 1, and even the Bulldogs could have 1 depending on how the SEC festivities shake out. It's also worth noting that Cincinnati is currently No. 3 in the AP Poll and No. 4 in the Coaches Poll. The 'Cats have no reason to move down if they win on Saturday.
It's obvious that head coach Luke Fickell's squad does not play the toughest schedule. But who cares? One, the Bearcats can't help it as an AAC member. Two, they have a win at Notre Dame. Last time I checked, the Fighting Irish were undefeated against all other opponents and still in the mix for a College Football Playoff berth of their own. Cincinnati has also won 4 of its last 5 games by at least 17 points, coming down the stretch of the season in dominant fashion.
Check out our college football futures report heading into championship week
The case against Cincinnati
The only Power 5 team other than Notre Dame that 'Nati has faced this season is Indiana, which it defeated 38-24 on September 18. It has also played puffcakes like Murray State, Temple, Navy, Tulane, and South Florida. The Bearcats beat Navy (currently 3-8) 27-20 and trailed Tulane (currently 2-10) late in the third quarter before winning 31-12.
Is Cincinnati one of the four best teams in college football? That is a question that needs to be asked, as the stated mission of the CFP committee is to find the four best teams. Heck, that's why we now have a committee instead of relying on old systems like rankings and BCS formulas. Michigan, Alabama, Oklahoma State, Ohio State, and perhaps even Baylor and Oregon are probably more talented than Cincinnati. Those teams would also surely be less of an underdog against Georgia, for example, than Cincinnati.
Check out our reaction to what happened in college football during Week 13
Will Cincinnati get in?
Sure it would be nice if the committee in could conscience could go with the four best teams. But its decision has to weigh both the best-team factor in addition to every team's body of work. Would Alabama beat Cincinnati head-to-head on a neutral field? Probably. Should Alabama get in over Cincinnati (or anyone else) if it has 2 losses? Of course not. We already know any team with 2 losses isn't the best – and isn't close to the best – in the nation. We don't yet know that for absolute certain about Cincinnati.
Assuming the Bearcats take care of business on Saturday, they should get in. And they will. If the committee was going to keep them out, it would have laid the framework for that by putting them in 5th in the latest CFP rankings. You can't put them in and – without losing – suddenly take them out.
It's win-and-in for the 'Cats.
At Pickswise we offer free expert College Football Picks and College Football Predictions for all games in the Power Five conferences and the top 25 teams outside of Power five, including our College Football Parlay picks each week.