Sunday NBA five-team mega parlay (+1992 odds)
Okay, most of your attention may be on the Tampa Bay Buccaneers vs. Green Bay Packers and the Buffalo Bills vs. Kansas City Chiefs on Sunday. But don't forget that there are money-making opportunities in the NBA, as well. Seven games are on the schedule, with the Boston Celtics, Los Angeles Clippers, and Milwaukee Bucks among the teams in action.
Here's our five-team parlay for Sunday:
Cavaliers +6.5 (-110)
Clippers -13.5 (-110)
Spurs -7 (-110)
Bucks ML (-450)
Knicks ML (+150)
Parlay odds: +1992
For this parlay we mix in two favorites against the spread, one underdog and the points, and two outright winners (one favorite and one underdog). Let's break down each of the five legs one by one.
Cleveland Cavaliers +6.5 over Boston Celtics (-110)
This one features two teams in different form. The Celtics have lost their last three games, struggling to get their offense going without Jayson Tatum. Covid-19 issues have been keeping Tatum on the sidelines and he will miss Sunday's contest, as well. The Cavaliers, on the other hand, are surging up the standings thanks to a three-game winning streak—including two huge wins over Brooklyn. This uptick in form coincides with the return of Collin Sexton and also with their trade with the Nets, which has given their depth and talent a huge boost. Sexton is averaging more than 33 points per game since returning from an ankle injury. The Cavaliers are also second in the league in defensive rating, and without having to worry about Tatum they will be able to focus on slowing down Jaylen Brown.
Los Angeles Clippers -13.5 over Oklahoma City Thunder (-110)
The Los Angeles Clippers are looking like one of the best teams in the league right now, owners of a six-game winning streak. They covered four straight games by an average of 16.1 points. Kawhi Leonard and Paul George are averaging 25.4 and 24.7 points per game, respectively. Los Angeles averages 115.2 points per game—sixth-most in the NBA—on 48.7 percent shooting from the field and 43.3 percent shooting from behind the three-point line. Those percentages rank second and first in the NBA, respectively. These two teams just went head-to-head on Friday and L.A. rolled by 14 points. More of the same (and potentially something even worse for OKC) should continue.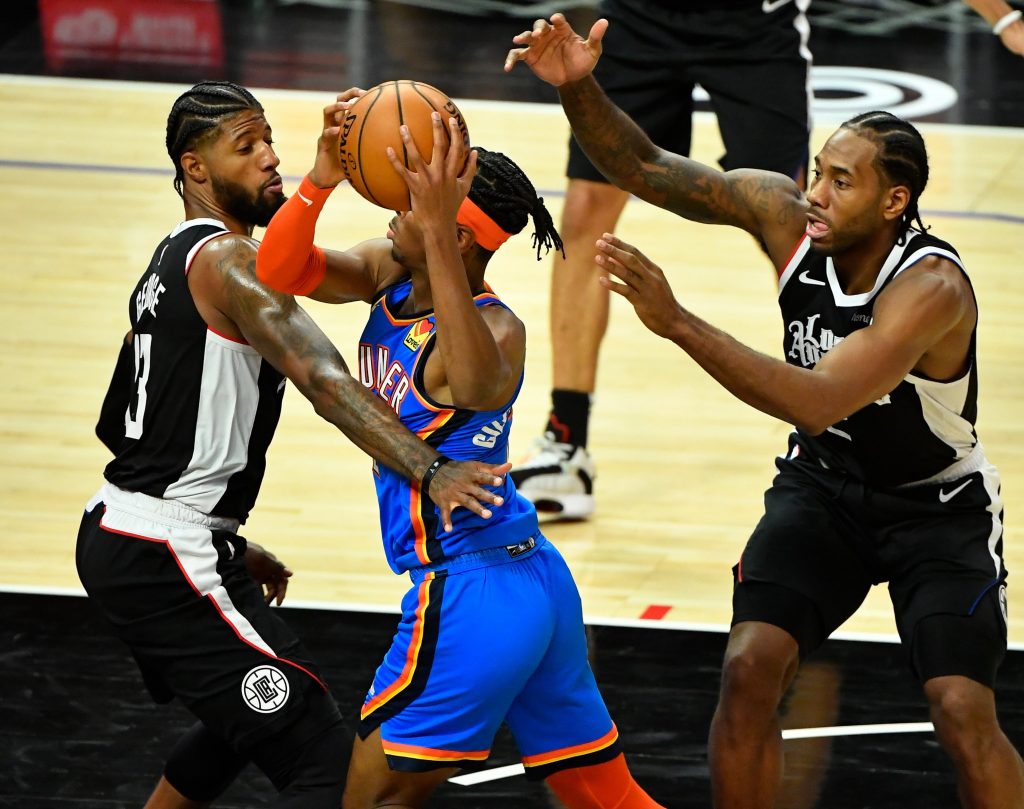 San Antonio Spurs -7 over Washington Wizards (-110)
After their last six games were postponed due to health and safety protocols, the Wizards will simply be happy to play some basketball. However, with 12 games away from game action plus sporadic individual practices, rust could play a factor in this game. Injuries to Russell Westbrook and a couple of other players still under the Covid protocol will be issues, as well. The Spurs are coming off two straight losses, but they have been dominant in head-to-head meetings of late (winning seven of the last nine). San Antonio is 20-0 in its last 20 home games against Washington. All signs point to this one being a laugher.
Milwaukee Bucks ML over Atlanta Hawks (-450)
The Hawks are on a three-game SU/ATS winning streak, but two wins against Minnesota and one over Detroit hardly say you are ready to compete with better competition. Those are the worst teams in the Western and Eastern Conference, respectively. Trae Young has been inconsistent and he will obviously have to shoot well if Atlanta wants to keep pace with the Bucks. Milwaukee should be playing inspired basketball following losses to the Nets and Lakers—which, of course, are not exactly terrible results. Giannis Antetokounmpo is getting plenty of help from newcomer Jrue Holiday and an in-form Khris Middleton. The home team on the money line is a safe inclusion in this parlay.
New York Knicks ML over Portland Trail Blazers (+150)
After going 97-107 during his tenure in Minnesota, head coach Tom Thibodeau's reputation took a hit. But he has made quite an impact on the Knicks in year one. New York ranked 23rd in the league last season in defensive efficiency. Through 17 games this season, the Knicks rank fifth in defensive efficiency, holding their opponents to a league-best 102.8 points per game and 31.0 percent shooting from beyond the three-point line. No other team is even close in those departments. Julius Randle has been phenomenal, averaging 22.6 points, 11.6 rebounds, and 6.2 assists to lead New York's young supporting cast. R.J. Barrett has scored at least 19 points in six consecutive contests. Due to Covid health and safety regulations, the Trail Blazers have not played a game since Monday. They will be without C.J. McCollum here, so this is a great opportunity for the Knicks.
Pickswise is the home of free NBA picks and predictions. We will cover all the big offseason news before making picks for every game during the 2021 season.