NFL
Back
The Falcons' offense will feature 10 first-rounders...but it doesn't matter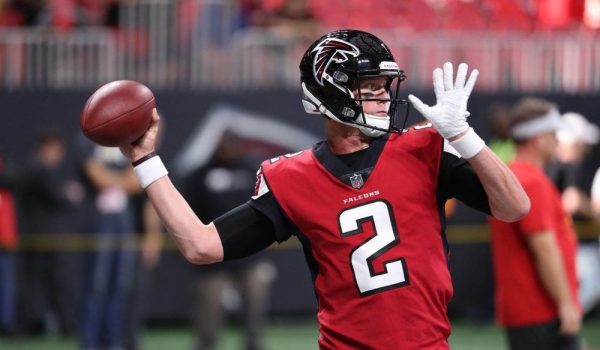 NFL
2:30PM
Sun 22nd March 2020

NFL
2:30PM
Sun 22nd March 2020
Ben Levine
See Bio
Pickswise writer, full-time digital marketer. When not writing, Ben is probably watching Celtics highlights while eating Taco Bell.
See Bio
Pickswise writer, full-time digital marketer. When not writing, Ben is probably watching Celtics highlights while eating Taco Bell.
With much of the NFC South focus rightfully on the Saints and Buccaneers, the Falcons are putting together one of the most highly-touted offenses in the entire NFL. 10 of their 11 projected starters were selected in the first round:
Matt Ryan, QB
Todd Gurley, RB
Julio Jones, WR
Calvin Ridley, WR
Hayden Hurst, TE
Alex Mack, C
Jake Matthews, LT
James Carpenter, LG
Chris Lindstrom, RG
Kaleb McGary, RT
Per Elias Sports (and passed along by ESPN Stats & Info on Twitter), no team has ever started 10 first-rounders on offense in the common Draft era.
That's some incredible pedigree… but will it really make a difference?
Probably not.
Sure, the offense will be good, but despite the makeover, the unit shouldn't be a whole lot better than the middle-of-the-road offense from 2019.
While Lindstrom should be fully healthy next season, the Falcons offensive line should look pretty similar to last year…and that's not necessarily a good thing. The team allowed the fifth-most sacks in the NFL, and the running game struggled throughout the year. Perhaps another season of experience will be beneficial, but the first-round pedigree is a bit overstated here.
Ridley didn't take much of a step forward in 2019, but even if he continues to plateau, the 26-year-old will team up with Jones to form one of the most formidable WR duos in the NFL. However, while Ryan could also turn to Austin Hooper in 2019, he'll instead have Hurst at tight end. While Hurst was buried on a deep Ravens depth chart during his two years in Baltimore, his offensive numbers are undeniably inferior to the player he's replacing. At the absolute best, the tight end swap will have no negative repercussions (nor any positive repercussions).
Finally, Gurley is coming home to lead the Falcons rushing attack. While Devonta Freeman was perhaps the most disappointing running back in the NFL last season, Gurley wasn't very far behind him on that list. Jeff Schultz of The Athletic described the veteran's knees as "very bad," meaning his 3.8 yards-per-carry probably wasn't a mirage. Sure, the Falcons' running game can't get much worse in 2019, but it also probably won't get all that much better.
While the Falcons' pedigree is a fun fact, that's all it is. Even with the additions of first-rounders like Gurley and Hurst, there's no guarantee that the Falcons offense will be any better in 2020.
The Falcons have put some effort into improving their defense this season, including signing Dante Fowler to a three-year deal. The Falcons offense has really never been an issue, so improvements on that side of the ball will go a long way in boosting Atlanta's playoff chances. However, considering their division rivals, the Falcons are climbing an uphill battle to even make the postseason. Ultimately, you've got to wonder if the front office would be better off pulling the trigger and looking towards a rebuild.
Last updated: Mon 23rd March 2020