Golf
Back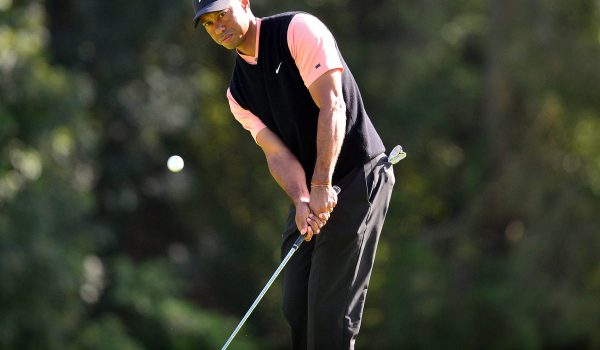 The Match: Champions for Charity best bets and predictions
Tiger Woods and Peyton Manning vs. Phil Mickelson and Tom Brady is finally upon us. It's The Match: Champions for Charity at Medalist Golf Club near Jupiter, Fla. on Sunday afternoon.
There are plenty of betting opportunities, too, which are much-needed for wagering enthusiasts during this time off from sports amidst the coronavirus crisis. Beyond the simple outcome of the match, a whole host of prop bets are on offer.
Let's take a look at some of the best play for Sunday's festivities.
Woods and Manning to win the match (-215)
Woods lost the first installment of "The Match," a one-on-one showdown against Mickelson in 2018. So…what will prove to be of more importance this weekend: that Woods does not really care about exhibitions (heck, all he really cares about—especially at this point in his career—is majors) or that he wants to exact revenge? Although Woods is not like Michael Jordan (see "The Last Dance") in that Jordan wanted to destroy guys even in practice, the 44-year-old should be inspired by having a partner for this one. He will have no interest in letting Manning down—especially in a contest between four athletes who like trash-talking so much.
Speaking of Manning, he reportedly comes in with somewhere around a six handicap to Brady's eight. And, for obvious reasons, the two-time Super Bowl champion has obviously enjoyed more free time for golf than Brady has in recent years. Compared to Manning's, Brady's game could be rusty these days. Mickelson and Brady are +175 underdogs. That may not be terrible value, but I just don't see them coming away with the 'W.'
Woods to make more birdies than Mickelson (-150)
Don't forget a key factor that will likely impact both the straight-up match bet and this one: Woods is a member at Medalist. He has surely played this course more times than anyone can count, the same of which cannot be said for Mickelson. The downside for this bet is that only nine holes of best ball are taking place (the back nine format is modified alternate shot). Playing your own ball for only nine holes does not provide much time for separation. Nonetheless, Woods not only a course member but you can also be sure that he has been working hard on his game to prepare for the rest of 2020. As for the lefty, he is more likely to have spent the first two months of quarantine working on his social media game. Mickelson is a +120 underdog to make more birdies than his rival.
No player to make par or better on the fifth hole (-120)
Whoa, whoa, whoa! Hold your horses before you see this prop and sprint to place a bet on someone making par. You don't want to overlook this crucial caveat: each player can use only a single club for the entire fifth hole. That's right; they will have to use some kind of wood or iron on the green (unless they want to hit tee shots and approach shots with putters!). Manning and Brady have no chance here, so can either Woods or Mickelson salvage a par? I just don't see either one of them getting on the green of the par-4 fifth in two—at least not close enough to avoid a three-putt (or more like a three-"putt"). Anyone making par or better on hole five is a slight -110 underdog.
Last updated: Sat 23rd May 2020