UFC 268 best bets, picks and predictions: Usman holds off Covington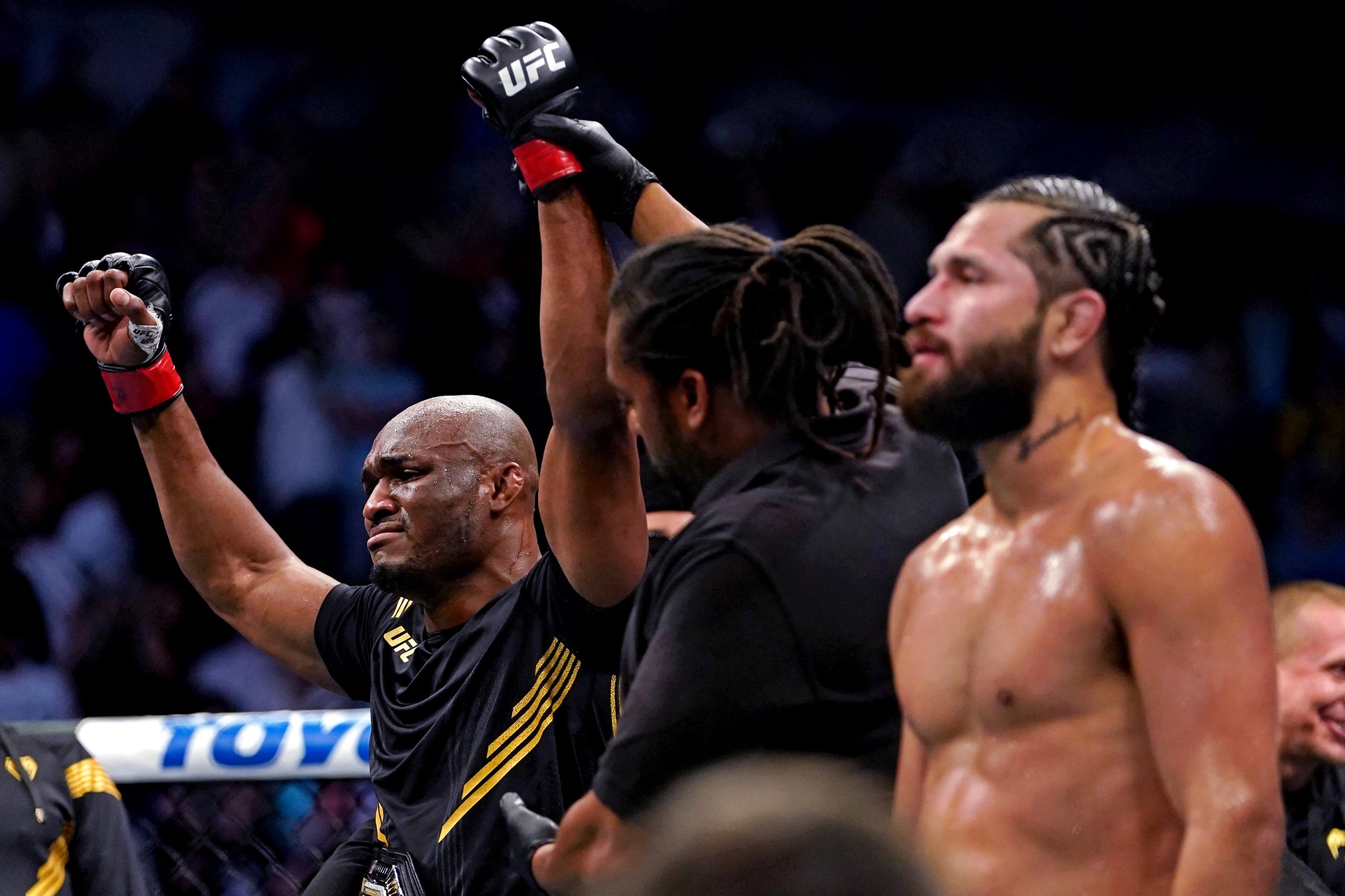 MMA Gone Wild's UFC 268 Best Bets 
This Saturday night, the UFC takes over Madison Square Garden with a super-stacked Pay Per View event. With two titles on the line, Kamaru Usman looks to defend his strap in a highly anticipated rematch against Colby Covington, a workhorse welterweight who took the champion into deep waters in their first meeting. In the co-main event Rose Namajunas will look to keep the belt she took from the ultra-disciplined kickboxer Zhang Weili. 
With 15 scheduled fights to get excited for, here are my best bets across the card, exclusive to Pickswise.
Kamaru Usman def. Colby Covington (-310)
Ever since Kamaru Usman decided to go under the wing of renowned trainer Trevor Wittman (who turned Justin Gaethje and Rose Namajunas into UFC world champions), he has looked sensational in all departments with nearly no exposable holes in his game. Usman stopped Gilbert Burns with a jab, showing his sheer power and unprecedented striking technicality in way we never saw before. And he seems to only be improving, especially when he served Jorge Masvidal the only knockout loss of his career by beating him at his own game. 
Colby Covington deserves the recognition he gets, although his most recent win was against the ghost of former UFC champion Tyron Woodley. Covington seemingly makes all his fights look far from competitive with his unparalleled tenacity and arguably the best cardio in UFC history. That being said, it's nearly impossible to find a path to victory for the challenger. His power won't be enough to stop Usman, even in volume. So I expect Usman to add another knockout to his resume, stopping Covington once again, sooner than he did in their first bout. Usman money line stands at -310, and by KO/TKO at +150, both of which are worth a play.
Rose Namajunas def. Weili Zhang (-110)
"Thug" Rose Namajunas might be my favorite betting underdog of all time, repeatedly proving Vegas wrong with a combination of self-belief, plus her abilities to out-technique all of her opposition and make fight-changing adjustments between rounds. She does the best job in women's MMA at staying behind her jab, and she throws by far some of the cleanest lead hooks you'll see in MMA. Namajunas' ability to keep Weili Zhang at a distance, not allowing her to initiate the clinch and make the fight dirtier than Namajunas would want, will be what should win her this fight.

I don't expect another stoppage this time, but I would not be surprised if Thug Rose can put the lights out with a counter-hook on an emotional advancement from Zhang in the later rounds. I expect a disciplined version of Zhang to try to beat Namajunas at her own game, which unfortunately won't work. Namajunas will continue to outpoint Zhang into the championship rounds with better counters, although Zhang will have moments of success of her own when she lands the more significant strikes early on. However, those will not be enough to win rounds by beating the volume of Namajunas, who lands 40% of her strikes and has a striking defense of 60%. Namajunas will prove the doubters wrong once again. 
Michael Chandler def. Justin Gaethje (+170)
This is the most anticipated fight on card to me and many fight-fans alike. Michael Chandler looks to bounce back from his loss against current lightweight champion Charles Oliveira and add a second UFC win to his resume, showcasing why he belongs with the most elite combat sports competitors on the planet. Chandler's main flaw is his unimpressive gas tank, which seems to get the best of him even minutes into the opening round.
When he knocked out Dan Hooker in his UFC debut as a betting underdog, we witnessed how soon he started breathing heavily from his stomach after missing a few significant strikes. That could easily be looked past, but it proved itself as such moments into the second round against Oliveira when he didn't seem to have the energy to keep his hands up, and a much more conditioned Oliveira landed a beautiful counter-hook that stopped Chandler in his tracks and ultimately led to a knockout loss. 
The reason I'm backing Chandler to beat Justin Gaethje this Saturday night is because (despite his lack of conditioning) I believe Chandler is one of the wisest men in the division, and he should make the proper adjustments and prove he isn't just a striker, but one of the best grapplers in current MMA. In a three-round fight, I see him closing the distance and making the fight a wrestling match. I credit Gaethje's wrestling as well, which is why even if Chandler can't secure full takedowns, he will have Gaethje carrying his bodyweight against the cage and will secure points with control time and better positioning throughout the bout. Chandler will leave his ego aside and instead take this fight using his brilliance and athleticism, never letting Gaethje get into his comfort zone.
Only being three rounds, this fight highly favors Chandler, and I would play him as the +170 underdog all day.
Alex Pereira def. Andreas Michailidis (-255)
Finally, the man who brutally stopped current middleweight champion Israel Adesnaya in a kickboxing match is set to make his UFC debut. With an MMA record of 3-1, Alex Pereira faces a much more experienced martial artist in Andreas Michailidis, who is 1-1 in the UFC with an overall record of 13-4. I am fully aboard the hype train here and willing to bet Pereira as a strong favorite because of his unmatched striking credentials. He holds in his arsenal a masters-level ability at throwing strikes with his lead hand — the hardest technique to execute in the world of striking.
In his latest victory, he flatlined and face-planted his opponent with a lightning-fast check-lead-hook for a walk-off KO of a lifetime. And it was the same technique that had doctors reviving Adesanya with an oxygen tank in the center of the ring. We saw how far Adesanya's kickboxing credentials took him in martial arts so far, and I expect Pereira to win his following UFC fights in devastating fashion until facing a ranked opponent.
Make sure you check out our picks and predictions for every fight at UFC 268 on Saturday night
Pickswise is the home of free UFC Predictions and UFC Picks. Our expert UFC handicappers bring you the best bet from the top UFC and UFC Fight Night cards.