U.S. Open men's singles preview, odds, and best bets: Djokovic goes for calendar-year Grand Slam
Novak Djokovic is one leg away from winning the calendar-year Grand Slam. That's right; the Serb has already triumphed at the Australian Open, French Open, and Wimbledon. If he wins the U.S. Open — beginning on Monday in New York City — it would mark the first calendar-year slam on the men's side since 1969 (Rod Laver) and just the second of the Open Era.
With Rafael Nadal and Roger Federer sidelined (heck, even defending champion Dominic Thiem is out), the door to history is open.
We nailed both finalists at Wimbledon (also Matteo Berrettini) and Djokovic pre-tournament at -125 might a well have been free money. Let's try to remain on a roll at the U.S. Open and take a look at the odds and some of the best bets.
Novak Djokovic -125
Daniil Medvedev +400
Alexander Zverev +600
Stefanos Tsitsipas +1200
Matteo Berrettini +4000
Jannik Sinner +5000
Denis Shapovalov +5000
Andrey Rublev +6000
Karen Khachanov +6500
Hubert Hurkacz +8000
Best bet: Novak Djokovic (-125)
Djokovic really should have been an even bigger favorite at Wimbledon — something like -175 — but the sportsbooks (and/or the betting public) clearly did not learn their lesson after he rolled through the All-England Club to a 20th Slam title. The world No. 1 is going off at -125 in New York, as well. The only thing that stopped him at the 2020 event was a fluke default when he hit a lineswoman in the throat with a ball struck in frustration. It may take a similar stroke of misfortune to knock him out of this year's festivities. All other things being equal, it's hard to see Djokovic losing. Yes he suffered a pair of setbacks at the Olympics (semifinals and bronze-medal match), but this guy takes his game and his mentality to a whole different level at majors.
Longshot: Stefanos Tsitsipas (+1200)
Tsitsipas came within one set of winning the French Open, as he led Djokovic two sets to love in the final before falling in five. The 23-year-old Greek loves the big stage; he captured the year-end championship title in 2019 and added a Masters 1000 trophy to his stable earlier this season in Monte Carlo. Tsitsipas, who has climbed to No. 3 in the world, is coming off back-to-back semifinal performances in Toronto and Cincinnati. He also has the benefit on being opposite Djokovic in this U.S. Open draw, so +1200 is a bit of a steal — especially compared to Medvedev and Zverev.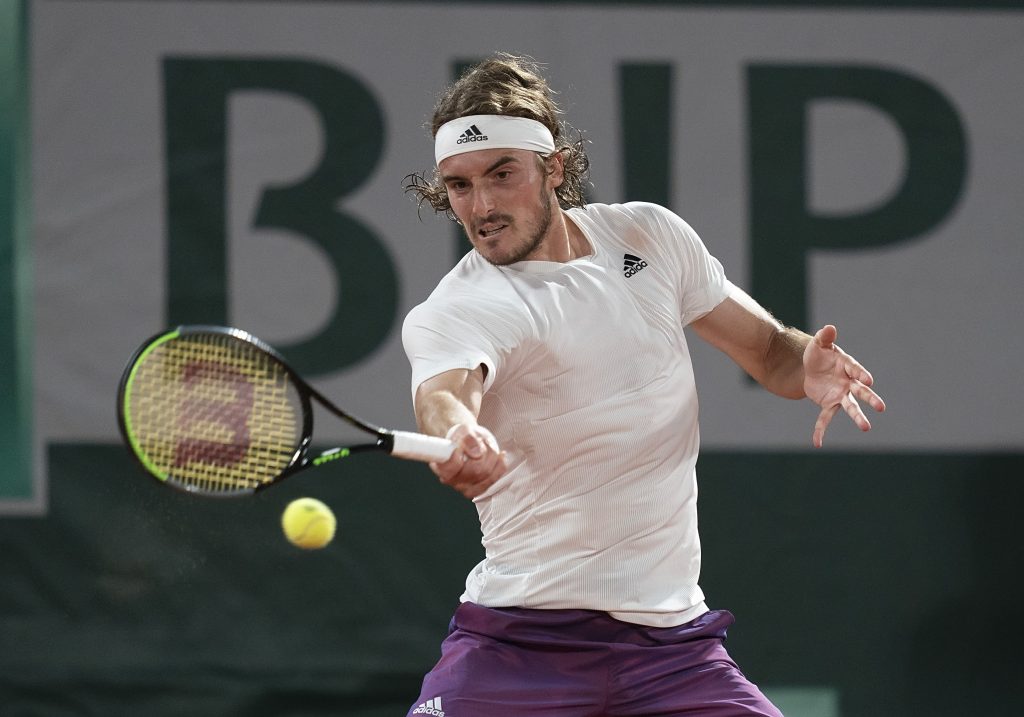 Deep sleeper: John Isner (+10000)
Okay, okay, the prospect of Isner winning a Grand Slam — especially for the first time at 36 years old—is a bit ridiculous. But hear me out on this. Djokovic is so much better than the rest of the field that nobody among the top contenders other than Tsitsipas has any value. Moreover, the 34-year-old is too good right now to get beaten by any normal opponent. Isner, however, is the antithesis of a normal tennis player. The 6'10'' American arguably wields the best serve in the history of the sport. When he is serving well, he can completely take the racket out of any opponent's hands. Isner has a favorable draw at Flushing Meadows on the opposite side of the draw from Djokovic, and he is one of the few guys who has even a puncher's chance of pulling off an upset if he does end up running into the top seed.
Is Isner going to win the tournament? Probably not. But at 100/1 when he is more likely to do so than Sinner, Shapovalov, Khachanov, and Hurkacz, it's worth taking a nibble.
The Pickswise tennis handicappers are on hand throughout the entire tennis season, bringing you the best free expert Tennis Predictions and Picks from top events including the U.S. Open, French Open, Wimbledon and the Australian Open.