View from the Front Office: Breaking down why rookie quarterbacks are struggling to make an impact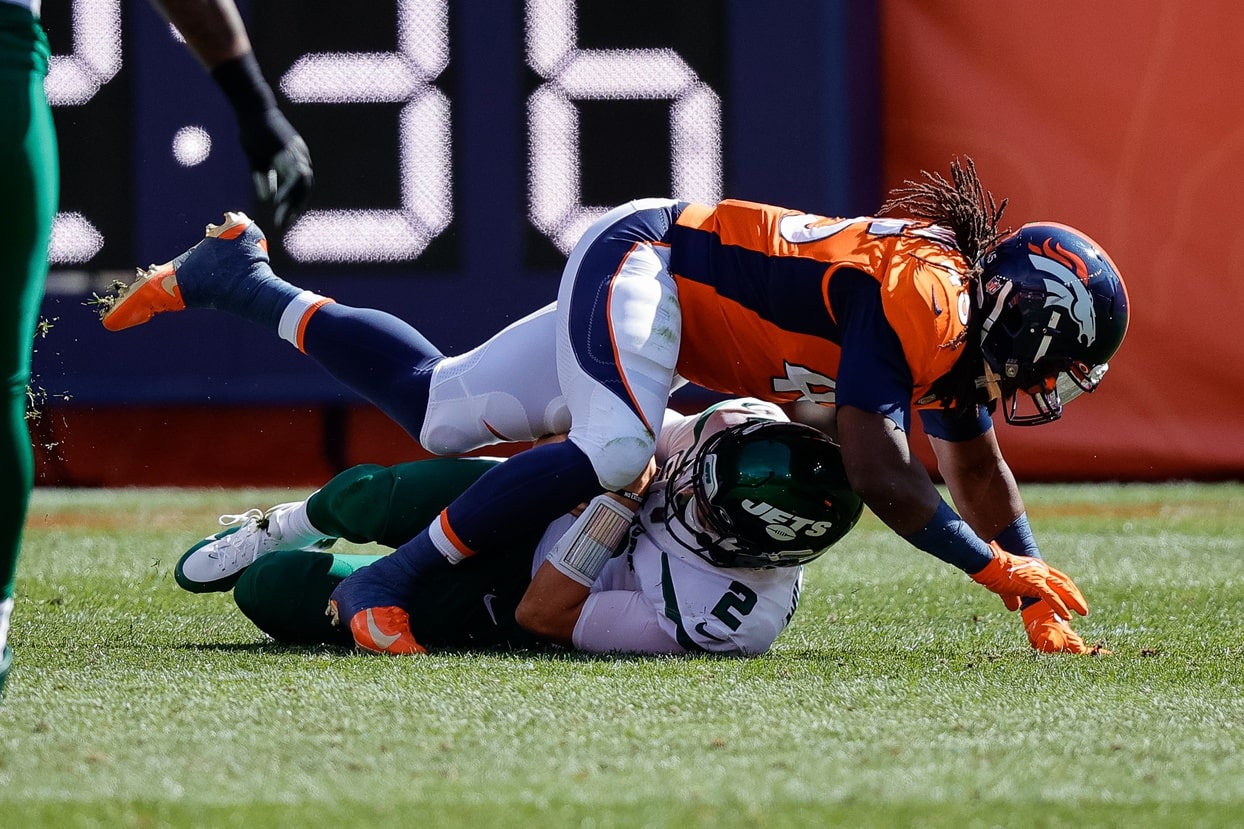 After working 17 years in the NFL as an area scout (Philadelphia and New Orleans) and Director of Player Personnel (Buffalo), I am now back to my true passion that started in high school – using statistics and unique insights to find value. Here you can find my unique perspective on the hottest topics in the NFL, player evaluation and film reviews, plus where I see value in the betting market.
Shorter preseason makes it harder for rookie NFL QBs to adapt
There is no textbook for developing a rookie quarterback. Talent, culture, and coaching go a long way to providing a first-year QB with a chance of succeeding.
The rookie QBs this season are struggling right now, and the lack of reps in preseason is showing up more than ever. It is hard to play fast if you are not fully understanding every single detail of what is being asked of you by the offense. The one common flaw I see in all of the first-year quarterbacks right now is that the game seems too fast for them. When a QB can run an install meeting for the entire offense is when you know he is the right guy, and I saw that with Drew Brees in New Orleans. 
In 2013, the Bills drafted EJ Manuel in the first round. I was hired by Buffalo in May of that year (right after the draft) coming from New Orleans, where we felt like Manuel was more of a third or fourth-round type of QB that could eventually develop into a starter. Kevin Kolb was supposed to be the starter in 2013 to give Manuel time to develop, but an injury early in training camp thrust him into the starting role. 
To Manuel's credit, he was playing well for a first-year starter until he suffered a knee injury in Week 5 against Cleveland and again later that season against Jacksonville. After Week 4 in 2014, a decision was made to bench Manuel for veteran Kyle Orton. Orton was viewed as a player who could operate the offense better while Manuel could continue to really learn the offense.
I remember sitting in the room with Doug Marrone (Bills head coach at the time), GM Doug Whaley, Manuel, and his father as we broke the news to EJ that he was being benched. It felt wrong and did not come across to anyone that we really had a plan that was in Manuel's best interest, regardless of whether he was talented enough or not. I could see it in the eyes of EJ and his father as we told them.
Trevor Lawrence, Zach Wilson, and Davis Mills are dealing with first-year head coaches just like Doug Marrone was for Manuel. Justin Fields is being developed by a coach who already failed to develop Mitch Trubisky. The two rookies in the best culture right now are Mac Jones and Trey Lance. They both have proven Super Bowl-quality coaches that know how to build a roster for success. Pay attention to the quarterbacks who cut down on their mistakes as the season progresses and that should tell you who is heading in the right direction and who is stuck in a hamster wheel that is not necessarily their fault.
Check out our Pickswise Debate where three of our experts give their thoughts on whether the Raiders are a legit contender this season
Coach and GM in the sauna: Nagy and Pace feel the heat
It's a lonely feeling for decision-makers when things are going bad, and everyone knows who is at fault. Bears GM Ryan Pace hired head coach Matt Nagy and the two are linked together at this point. 
The entire NFL missed out on Patrick Mahomes. He clearly should have been the first pick in the 2017 draft, and what makes that even harder for Pace to take is that he actually traded up in that draft to take Trubisky. I'm speaking on this as part of one of the teams that passed on Mahomes when we were in Buffalo and made the trade with the Chiefs. We had just hired Sean McDermott and decided to keep Tyrod Taylor as our starter. We made the most of the move, drafting Tre'Davious White while acquiring the capital for Buffalo to go up and get Josh Allen the following year. Unfortunately for the Bears, they were not able to make it work with Trubisky. 
Bears ownership supported Pace and Nagy after the 2020 season when most thought they would be fired. Chicago put a plan together to go after Russell Wilson before the 2021 draft. The Bears thought the deal was done until Pete Carroll decided at the last minute to not go through with it and left Pace scrambling. He signed Andy Dalton as a stop-gap starter for a year. The Bears then decided to trade up for Fields in the draft to breathe life into the organization again. 
Chicago did not want to rush Fields into the lineup right away, but Dalton's injury meant the Ohio State product was thrust into starting Week 3, and we all saw what happened as the Bears mustered a pathetic 47 yards of offense and Fields was sacked nine times. Who came up with that gameplan? Who did not make any adjustments when it was obvious Plan A was not effective? That falls on the head coach. Pace and Nagy have made monumental poor decisions and could be exiting Chicago together unless they prove they can develop Fields.
Make sure you read our Pickswise Supercomputer's best value futures bets for the rest of the season!
Week 3 quarterback film review: Rodgers on the rebound
After watching film of every Week 3 game, I can see which quarterbacks put in great performances and which ones put up what I like to call "fake stats", where their numbers in the boxscore are misleading. Let's dive in. 
Top 5 QBs in Week 3
Aaron Rodgers (GB) – He makes more special throws in one game than some QBs make for an entire season. 37 seconds with no timeouts is no problem for Rodgers.
Kirk Cousins (MIN) – Nobody is talking about Cousins for MVP, but at +3500 he is not a bad bet right now. He just outplayed Kyler Murray and Russell Wilson in back-to-back weeks.
Sam Darnold (CAR) – He is extremely accurate scrambling to his right while displaying toughness that is making Panthers fans forget about Cam Newton. Doing this without Christian McCaffrey for the next couple of games will provide a real opportunity to prove his value.
Lamar Jackson (BAL) – If Ravens receiver Marquise Brown did not drop two easy would-be touchdowns, kicker Justin Tucker would not have been needed to set a record 66-yard field goal to beat Detroit. Despite what the stats might say, Jackson threw the ball incredibly well in this game.
Josh Allen (BUF) – Games like this make Bills fans quickly forget that strange Week 1 loss to Pittsburgh. Receiver Emmanuel Sanders is quietly one of the best off-season acquisitions any team has made in 2021.
Bottom 5 QBs in Week 3
Jalen Hurts (PHI) – He took the blame for the loss to the Cowboys on Monday night and rightfully so, as he was the worst QB last week for me. Now he must try to outplay Mahomes in Week 4 to get Philly back on track.
Trevor Lawrence (JAX) – Threw one of his best passes for a touchdown to D.J. Chark and followed it up with one of his worst for a pick-six to Arizona's Byron Murphy.
Ben Roethlisberger (PIT) – Philip Rivers and Drew Brees forgot to pick up Big Ben on their retirement bus tour last year. He is becoming tough to watch. 
Mac Jones (NE) – The Saints took away the running game from the Patriots and Jones was not able to use play action effectively, facing pressure all day. Does anyone know who is coming to Foxborough this Sunday?
Zach Wilson (NYJ) – This was Wilson's best game of the season, but he still ends up in the bottom five. The talent is showing up more, but now he needs to erase the poor decision-making.
Check out our Pickswise NFL Power Rankings and where your team is ranked
Week 4 picks and best prop bets
New York Jets +7.5 over Tennessee Titans
I already hate myself for backing the Jets, but I'm actually seeing improvement with QB Zach Wilson. New York is ranked 14th in run defense which is a must when going against the running of Derrick Henry. I feel like Wilson can take some shots down the field against the Titans, who rank 25th in opponent YPA. The Jets can win this game if they limit the threat of play-action passing from Tannehill.
Miami Dolphins -2 over Indianapolis Colts
Carson Wentz is exhausting to watch. He is inconsistent right now and not making big plays down the field, ranking 25th in yards/play and 23rd in YPA. What is really concerning with Indianapolis is their defense. They rank 28th in yards/play and sack percentage respectively. I expect Miami to get their season back on track in this one.
Make sure you read our picks on the side and total EVERY Week 4 NFL game!
Pickswise is the home of free NFL Picks and NFL Odds. Check out the latest NFL Prop Bets and NFL Parlays as well as expert NFL Underdog Picks and NFL Computer Picks.