NFL
Back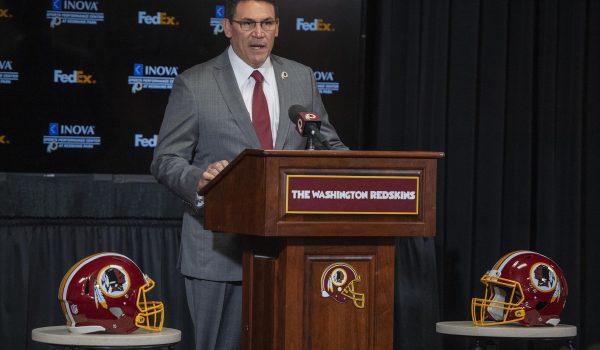 Washington Redskins: What will their 2020 record be?
The Washington Redskins have not reached the playoffs since 2015 and they have not won a playoff game since 2005. Coming off a 3-13 campaign in 2019, nothing suggests the 'Skins will be on their way to the postseason this year. It's year one under head coach Ron Rivera with the unsuccessful Jay Gruden era having come to an end.
What does Rivera, the former Carolina Panthers boss, have in store for his first season in the district? The answer is probably another losing record, but at the same time his squad should be able to pick up a few victories here and there along the way.
Week 1: vs. Philadelphia Eagles
Washington and Philadelphia have bookend rivalry games in this 2020 season. It's a good bet that the Redskins will not win either one of 'em. They at least have a chance at home, but the bottom line is the Eagles are just better. Loss
Week 2: @ Arizona Cardinals
Eagles and Cardinals are birds of the same feather when it comes to being better at football than the Redskins. Even with No. 2 overall pick Chase Young now part of the D.C. defense, Kyler Murray will run circles around it. Loss
Week 3: @ Cleveland Browns
Back-to-back road games in this early stage will be tough on the Redskins. It's not like the Cardinals and Browns are world-beaters, but they both seem to be on the brink of playoff contention. Loss
Week 4: vs. Baltimore Ravens
Washington vs. Baltimore should be a rivalry game based on proximity, but that certainly isn't the case and not just because they are in different conferences. The Ravens would win this matchup 10 times out of 10 right now. Loss
Week 5: vs. Los Angeles Chargers
Whereas Murray has a year under his belt, Justin Herbert does not. Young and company will have a better shot at keeping the Chargers' rookie signal-caller under wraps. Win
Week 6: @ New York Giants
This is a winnable contest for Washington, but due mostly to home-field advantage New York gets a slight edge. The 'Skins have no one on offense like the Giants have in Saquon Barkley. Loss
Week 7: vs. Dallas Cowboys
The Cowboys are a superior squad (probably far superior), but they are not good enough to go through a full season without a bad loss. This would without question qualify as a bad one. Win
Week 8: BYE
Week 9: vs. New York Giants
The Redskins should be able to exact revenge for their head-to-head setback three weeks prior. This one of their easiest dates on the schedule; time to take advantage. Win
Week 10: @ Detroit Lions
Washington has to pull out at least one road victory this season, right? This is the spot to achieve it, although Week 6 at the Giants also has some potential. Win
Week 11: vs. Cincinnati Bengals
Break up the Redskins! It will be three wins in a row during what is by far the easiest stretch of the 16-game slate. And they better be able to capitalize, because it gets tougher in a big way after this. Win
Week 12: @ Dallas Cowboys
It will be a different story when the Cowboys get to host this rematch at AT&T Stadium in Dallas. Expect a convincing dose of revenge for the home team. Loss
Week 13: @ Pittsburgh Steelers
The 'Skins remain on the road for another tough one in Pittsburgh. If Ben Roethlisberger is still healthy at this point in the year, the Steelers will be contending for a postseason spot. Loss
Week 14: @ San Francisco 49ers
It does not get any tougher than this for the Redskins in 2020: a road test against the defending NFC champions that comes at the end of a three-game road trip. This one will be over by halftime. Loss
Washington finally returns home in Week 15, but that is where the good news ends? Seattle is a veteran squad that knows how to win on the road and Russell Wilson will do just that. Loss
Week 16: vs. Carolina Panthers
Matt Rhule replaced Rivera in Carolina and he will have a few tricks up his sleeve for this one. Washington is going to endure a terrible loss at some point in 2020, and this could be it. Loss
Week 17: @ Philadelphia Eagles
Washington's 2020 season will end just as it began: with a loss to the NFC East rival Eagles. At this juncture the 'Skins will be playing for another high draft pick; the Eagles may be playing for a playoff berth. Loss
The Redskins really aren't good enough to be thinking about the playoffs in Rivera's first year. Young is a nice addition, but he is not going to turn the defense around all by himself right away. Five wins would not be a bad effort by Washington's standards. The number almost certainly won't be more than five…and it could be less.
Last updated: Wed 27th May 2020