March Madness Bracket Predictions
Get our free March Madness bracket predictions for the 2022 NCAA tournament. Win your work pool with our March Madness expert predictions. Our expert March Madness handicappers have compiled their thoughts, predictions, sleepers, and favorites to piece together their 2022 March Madness Bracket.
Once the 64-team March Madness Bracket is set, be sure to check out the field and each teams' possible route to the National Championship Game below. We will update the Bracket after each round of games so you can see how your bracket predictions are faring as the action plays out.
Check out the final 2021 March Madness Bracket below.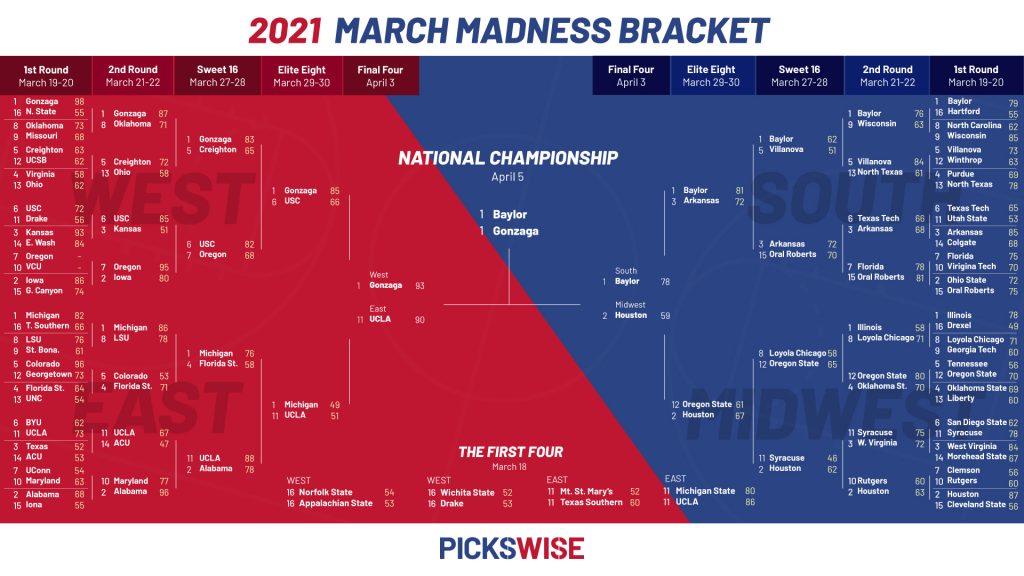 $250
Double Your First Deposit Up To $250!
Sign up for a new account using promo code PICKSWISE
Make a deposit & get it doubled up to $250
Deposit $250, Get $500 to bet with
Presented by Rivers Casino Portsmouth. Must be 21+. Play in VA Only. Gambling Problem? Call 1-888-532-3500
How Does A March Madness Bracket Work
March Madness is a phenomenon like no other, and the bracket has a lot to do with that. So what is a bracket, and how does it work.

The bracket will be set following the First Four matches, which are scheduled to take place on Thursday 18th March. This will lock in the final 4 teams to make the 64-team March Madness Bracket. Filling it a March Madness Bracket is something millions of people do each year, even those who don't follow college basketball take part to try and defy the odds of a perfect bracket.

Being a single-elimination tournament, filling in your bracket is simple. Select who you think will win the first-round games, which then sets the Second Round matchups, the Elite Eight, and so on until you have your pick for National Champion. Filling in your bracket is simple, getting it right is far from it. With odds estimated of up to 9.2 Quintillion to one for a perfect bracket, you'll need all the help you can to win your tournament. Check out our handy guide above for common pitfalls, advice, and trends, as well as all of our March Madness Predictions throughout the entirety of the NCAA tournament.
2022 March Madness Bracket Predictions
Our team of expert March Madness and NCAA handicappers will be on hand leading up to and throughout the entire NCAA Men's tournament. We'll be breaking down our best March Madness Bracket predictions at each stage of the tournament to assist you with your 2021 March Madness bracket. Leaning on a wealth of Bracketology experience, Pickswise analyzes key statistics, trends, and data ahead of making our March Madness Bracket predictions.
March Madness Bracket Picks
Making your NCAA Bracket picks is tricky, with odds of 9.2 quintillion to one for picking a perfect bracket its no surprise it's never been achieved. That doesn't mean you can't win your competition, be it paid or for a bracket competition at work, Pickswise is here to help with all of your March Madness Bracket Picks. Our college basketball experts are experienced in both March Madness Betting and all things March Madness Bracketology. Not only do we have our expert March Madness bracket picks for every game, but we also break down the biggest pitfalls, trends, and stats to consider before filling out a bracket of your own.
How did last year's March Madness bracket play out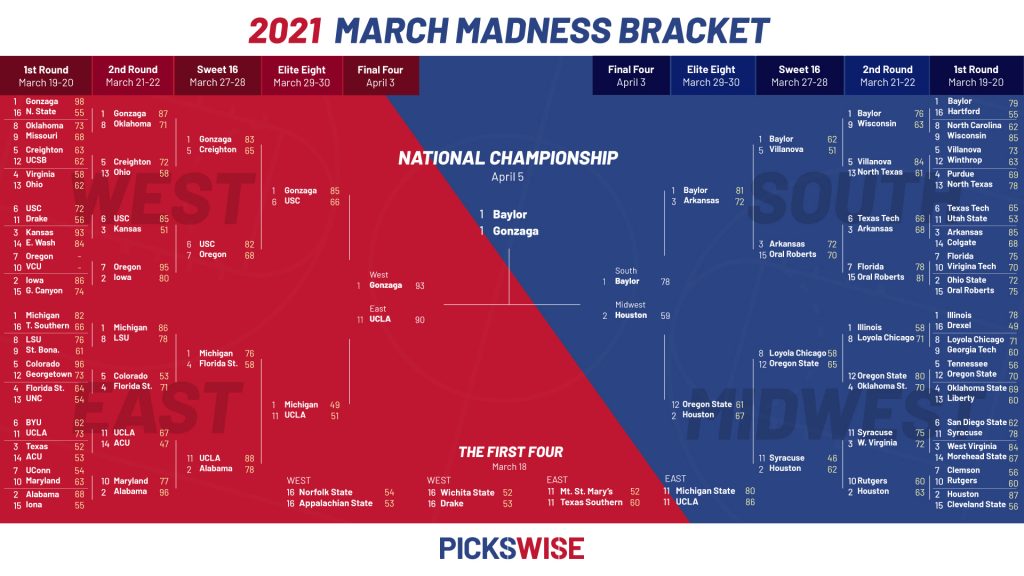 The 2021 March Madness tournament saw a new collegiate team crowned as National Champions as the Baylor Bears saw off the unbeaten Gonzaga Bulldogs in the National Championship game.
The Baylor Bears were the #1 Seed in the South and beat Hartford, Wisconsin, Villanova, Arkansas, Houston, and Gonzaga en route to championship glory.
Gonzaga was also the #1 Seed in the West and was one game away from the perfect season having gone unbeaten leading into March Madness along with wins over Norfolk State, Oklahoma, Creighton, USC, and UCLA.
The UCLA Bruins, the winning-most team in March Madness history were the Cinderalla team of 2021, narrowly seeing off Michigan State in the First Four play-in games before beating BYU,  Abilene Christian, Alabama, and Michigan before falling at the Final Four stage in dramatic fashion to Gonzaga.
What Teams Are In This Year's March Madness Bracket
The teams and the regions will be announced on Selection Sunday which is scheduled to take place on March 13th, 2022. By this point, we'll already know the conference winners, but the remaining teams will be selected by the Selection Committee, who will also rank the teams 1-68 and set the First Four matchups.

Check back here following Selection Sunday for the updated 20210 March Madness Bracket and which teams are in this year's tournament as well as our experts' March Madness Predictions and Best Bets. 
When is March Madness' Selection Sunday in 2022
Selection Sunday for the NCAA men's basketball championship, also known as March Madness is scheduled to take place on March 13 at 6 p.m ET and shown live on CBS.

College Basketball fans around the country will tune in to see if their team has won an at-large bid for the tournament and to see which ranking they've been given, which sets the bracket and determines their route through to the National Championship game. Let the Bracketology begin. 
March Madness Bracket Predictions FAQs
The 2022 March Madness Bracket will come out following Selection Sunday which is scheduled to take place at 6 p.m ET on March 13th. The Selection Committee will map out the tournament, including the teams participating, and their ranks. These rankings will determine the First Four matches, who will vie for the final 4 places in the 64-team bracket itself. The final bracket of 64 teams will be known following the First Four results on March 17th.
The only thing left to do is to make your March Madness Bracket. Once the final bracket is set, following the First Four matches, you can enter free and pay to play contests across various different sites. The main and official NCAA is the most popular and entered by millions each year, with offices, fan bases, and sports clubs across the country all hosting their own competitions too. Head over to the NCAA March Madness tracker where you'll find the signup details closer to the start of the tournament.
The deadline to enter your March Madness brackets will be before the tip-off of the opening match. The opening game of the First Round is scheduled to take place at 12 p.m. ET on Friday, March 18th. You'll have right up until then to get your bracket entered before the madness begins.
March Madness Bracket names are also a great, fun part of the tournament with an opportunity to be 'punny' and play on words with a creative name for your bracket. Most people will create a funny bracket name around March Madness itself or, your favorite team name, your idea of the winner, or a favorite player, the possibilities are endless so let your creative juices flow.

Here are a few of our favorite March Madness Bracket Names for some inspiration

What's With All The Bracket
No, nobody has ever predicted a perfect March Madness Bracket. This is unsurprising given the odds to do so, with estimations of up to 9.2 quintillion to one to predict a perfect bracket, there is a good chance that nobody ever will. Warren Buffet, the fourth-richest man in the world puts up a generous bonus to anyone that does ($1 billion in 2018) but you can say his money is pretty safe in doing so.

Tournaments and competitions are done on a points-scoring basis and work exponentially so you can still win big even without the perfect bracket. Check out our guide above and our March Madness Predictions to help your bid to achieve perfection in your 2021 March Madness Bracket.