Pickswise's 2021 March Madness Handicapper Contest: First Four Expert Picks and Predictions
Buckle up ladies and gentlemen, because the madness is about to begin. We have reached the eve of the NCAA Tournament getting underway, with 68 teams vying to be the last ones standing and reach the top of the college basketball mountain.
To celebrate March Madness, we at Pickswise have launched a $10,000 Capper Contest, pitting some of the best college basketball experts against one another as they battle it out to win the five-figure check!
Also involved in the contest are top college basketball insider Jon Rothstein, and ex-player and talent expert Rashad Phillips. Make sure you also check out Jon and Rashad's tournament picks.
Here at Pickswise, we specialize in providing free expert picks and predictions, and you can find all of our picks on the side and total for every game throughout March Madness right here.
Lock of the Day: Michigan State -2
I'm going to go ahead and put experience and cohesion behind my First Four lock with Tom Izzo and the Spartans -2 on FanDuel sportsbook. We all know this is the time Izzo rubs his tired eyes from regular season hibernation and roars back to the rest of the college basketball world that he in fact is a superb coach.
While the Spartans haven't had the best year, you have to consider their strength of schedule. They managed to wrestle wins from #1 seed Illinois, #2 seed Ohio State, and #1 seed Michigan all while UCLA was out beating the PAC 12 (no disrespect Bruins).
Michigan State has had a nice run having won their last five of eight (remember that schedule), they are a big team, they've proven they are capable of competing in and winning big games and I believe Izzo will have make the adjustments necessary for Michigan state to have an official seed in the dance
Make sure you check out our Michigan State Spartans team guide!
Additional Bet #1: Texas Southern pk
I really like Texas Southern in this spot. They are the 86th ranked scoring offense in the country and can really score at will against most opponents this season. Another edge I like in this game is that Mount St Mary's has only played 3 times in the last three weeks. Where Texas Southern has been very active and hasn't had much of a lay-off. Give me the Texas Southern Tigers at a pick 'em.
Additional Bet #2: Appalachian State -3
I'm not overthinking this one. I think the Appalachian State defense will be too much for Norfolk State as they haven't seen a D like this all year. I also love that Appalachian State is carrying over the momentum from winning the Sun Belt tournament and upsetting a very strong Georgia State squad. I know Norfolk can shoot the three well, but I'll take Appalachian State in this spot only laying the three.
Be sure to check out our full game preview for Norfolk State Spartans vs. Appalachian State Mountaineers.
Lock of the Day: Mount St. Mary's vs. Texas Southern under 133 points
This is a rough matchup for Southern offensively. They can't shoot and Mount will turn them into a jump-shooting team. Of the teams in the field, Texas Southern has the worst team three-point percentage at 27 percent. If Southern wants to attack the rim they will deal with a monster front line of three bigs 6'9″ or bigger.
Mount has been an elite defensive team all season. When looking at the path to offense for Mount, I worry. Damian Chung-Qui is terrific but he and his teammates are quite reliable in pick and roll and TXSO actually does a nice job defending it. They are a long team with ability. The good thing for Mount is they will be able to create and own the tempo battle and with new conditions and some time off, I expect a sloggy dogfight with a slow start.
Keep in mind in the NEC, Mount dealt with tempo a lot and did a great job with it. They controlled the tempo and won a few different rockfights. Texas Southern wants to play fast, I don't see them being able to here. The first team to 65 wins.
Lock of the Day: Appalachian State -3
Who is the hottest team no one is talking about? Appalachian State from the Sun Belt of course.
Appalachian State was not a good team all year but it's when you get hot, and they got hot and beat all the big boys in the Sun Belt. Norfolk St plays in a weak conference and their whole team relies on one man Devante Carter who leads them in all stats.
This is a step up for Norfolk and they will see that one man does not beat a hot team. I am expecting a blowout from Appalachian State and a double-digit win to move on and get blown out by the #1 overall seed. If this game does come down to free-throw shooting would you rather have the team ranked 63rd or 208th?
Additional Bet #1: Texas Southern pk
Classic offense versus defense game. You got a team who can score 80 a night against a slow methodical nonexistent offense. Texas Southern plays run and gun if they play their game, they will win. Mount St. Mary's can't keep up because they were 356th in offensive tempo which is why their defense looks like it was better than it really was. Texas Southern a great offense, top 25 rebounding, a star in Michael Weathers. Mount St. Mary's has an inept offense (they scored 39 in a game), and played in a weak conference where they were not even in the top three, which gives me good reason to think Texas Southern is the better team in this even game and will win by 6-8 points.
Additional Bet #2: Michigan State -2
Possibly the best play in game ever. Two historic franchises who have won the tourney before.
Clearly, Michigan State is battle-tested playing in the best conference this year. When you beat Michigan. Ohio State, Illinois you are a good team bottom line. UCLA's best win was in January over Colorado. They played Ohio State early in the season and the score was closer than the actual game. Michican State better coach, better team and they will win this game with their defense. When a game is this tight you look for who has the best player and that's Aaron Henry look for him to take over and win a game where first to 65 might be enough.
Find out all the big March Madness betting trends to consider before placing your wagers.
Lock of the Day: Michigan State -2
My lock of the day is Michigan State -2 over UCLA. The Bruins have been without their best player, Chris Smith, since the start of 2021, a span over which they went 11-7 with only one win over an NCAA Tournament team. They've lost their last four games, albeit all by single digits, while the Spartans went 5-3 down the stretch, with wins over Illinois, Ohio State, and Michigan — all of which are top-two seeds.
Michigan State limits paint points and boasts a top-35 defense, according to KenPom, which should pose a threat to UCLA's top-30 offense. Twelve of UCLA's 17 wins were Quad 3 and 4 wins. Michigan State went 9-12 in Quad 1 and 2 games. UCLA went 5-9. With an upperclassmen-laden rotation and experienced coaching staff that was battle-tested in arguably the nation's best conference, Michigan State at -2 is my lock of the day.
Be sure to check out our full game preview for UCLA Bruins vs. Michigan State Spartans.
Additional Bet #1: Wichita State vs. Drake over 141 points
Both Wichita State and Drake are powered by top-50 offenses with lackluster defenses. Wichita State has an above-average three-point rate and Drake's defense has been particularly poor as of late. I like that over to hit in a high-scoring game.
Additional Bet #2: UCLA vs. Michigan State under 135.5 points
Michigan State and UCLA play slowly and I expect that one to be a grind-it-out affair headlined by the Spartans' defense.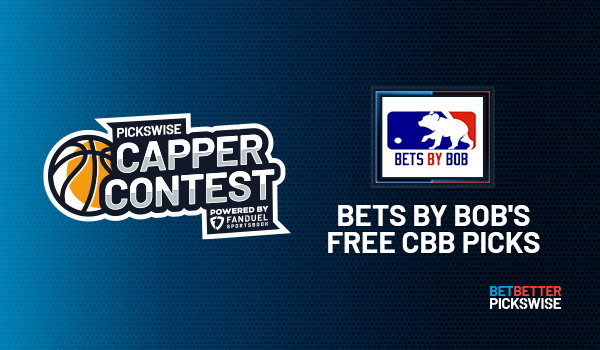 Click here to check out college basketball expert BetsByBob's picks!
Lock of the Day: Drake +1.5
Drake is a great offensive team as they are 19th in overall offense, 30th in eFG% & rarely turn the ball over (11th in turnover %). They have success shooting the deep ball as they shoot 36.6% from 3 – good for 53rd in the country. They do well on the glass too as Brodie averages 7.2 reb & Sturtz averages 5.6 reb a game.
Shanquan Hemphill looks like he will be suiting up for the Bulldogs in this game. He averaged 12.3 points & 5.7 rebounds per game before his foot injury. He was the Bulldogs leading scorer & rebounder. Although we can expect Hemphill to only play around 20 minutes a game, this is great for the morale of the team. This is their leader & best player who is coming back after a long period. Drake will be hungry and motivated. Drake was 19-1 with Hemphill in the lineup & 6-3 without him, so this is a huge boost.
On the other hand, Wichita State does not shoot the ball well as they are 278th in eFG% & 322nd in 2 pt%. They beat South Florida by 1 and then lost to Cincinnati in their last 2 games. Wichita State is trending in the wrong direction.
Be sure to check out our full game preview for Drake Bulldogs vs. Wichita State Shockers.
Additional Bet #1: UCLA vs. Michigan State under 135.5 points
Most of the money is on Michigan State/UCLA over, but the total has gone down half a point from 136 to 135.5. The public loves to hammer the over when two big-name schools play each other and I believe the public has it wrong here. UCLA is ranked 327th in pace, while Michigan State is ranked 183rd. These teams have athletic defenders and go on long stretches of not scoring. Mich St is 266th in eFG%, 255th in 3 pt %, 252nd in 2 pt % and turns the ball over a lot. On the other hand, UCLA ranks 41st in steal %. Expect Michigan State to end this game with around 17 turnovers. I see this game ending something like 63 – 55.
Additional Bet #2: Norfolk State +3
Norfolk State is loaded with juniors and seniors all over the rotation & in March Madness, experience pays. They are the 21st most experienced team in the country. Norfolk is 14-2 when shooting greater than 40% from the field (the 2 losses were in 2020). They've won 6 in a row & are a good three-point shooting team at 37.4% (33rd in the country).
They have held all D-1 opponents except 1 opponent to under 40% from the field in their last 6 games & now they play App State who ranks 274th in eFG%. I love this matchup here as Norfolk can shoot 3s as good as anyone in the country, have a ton of experienced players and have played good D their past 6 games.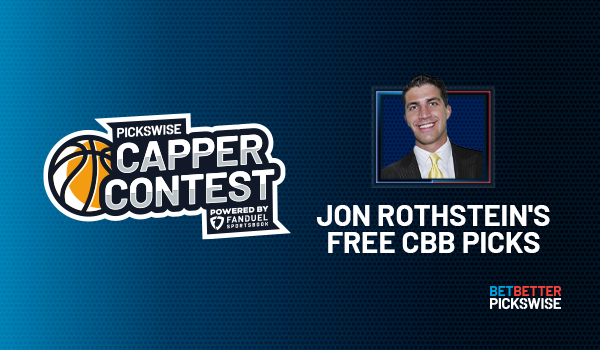 Click here to check out college basketball analyst and insider Jon Rothstein's best picks!
Lock of the Day: Mount St. Mary's pk
Mount St. Mary's drew an excellent match-up in this First Four game. Texas Southern's offense attempts
to get all their points near the rim, evidenced by their 327th-ranked three-point attempt rate. They also
only make 27.7 percent of the threes that they do attempt. They should have issues scoring on a Mount
St. Mary's defense that ranks 10th in field goal percentage defense at the rim. The Mountaineers also
don't allow free-throw attempts, ranking 28th nationally in that category.
It's hard to see Texas Southern scoring much, as they get the 13th -most points via the free-throw line in the country. On the other end, Mount St. Mary's may have issues scoring as well, but they at least have a dynamic point guard in Damian Chong Qui, who finished second in Kenpom's NEC Player of the Year standings. Look for Mount St. Mary's to win this game on the strength of their defense, with enough plays from Chong Qui to advance to the First Round.
Be sure to check out our full game preview for Texas Southern Tigers vs. Mount St. Mary's Mountaineers.
Additional Bet #1: Appalachian State -3
Appalachian State impressively won four games in four days to earn their NCAA Tournament bid, and
now they have had time to rest and heal from that tough stretch of games. This is key for the Mountaineers, who were essentially down to six players during the Sun Belt Tournament. There's a big
discrepancy in Shot Quality data in this matchup, as Appalachian State ranks 100th in overall shot quality, while Norfolk State ranks 279th. Matchup-wise, Norfolk State allows the 14th highest three-point attempt rate in the country, which is perfect for an Appalachian State team that takes threes at the 38th-highest clip.
Additional Bet #2: Mount St. Mary's vs. Texas Southern under 133 points
Similar logic to the "lock," Mount St. Mary's ranks 10th in field goal percentage defense at the rim, and
they don't allow free-throw attempts. That's essentially the only way Texas Southern can score, as they
rank sixth nationally in the percentage of shots taken at the rim, and 13th in percentage of their points
via free-throws.
On the other end, Mount St. Mary's plays at the second-slowest tempo in the country, and ranks just 287th in offensive efficiency. Their best offensive quality is their ability to offense rebound, but that is mitigated by Texas Southern's 118th ranked defensive rebounding rate. This should be an ugly game, so the under looks good to me.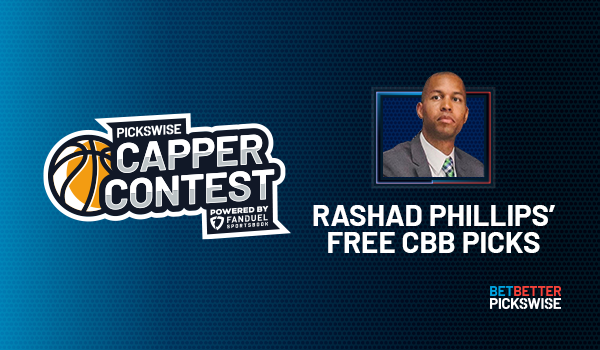 Click here to check out ex-Detroit Mercy player and college basketball expert Rashad Phillips' best picks!
Jacob Herr (Pickswise contest winner):
Lock of the Day: Drake +1.5
Additional Bet #1:
UCLA vs. Michigan State under 135.5 points
Additional Bet #2: Appalachian State -3
Want more March Madness thoughts and predictions? Check out our huge NCAA Tournament preview show, which features Jon Rothstein, and Rashad Phillips, and Aaron Torres!
Pickswise is the home of March Madness Predictions. Check out all of our March Madness Picks, including daily March Madness Parlays throughout the NCAA Men's Basketball Tournament.