43rd Ryder Cup USA team profile: Player-by-player guide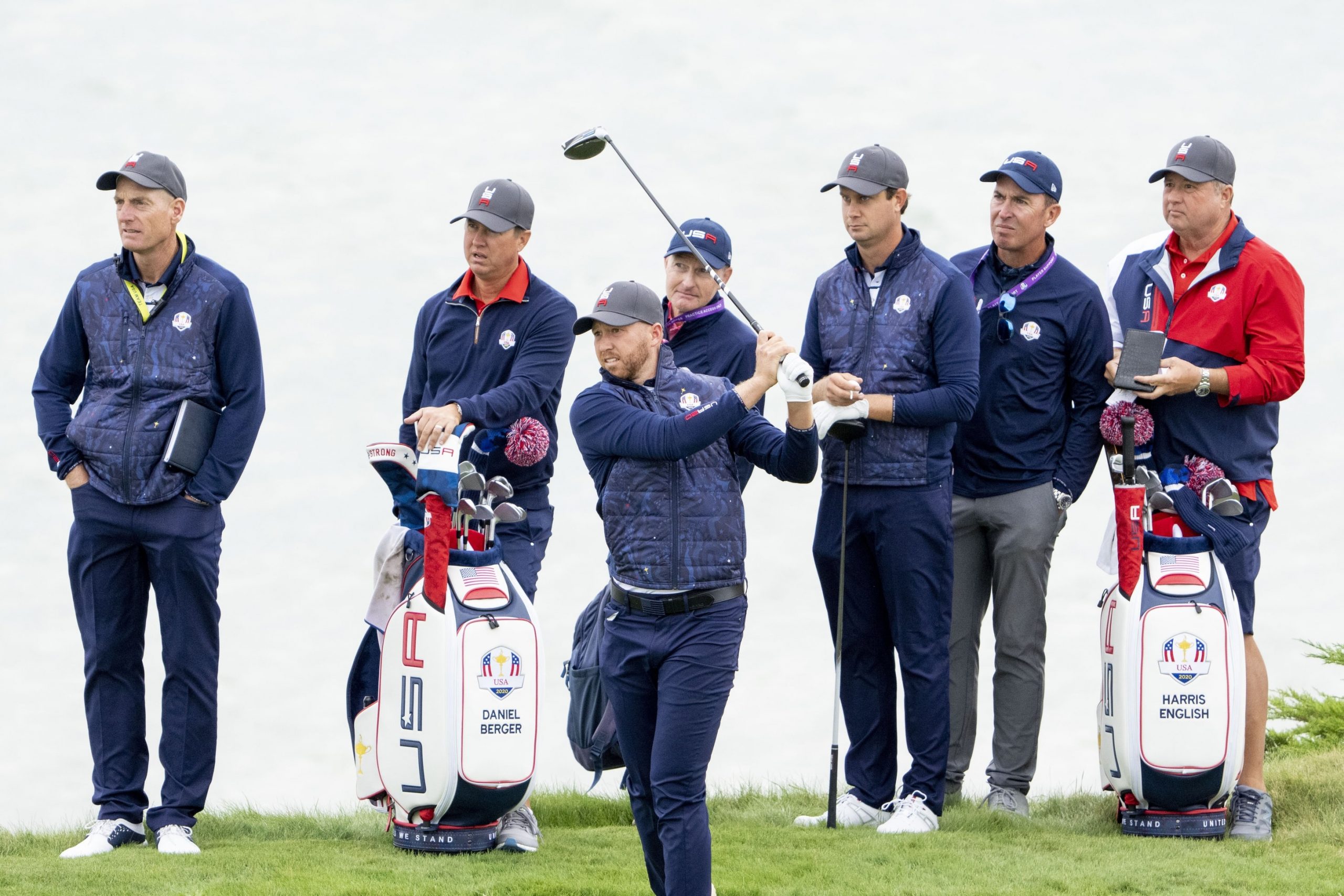 The 43rd Ryder Cup is days away, and a lot of people are already calling it a forgone conclusion that the USA will win back the trophy it lost to Europe three years ago. On paper, it's easy to see why the USA is such a hot favorite — with the likes of Brooks Koepka, Bryson DeChambeau, Dustin Johnson, and Jordan Spieth, it's practically an all-star team. But it's worth breaking down just how good each of these players really are, especially when it comes to your individual wagers throughout the tournament and any prop bets you might have.
Make sure you check out our full Ryder Cup preview, including a three-star play!
Daniel Berger
Consistent, straight-hitting Daniel Berger makes his Ryder Cup debut having had a previous taste of team golf when going 2-1-0 at the 2017 Presidents Cup. The 28-year-old Floridian has rediscovered top form after a period in the wilderness and won the Pebble Beach Pro-Am in February. He is a fine iron-player who was handed a wildcard pick.
Patrick Cantlay
A superb ball-striker who has claimed four high-profile PGA Tour titles in the last 12 months, Patrick Cantlay is fourth in the world and should be one of the most utilized US rookies. He went 3-2-0 in the 2019 Presidents Cup, partnering Xander Schauffele for four sessions, and will be deadly if putting like he did throughout the FedEx Cup playoffs.
Bryson DeChambeau
Big-hitting Bryson DeChambeau will take some stopping in fourballs, where he can utilize his prodigious driving ability to make a ton of birdies, but he's an unlikely foursomes partner and his relationship with Brooks Koepka is of concern for the team. DeChambeau went 0-3-0 on debut in Paris and picked up just half a point in the 2019 Presidents Cup.
Harris English
Likable Georgia man Harris English has enjoyed a fantastic couple of seasons, recovering from a serious form slump to climb up the rankings and claiming titles at the Tournament of Champions and the Travelers Championship. A captain's pick is deserved for this excellent putter who should prove a popular member of the US team.
Tony Finau
Tony Finau remains popular among his peers, as emphasized by the amount of goodwill he received after finally breaking his long-running title wait at the Northern Trust. A captain's pick, he is a huge driver who finished tenth at Whistling in the 2015 PGA. His Ryder Cup debut (2-1-0 in 2018) was among the few positives for the US.
Dustin Johnson
Dustin Johnson's laidback persona has not always looked a good fit for the Ryder Cup and his record – 7-9-0 from four previous appearances — backs that up. He has fine Whistling Straits form, where he might have won the 2010 PGA were it not for a two-stroke penalty in the final round, and, as the US's most experienced player, should see plenty of action.
Read our best prop bets for the Ryder Cup, with Jon Rahm expected to run riot on the USA
Brooks Koepka
Four-time Major champion Koepka went 3-1-0 at Hazeltine on debut and was not disastrous in Paris, but his individual nature means that the Ryder Cup is not near the top of his priorities. He has recovered from a wrist injury to make the event but his spat with DeChambeau must have kept captain Stricker awake at night.
Collin Morikawa
Californian wonderkid Collin Morikawa burst on the scene in 2019, claiming the Barracuda Championship right out of college before Major titles at the 2020 PGA and the 2021 British Open. Ranked third in the world, he has struggled with his back recently but, when healthy, is the best iron-player in the sport. A huge asset for the home team.
Xander Schauffele
The Olympic champion, Xander Schauffele makes his Ryder Cup debut having narrowly missed out on a wildcard pick in 2018. He boasts a fine Majors record, which marks him down as a man for the big occasion, and should be a fixture of this team for many years. Expect him to revisit his 2019 Presidents Cup partnership with Patrick Cantlay.
Scottie Scheffler
Such is the USA's depth of talent, rookie pick Scottie Scheffler is the lowest-ranked member of the team at 21st in the world. The Texan is still a PGA Tour maiden but he has caught the eye in Majors and World Golf Championship events, including when reaching the final of the Match Play in March. His ball-striking is an asset at Whistling.
Make sure you also read our player-by-player guide for Europe!
Jordan Spieth
Three-time Major champion Jordan Spieth likely wouldn't have made the US team were it not for the year-long Covid delay but he's discovered his form in spectacular fashion this year and has been rewarded with a captain's pick. He possesses a 7-5-2 record and his brilliant short-game skills dovetail well with likely partner Justin Thomas.
Justin Thomas
Justin Thomas was the top American points scorer in Paris, where he went 4-1-0 on debut, and he confirmed his affinity for match play when scoring 3.5 points at the 2019 Presidents Cup. Thomas's form has been in and out throughout the year but he did claim the Players Championship in March and he looks set to be a key member of the US team.
Want even more great Ryder Cup insight? Check out the preview show below from our friends at the Racing Post, where even the Brits don't expect their boys to win!
The Pickswise golf handicappers are on hand with expert Golf Picks and Golf Predictions as well as tournament previews and analysis throughout the PGA Tour season, including all of the majors. This weekend we will also provide daily Ryder Cup best bets.